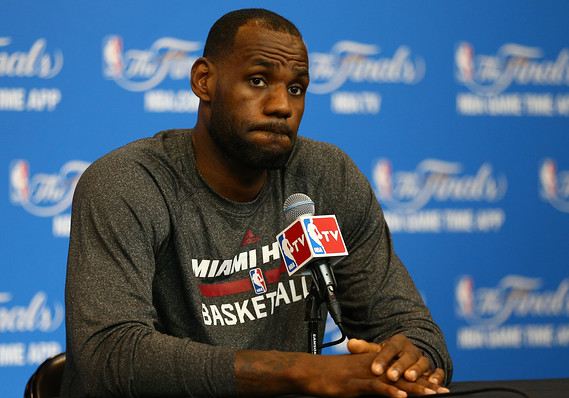 Editor's Note: Please welcome long time commenter, Excl, who is offering his first post on LeBron's options (from a mostly fit and team construction standpoint) in free agency.
Well, the off-season we've all dreaded is upon us, and the Lebron Free Agency feeding frenzy is in full-effect. Rather than rant and scream about how we know what is going to happen, let's dive into the numbers and facts and see what is actually possible for Mr. James this summer.
First, what have we heard exactly from Lebron?  We know that he likes playing with his friends and has said in the past that he would take a pay-cut to play with his banana boat buddies.  He also recently told Joe Vardon that he wants to "break the mold" with his new contract and is probably looking for a near max deal for what could be the last big contract of his professional career.  Most recently, James has said he wants to do what is best for his family, and more specifically, Lebron Jr's future playing career. And as always, we think that he wants to play on a team that has a chance to go deep into the playoffs, if not, win a Championship outright.
Next, we need to understand some of the rules of the Collective Bargaining agreement.  Granted, it would probably be much easier to explain corporate tax law than the intricacies of the CBA, but let's hit the key parts that affect Lebron this offseason:
Looking specifically at the potential contract numbers, Lebron is eligible for a $205M/5yr deal ($41M per year) with the Cavs or a $152M/4yr deal ($38M per year) deal with any other potential suitor.
He could also technically opt in to his current player option at $35.6M for one year.  This becomes important when we start looking at trade scenarios.
A recently re-negotiated "Over-38" rule, would mean that this is the last year Lebron could sign a max-salary, five-year deal.  If he were to wait another year, the rule would kick in and his final year (where he was over 38) would need to be spread out across the first four years, meaning he would have to earn less than the maximum for those four years.
A team cannot go over the salary cap (~$100M) to sign a free agent, unless that player is currently on their roster, or have had that player and their rights traded to their roster.
A team that is currently over the cap, cannot receive player contracts greater than 10% of the value of contracts going the other way.
A team that is over the tax apron (~$128M), cannot receive any player in a sign-and-trade deal.
Those last two points are key in the Cavs situation, as they are well over the tax apron and it makes a sign-and-trade next to impossible.  If Cleveland can find a team with enough cap space to eat a good portion of Lebron's new contract and get the Cavs below the Tax Apron in the process, then maybe they can swap enough players to make it happen. But the best option for any sort of trade is for Lebron to opt into his current player option and then make a standard player trade where the incoming and outgoing salaries are within 10%.  Then, Lebron would be eligible to sign a max deal extension with his new team, or even execute the rarely used "extend-and-trade." In that case, though, the Over-38 rule applies, and he would have to take a four-year deal instead of a five.
Remember though, that the Cavs are under no obligation to trade Lebron.  Lebron can only sign for the maximum amount a team can offer him without going over the cap, and in many cases, that might not be any more than the league minimum or the mid-level exception.  In all cases, Lebron and the team attempting to sign him are trying to play a game of contract-chicken with the Cavs where they are saying, "Look we can sign him for $30M a year, which is $8M less than the max.  You can either facilitate a trade where he gets the max and you get something in return, or you lose him for nothing." The closer that "$30M" figure gets to the league minimum, the more willing the Cavs will be to say, "Then go ahead and eat that contract!".  Remember, the Cavs are deep into the luxury tax, so losing Lebron's $35M cap figure can actually help them in some respects. Teams without a lot of cap room, would likely need to work out something closer to a standard player trade, so that the Cavs have at least some incentive to make the trade and let Lebron get paid on another team.
With all of that in mind, let's look at the cap situations of the teams with the most cap room as well as those that have been rumored as a final Lebron destination:
TEAM — CAP SPACE NOW — [CAP SPACE w/o HOLDS]
1 Los Angeles Lakers -38,496,974 [61,856,635]
2 Chicago Bulls 4,891,466 [41,520,513]
3 Philadelphia 76ers -14,216,525 [30,505,304]
4 Atlanta Hawks 19,703,681 [29,165,650]
5 Sacramento Kings 7,634,209 [24,587,884]
6 Dallas Mavericks -2,705,973 [23,850,301]
7 Houston Rockets -47,553,675 [21,989,274]
8 Brooklyn Nets -10,856,029 [16,680,449]
9 Orlando Magic -10,539,459 [15,062,861]
…
14 San Antonio Spurs -33,285,399 [671,231]
17 Golden State Warriors -2,636,406 [-2,636,406]
19 Boston Celtics -6,433,525 [-6,433,525]
The Cap Space without holds numbers are the important number for two reasons.  The obvious reason being, that's how much salary they can offer straight-up without having to rely too much on trade gymnastics.  But the other reason is that it still says, "Without Holds".  Meaning that the team would have to waive the bird and restricted fee agency  rights of every player in free agency, and in many cases, scraping the roster down to a bare minimum.
So now, with those facts in hand, we can go team-by-team and see what each could potentially offer Lebron or the Cavs in a Free Agent scenario.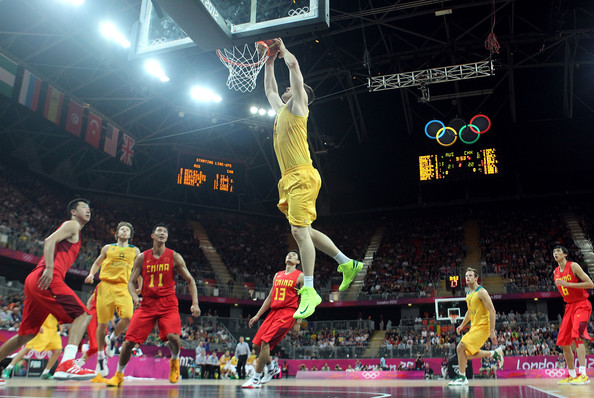 Teams with a "Dellavedova two-handed power dunk!" chance of signing Lebron:
Atlanta, Sacramento, Dallas, Brooklyn, and Orlando.  I listed them above as having a decent amount of cap space above, but really, there might be a better chance of Jose Calderon actually being a billionaire, buying the team from Dan Gilbert and then re-signing Lebron to a mega deal with partial team ownership than any of these teams convincing Lebron to take a pay-cut and join their middling rosters.

Teams with a "Kendrick Perkins for three!" chance of signing Lebron: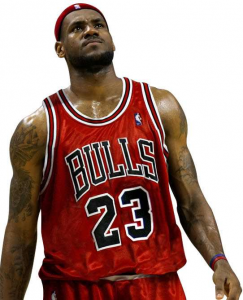 Chicago.  From Lebron's point of view, they could at least him the $38M a year max contract that all but two other teams can give him out-right.  He could also play for the team he grew up rooting for as a kid and maybe chase down the shadows of Jordan by playing in front of a home-crowd that would suddenly be rooting for him rather than against him.  Although I'm not sure carrying a roster of Lauri Markkanen, Kris Dunn and others is what Lebron is dreaming of doing for the twilight of his career.
Golden State.  From the Warriors' point of view, they would have to move two major contracts (something like Iggy and Klay) and possibly other smaller contracts in some sort of opt-in-and-trade with Cleveland just to get Lebron on the roster at a reasonable salary.  After dominating the entire league for the better part of 4 years, why exactly would they want to upset the apple-cart to do that?  Technically, Lebron could go the cupcake route, sign with them for a league minimum, and then just enjoy Championships hollower than the balloons falling on them during the post-game celebration.  But it just seems that would be more damaging to his legacy than just losing out-right.  And for Golden State, it just seems riskier to blow up what's been working for years, to get rings for a guy you own no favors.  But then again, in the media's eyes, the only thing that matters to a player's legacy is "rings", so who knows.
Boston.  Again, from the Celtics' point of view, why would they want to do this?  They just took the Cavs to the brink in a seven-game series with their two best players on the bench.  Their roster is one of the youngest and most promising cores in the league and they just traded away several assets to get a star that wanted to get away from Lebron.  Why would they mortgage what could be a strong 10-year run, for five years of what could be Lebron's final seasons?  Still, an intriguing opt-in-and-trade possibility still exists here.  What if the Cavs are willing to take Kyrie Irving back, along with Al Horford, for Lebron and maybe another throw-in contract?  The salaries would match, and Kyrie would get his old team back sans Lebron, but I just don't see Boston ever wanting to do something like that.  There may be other trade scenarios available, but remember that Boston is over the cap.  Any trade would require salaries to match, and it also needs to be good enough for the Cavs to take and not just force Lebron to play for the MLE.

Teams with a "Jordan Clarkson assist!" chance of signing Lebron:
San Antonio.
Cap Space Without Holds
$671,231
Roster without Holds
Aldridge PF $22,347,015
Leonard SF $20,099,188
Gasol PF $16,000,000
Mills PG $12,428,571
Green* SG $10,000,000
Gay* SF $8,826,300
Ginobili SG $2,500,000
White PG $1,667,160
Lauvergne PF $1,656,092
Murray PG $1,544,951
Paul SG $1,378,242
Cap Holds
Parker PG $23,179,689
Anderson SG $6,455,112
Bertans SF $1,744,951
Forbes SG $1,744,951
* player option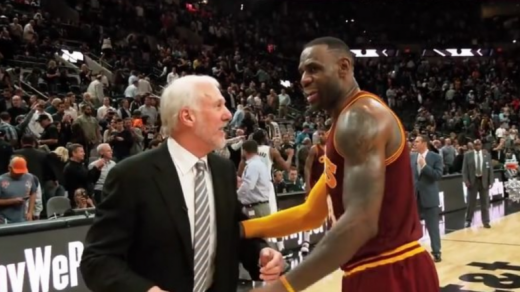 The Spurs are my dark-horse candidate for getting Lebron.  Pops is planning to go all-out to recruit Lebron this summer, and Lebron has always stated his admiration of Pops as a coach.  He's never really had the opportunity to play with a proper NBA coach for a full NBA season, and as a basketball fan, I'd be curious to see how that pairing works out..  San Antonio has a decent roster that could potentially do some damage in the playoffs with a guy like Lebron on the team.  They made it as a seven-seed this past year with their best player (who happens to play the same position as Lebron) on the bench all year.
What they don't have though, is cap space, and that is what makes Lebron-to-the-Spurs really difficult. .  Technically, they could use jedi mind tricks to convince Manu to retire and Danny Green and Rudy Gay to opt out of their player options.  But even then, they're looking at offering Lebron only something around a $20M/yr deal.  In reality, they probably won't be able to offer anything other than a veteran minimum, unless they are able to pull off some crazy trades and work out some cap space.
But here is where those interesting opt-in-and-trade scenarios come into play.  The Spurs may or may not be at an impasse with Kawhi Leonard.  Recently, the news is that they would re-sign him to an extension, yet as recently as a month ago, the rumor was that he had burned his bridges with the team over his injury fiasco and they were looking to trade him.  Would a trade for Kawhi plus any number of other players like Pau Gasol, Patty Mills or Danny Green for an opt-in-and-trade Lebron be enough for both teams?  I think a lot would hinge on the health of Leonard, but for the Cavs, losing Lebron and getting Kawhi back in return would sound a lot more appealing than just losing Lebron outright.  For the Spurs, they would upgrade the SF position from a possibly disgruntled Kawhi to Lebron, while keeping most of their remaining roster intact.  And for Lebron, he finally gets to play under an established coach like Pops while going a team that still has a decent chance at contending.
Cleveland.
Cap space without holds: stop laughing.
While the odds sound excruciatingly low if you do were to do nothing but listen to the national media, just remember these few things that run in the Cavs favor:
They're the only team that can offer him $41M a year for 5 years and make him the highest paid player in NBA history.
He can stay in his hometown of Akron and let his son play high-school ball at his alma mater.
Even if Lebron and Dan Gilbert are sworn mortal enemies at this point, he still knows that Gilbert will give him just about anything he wants.

Teams with a "JR with a 2018 playoff mid-range jumper!" chance of signing Lebron:
Los Angeles Lakers.
Cap space without holds:
$61,856,635
Roster without cap holds
Deng SF $18,000,000
Ball PG $7,461,960
Ingram SF $5,757,120
Kuzma PF $1,689,840
Ennis PG $1,656,092
Hart SG $1,655,160
Zubac C $1,544,951
Bryant C $1,378,242
Holds:
Lopez C $33,963,525
Caldwell-Pope SG $21,295,073
Frye PF $14,099,733
Randle PF $12,447,726
Thomas PG $11,896,651
Wear PF $1,744,951
Ingram G $1,578,242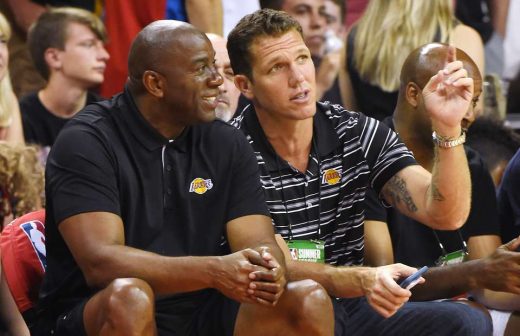 I used the title "JR for a jumper", because it's a percentage you think is higher than it really was. (Unless you watched the Cavs in the playoffs this year.)  The Lakers seem to be the prohibitive favorites among the talking heads (that need Lebron in LA more than Lebron needs to be in LA).  However, there are a ton of things that just don't make sense for Lebron going there. That could probably be a write-up all by itself.
Let us first look at cap space.  The prevailing thought is that the Lakers could renounce everyone and offer both Paul George and Lebron near-max deals around $30M a year each.  Yet, even in that scenario, Lebron would be leaving up to 8 million a year on the table just to pair up with PG13, who isn't even considered one of his closest buddies.  George could also potentially make up to $32.6M a year in free agency, so even he would be leaving money on the table.
Renouncing everyone, would also leave the Lakers with only the following players on the roster:  Ball (PG), Ingram (SF), Kyle Kuzma (PF), Ennis (PG), Hart (SG), and technically the paper contract of Luol Deng.  Now add to that Lebron (SF) and George (SF).  Did you notice I added the positions for each player?  That's because they would have their three best players all playing at the 3-spot. If you wanted to move Lebron to his next best position, PF, you're supplanting Kyle Kuzma, who's probably the next best player on their roster.  And we're not even getting into other issues like Nike Lebron indirectly boosting the brand of Lonzo's Big Baller Brand.
Their best option might be to somehow convince the Cavs to sign-and-trade Lebron for Lonzo and draft picks, which would make Cavs fans everywhere cringe.  Then ask Lebron to play the point, so you could have PG13 on the wing, Ingram on the other wing, Kuzma as some sort of mini-big man, and Hart or Deng's paper contract playing the other guard position.   Do you see that team honestly going deep into the playoffs against a loaded Western Conference?  Is that team really much better than Oklahoma City was this past year, where Westbrook was doing essentially the same kind of things as Lebron, George was on the wing, but they also had Adams in the middle and Carmelo as well?  That team couldn't even get out of the first round!
So, unless Lebron really has his heart set on living in his second biggest mansion and getting his kids into schools in Brentwood, (which some radio guys here in So Cal think is already the case, despite LBJJ just winning a middle-school championship for Old Trail Middle School in Bath, Ohio), I don't see how a trip to LA will really help him improve his situation.
Teams with a "James for three!" chance at signing Lebron:
Houston.  
Cap space without holds
$21,989,274
Roster without cap holds:
Harden SG $30,421,854
Anderson PF $20,421,546
Gordon SG $13,500,375
Tucker SF $7,969,537
Hilario C $3,651,480
Onuaku C $1,544,951
Qi PF $1,378,242
Holds:
Paul PG $35,350,000
Ariza SF $12,868,634
Capela C $7,003,585
Black PF $3,948,000
Jackson G $1,578,242
Green SG $1,544,951
Johnson SG $1,544,951
Mbah a Moute F $1,544,951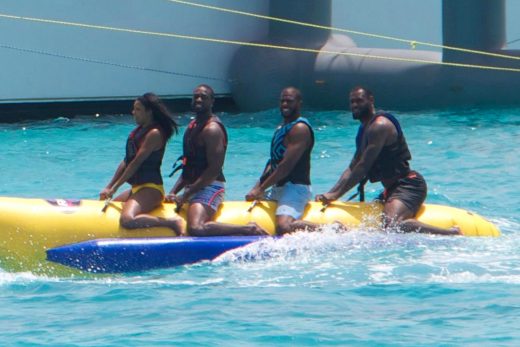 What do the Rockets have going for them?  The biggest thing CP3.  That's Banana Boat friend territory.  They also came within one game of knocking off Golden State in the WC Final.  In addition, It would also appear they have $20 million in cap space that they could use towards getting Lebron signed, but that's actually where the problems begin for them.  That $20M in space is with "all cap holds renounced", and guess who's among those that need to be relinquished?  The aforementioned Chris Paul – that starts to complicate matters.  Technically, Houston could give up the rights on Paul, and sign both him and Lebron to $10 million-dollar deals if push came to shove.  Using that leverage, they could push the Cavs to do some sort of sign-and-trade or risk losing Lebron for nothing.   But I don't know if Lebron would really want to risk sacrificing $28M a year just to get on the Rockets, and likewise with Paul, who would also be giving up nearly the same amount of cash.  But if Lebron really wants to do nothing but win Championships and play with his buddies, this would probably be his best chance to do just that.
As far as trades go, I'm not sure what Houston can really offer the Cavs here.  Eric Gordon and Clint Capella?  That's a good start, but still well short of what's needed to make salaries match.  Also, can anybody really come up with a deal that would make the Cavs willing to take on the assets and contracts and stay above the luxury tax line?  If Lebron were to threaten to bolt to Houston for $10M a year, wouldn't Dan Gilbert just say "enjoy" and let that $35 million come off the team's cap, putting them back below the tax line?
Los Angeles Lakers.  
Wait.  Didn't we just talk about them?  I thought they had a Tristan Thompson ankle-breaking cross- over chance of getting Lebron?  Well, there is one scenario that nobody is talking about.  Everyone thinks it's a foregone conclusion that Paul George is going to LA, and the question is. "who else is going with him?"  Yet, what if he's not one of the two guys LA wants?  What if CP3 and Lebron are the two guys that LA wants?  Similar to the Houston scenario, if both say they want to play there, they could technically sign deals worth $30M/year each  and get in under the cap without any need to make trades or force an opt-in and trade.  At that point, they'd have much better leverage to threaten/ask he Cavs to do an OI&T or risk getting no compensation at all.  It also somewhat solves  the previous problem of too many Small Forwards that was there had they brought in both Paul George and James.  And if the Lakers really wanted to get cute, they could technically bring in D.Wade on a veteran minimum and get 3/4ths of the B-Boat crew assembled.  Actually, I don't want to think about this scenario.  Moving on.
Philadelphia.
Cap space without holds:
$30,505,304
Roster without holds:
Embiid C $25,250,000
Covington SF $10,464,092
Bayless PG $8,575,916
Fultz PG $8,339,880
Simmons PG $6,434,520
Saric SF $2,526,840
Anderson SG $2,516,048
Korkmaz SG $1,740,000
Holmes** PF $1,600,520
McConnell** PG $1,600,520
Luwawu-Cabarrot SG $1,446,360
Holds:
Redick SG $27,600,000
Johnson PF $13,200,000
Belinelli SG $1,544,951
Ilyasova PF $1,544,951
**non-guaranteed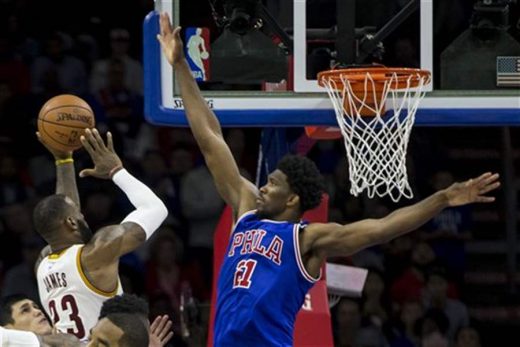 Quite simply, they have $30 million in cap space and wouldn't have to renounce any of their major players to get to that number.  They could even squeeze an extra $3M of cap space out by releasing their two non-guaranteed contracts in Holmes and McConnell.  They also have one of the youngest and most promising rosters outside of Boston.  This roster with Lebron would be practically guaranteed a trip to the EC Finals every year, and likely represent Lebron's best chance to continue his Consecutive Finals streak.  The biggest problem for them right now is might be the instability of their front office, with Colangelo recently getting the axe.  However, if they were to somehow work that into getting David Griffin a job, it could also work to their benefit.  Would they stand a chance at beating Golden State in the Finals though?  Who knows.  But as far as the combination of Championship chance and cap room to get a deal done, Philly has the best odds going for them.
… Unless, Lebron and Dan Gilbert secretly get along quite well.