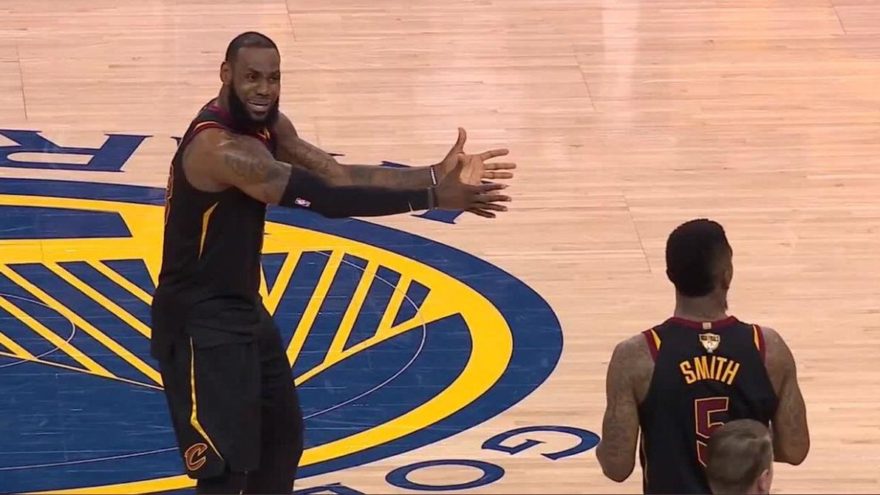 Everything ends badly. Otherwise it wouldn't end.
Truth can from the most unlikely places. In this case, Doug Coughlin's philosophy from the 1988 Tom Cruise "classic," Cocktail, describes the ultimate game of the 2018 season, and the season itself. Cleveland spent the first half struggling to contain and keep pace with a Golden State team that it had spent the last 361 days preparing for, and rode a nine point deficit into halftime. Beleaguered and hapless, the Cavs folded in the third quarter as the Warriors bounded out of the locker room priming the fuse for their typical third quarter explosion. The Dubs held the wine and gold to 13 third quarter points, while scoring 25 themselves, and rode a comfortable 20+ point lead into a 2018 NBA Championship.
Forgive the tardiness of this post. I spent the first half of Friday night, at my local watering hole becoming increasingly convinced that LeBron low key quit in the first half, and the second half in a state of irritation at the world. When I arrived home at the eight minute mark of the third, the Cavs were within striking distance, with a Kevin Love layup cutting the diff to 11. The Warriors stifled Cleveland and their defeated body language for a 16-6 close to the quarter, as Cleveland started throwing up ridiculous shots like Larry Nance 20-footers, and turning the ball over like it was covered in failure oil.
Anyway, my vitriol was dialed up to 11 by the time the game ended. LeBron retired to the bench with nary an acknowledgement from the crowd, and absolutely no prep from the Cavs' arena staff, which was unconscionably poor planning. On one hand, this is Northeast Ohio, where nothing is given, and everything is earned. And LeBron had quit on this game far before it was over. James' play wasn't awful, but it wasn't the inspiring force of nature it had been up to that point in the playoffs, and his defense was as listless as I've ever seen it. James was often content to try to set up his teammates early, and they routinely failed to deliver, with the non garbage-timers shooting combined 20-68 on the night.
On the other hand, this was the 40th minute of James' 104th game of the season, a season that saw him play the most combined minutes since 2011, and he'd taken this team to its fourth straight finals. Planning a celebration of his accomplishments probably seems like the right choice. But I'm one against planning for failure. It seems I'm too much like Dan Gilbert: too bitter and petty, or too incompetent to plan for these possibilities.
In some ways LeBron reminded me of some of Kobe's petulant games against the Suns in 06-07, when Kobe would refuse to shoot or refuse to pass just to piss Phil Jackson off. But here, he was probably testing his teammates to see if they could give him anything, and to see if they could pick him up. They couldn't. George Hill was especially awful giving James and the Cavs three points on 1-7 from the field and tying Kevin Love: -26 in their minutes on the floor. Love was similarly shooting, though the victim of more than one uncalled foul, as he went 4-13 for 13 points and nine rebounds. Kyle Korver? 0-6. Jeff Green? 2-8. Rodney Hood? 4-14. The Cavs missed open looks and missed covered looks as the Warriors were especially adept at protecting the rim with 13 blocks.
And again, Tyronn Lue refused to make any adjustments to the Cavs game plan: running the same starting lineup and the same rotations (with Rodney Hood getting 26 minutes) as he had in previous games this season. Hood, Korver, and Nance, despite the poor shooting were -1, -1, and 0 in the plus/minutes department during their stints on the floor. Perhaps switching up the starting lineup for one of these guys might have helped. I imagine LeBron saw all this and realized it wasn't worth leaving every ounce of energy on the floor. It was ok to take a few plays off from the thousands he'd played this season. I'm more of a Don Quixote: giving hard fouls and screaming at shooters when down double digits until the game ends, the other team quits, I get punched, or thrown out of the Y. James is smart enough to live to fight another day.
It was probably to no avail. The Warriors are incredibly difficult to beat at full strength, and a fully operational Andre Igoudala makes them an almost impossible opponent. The Cavs left him open, and he made them pay with 11 points on 3-6 shooting from downtown. Steph Curry tried to recapture his MVP form with 37 points while shooting 27 shots (7-15 from downtown), and Durant put up a James-esque triple double with 20-12-10 to go along with three blocks and a steal with just two turnovers and a ridiculous +30.
I turned it off with six or so minutes to play, and turned it back on when I found out Cedi was in. Osman stuffed Curry shortly after entering the game and then smothered a Swaggy P. "Oh, Ty" I lamented… Ante Zizic danced his way into four quick points. I think he can become a player. Then I flipped off the TV before the inane celebration began. It was best summed up by our own Tom Pestak.
tonight was the most low key championship celebration I've ever seen. Cut to Oracle crowd, Kerr's interview, player body language. Announcers bored out of their minds. League did us no favors not smoothing out the cap

— Thomas Pestak (@tompestak) June 9, 2018
I spent the next 12 hours in a daze. I was up till almost in the morning doing anything I could not to think about the Cavs, Cleveland, the world, life. It was all too raw. Not raw in the way of a real tragedy, just raw in the way that someone feels when their succor is taken away. Sports are supposed to be a refuge, an escape. But I could only remember how I felt in 2010 when everyone talked about how inadequate the place were I lived and the people I care about are. I could only think about how I know far too much Dan Gilbert, his penchant for bad decisions, and his politics.
I could only think about all the hours I'd given to watching and writing about this game, and whether they were worth the time I'd devoted to them. And it fell all too current to be focusing on the best parts of the last four years. I'd been putting off the possibility that this could be the end of the season or the end of an era. In my insane mind, it's defeatist to admit the possibility of defeat when there is still a chance, however small, that it can be avoided. That mental energy is far better spent staving off defeat, and somehow I can project my mental state into the minds of my fellow fans and the players. I know. My fandom is a form of insanity. Forgive me if my rage and my alcohol induced lack of a filter spilled onto the pages of the live thread.
I spent Saturday with my family, and eventually realized that it was, after all, just basketball. I project my angst onto sports. The world and its inadequacies seem far too insurmountable to take on without losing one's sanity, and so projecting onto something that I feel can change is a way to exercise some form of control, even if all I can influence is readers' perceptions. Thank you for allowing me that influence over the years. But for most of us, and even the greatest of us, control is an illusion. Even the greatest basketball player in the world, LeBron James, lost control of his stranglehold on the NBA championship conversation. The emergence of Golden State has rendered the championship as silly and arbitrary in our minds as it really is. I think that's why 2016 meant so much to so many of us. It gave us a chance to see what it was "To be indeed a God"  like LeBron James. He and the Cavs channeled Whitman.
O to struggle against great odds, to meet enemies undaunted!

To be entirely alone with them, to find how much one can stand!
And yet, he's not a God. Age and time, despite his forestalling, will take their toll on him as it does on all of us, as it will till technology solves that problem and makes the richest of us no longer human. So Saturday, I decided that it was far more important to spend time with my family and to "Let us enjoy this wonderful French Toast."
In the wee hours of Saturday morning, though, I had still peaked at the news, and found out that LeBron punched a chalkboard after Game 1 and has basically been playing with a broken hand. That explains his struggles from outside the arc, and also that he is, in fact, not a God: fully destructible (though how many could play with a broken hand?!) And as I glanced at my phone throughout the day, snippets of news  caught my eye: "LeBron is Gone…" "Ty Lue Intends to coach next year…" "LeBron's options are multiple and constrained…" I avoided the temptation to troll in the gutter of speculative sportswriting. It's all just noise, and there are far more important things to focus on…
The world seems as if it hangs on a precipice, much more so for some of us than others: 43% of children in this country live below the minimum income level necessary to meet basic needs. Opioids could kill 500,000 in the next decade. Ice caps are melting and climate change is happening so rapidly no one knows what is going to happen. We're dismantling controls on pollution in the air and the ground. We're destroying the alliances formed after WWII. Income inequality in this country is at record levels, while people work to suppress the vote of the most marginalized of us. We're separating families at the border and treating requests for asylum like a criminal act. The U.S. is attempting to become separate and master of the world rather than apart of it. In light of all this it feels incredibly silly to be so invested in basketball or to worry about what LeBron James' options are in free agency, and whether he's prepared to make another alliance with a man who supports so many things James stands against.
Cleveland: A lot of dumb people are going to say a lot of dumb things about your favorite team. Let them yell blindly into the ether. It'll be OK.

— Scott @ WFNY (@WFNYScott) June 9, 2018
I wondered if basketball was worth all the time I'd invested in it. I gave up on football some time around 5-6 years ago. I just couldn't take watching people I care about debilitated and killed. I have regular arguments on Facebook with a friend who feels that basketball isn't any more worthwhile or morally redeeming than football, and rather that sports in general are a fallacy that teaches us that every equation is binary and that every negotiation and interaction produces a glorified winner and a pilloried loser. I have to admit, despite my boisterous defense of the endeavor, I've given his words a lot of thought in the last year. Did you know that Men's basketball concussion exposure rates were not all that far off football's. There were an estimated 773 concussions per year annually in Men's college basketball between 2009 and 2014. Do sports contribute to the greater good?
Words fail me when I try to think of a defense for his arguments, and all I can do is go back to my 2013 article about the Cleveland Indians, "Nothing is 'All for naught.'" It's the best thing I ever wrote on this blog.
The obsession with "championships" in sports are a completely invented 20th century phenomenon. "Championships" are marketing magic and clever salesmanship designed to make one game or series mean more than any other. That marketing has been wildly successful. Those games "matter" more because of the mob mentality of our culture. As a team wends its way toward a "championship," they gain more exposure. The throng becomes more aware of them, and as the team wins or loses, more people remember them and form flash impressions of the individuals involved in those events. Then, fans tuck those championships and playoff victories into the consumer profile and personal zeitgeist they use to build up their identity…

This loss of respect for history and process is at the root of the corruption of sport. "Winning" becomes more important than how a team or person won — what they went through to get to that moment. "Winning," as Charlie Sheen famously proclaimed, becomes everything: a one word declaration of victory, identity, superiority, morality, justification, and process. Because of this, victories are praised and then vacated in college sports, whole decades of baseball become steroid addled statistical anomalies; schools, from junior high to the Ivy League sacrifice their academic and institutional mission; football players become concussion-wrecked, walking cardio-pulminary nightmares; all in the pursuit of that great icon: the trophy.

And I guess, what I'm hoping for, what I'm asking, is for everyone to step back from the brink. Remember the process. Enjoy the process. Live in the moment. Be the fan, the coach, the player that remembers and enjoys each day you get to do or watch something you love, and if you don't enjoy it, and if it only brings you misery, go do something else. I got to coach my daughter's 3rd grade basketball team last year, and I hope to again this year. It was one of the best experiences of my life, and definitely the best experience with sport that I've ever had. There's few greater joys than watching people you care about practice and get better at something through teaching, listening, and working. There's a divine joy in the elan of seeing someone do something they've never done before, something they previously thought impossible, or something honed through pure dedication, whether that be watching an eight-year-old make her first layup or seeing a goofy seven foot center correctly hedge a pick and roll.
I wrote that before the Cavs "won it all" in 2016. And to so many of us, our argument, was that that one, meant so much more to us than any number of championships could have meant to almost anyone else. It's why none of us could hold much ill will towards Cubs fans that year, because in both cases it was the validation of all those little moments of fandom piled up over decades of love and heartache, but also the realization that something was coming together than was bigger than the sum of its parts and that the journey to get there that year and to watch all these guys grow together was almost as much fun as seeing them win it all was.
That love of the day to day –  the ability to appreciate "moments of greatness in their own right, rather than as simply rungs on the way to a trophy" is what was so missing this season. This year was a slog: a way to get through to the end without going through a journey of love to get there. The Cavs tried to short circuit so much; they chose players whose former glory outshined their current abilities, and whose selfishness and ability to play one-on-one basketball over those whose individual abilities were far outstripped by the leadership, selflessness, humor, and ability to play five-on-five basketball. Guys like Richard Jefferson, Channing Frye, and James Jones were left behind for the likes of Derrick Rose, Dwyane Wade, and Isaiah Thomas. Those castoffs' humor and dedication to craft were so obviously missing from this teams' day-to-day, that when the Cavs did make their big trades, they didn't have the leadership in place to integrate guys like Larry Nances, Jordan Clarksons, and Rodney Hood. The young guys were thrown into the playoffs with nary an expectation of how to approach the game, or what to do in a given situation on or off the court.
And we all know my issues with the coaching staff, but you have to know that those guys' absence and ability to take the edge off contributed to Ty Lue's anxiety level. I have so many issues with this coach, but I also empathize with him so much. The pressure to win, despite the paycheck (or maybe in part because of it), was enormous. It was so obvious that he had a hard time dealing with it, and as fans we were less empathetic than we could have been. Kevin Love also struggled with similar issues. One can't help but wonder if LeBron's one foot out the door mentality had a negative effect on all these guys.
I was crestfallen to hear James' interview comments with Rachel Nichols about what was going on with the Cavs and the Kyrie trade in the summer of 2017, and Kevin Love's comments throughout the playoffs about what life would be like with Kyrie, instead of focusing on the players the Cavs do have. How do you think those comments made the rest of their teammates feel?The constant noise about "next year," and "last summer" instead of the moment built into an overwhelming cacophony that made it impossible to focus on the here and now. James' and Love's lack of focus moment belied that they didn't believe that they could collectively raise their team's game in the moment. I've always said, that if you don't believe you can win, you can't.
I can only hope that wherever Mr. James decides to play basketball next year, he signs a long term deal, and reflects what he said in his letter: that his "calling here goes above basketball." I hope he commits to building something long term for the betterment of his family, his community, and his country. I wouldn't even mind if he retired to focus on one or all of those, though I doubt his love of basketball will allow him to do so until his powers are spent. I know I'd still be playing if I could.
In my mind I remember a quote from a press conference early on after LeBron returned that said something to the effect of, "I'm committed to being here as long as Dan Gilbert is committed to spend to put together a championship level roster." Since this piece is already 3000 words, I don't have the heart to research if that's the exact syntax or if the quote's just a figment of flaws of memory. Mr. Gilbert has spent at a championship level (though not necessarily made decisions at a championship level), and I've been grousing that LeBron owes it his word to stay. Of course, that's completely unfair.
One could easily argue that not spending to keep David Griffin was an abdication of Dan's commitment, and one could argue that the way words are bandied about in American discourse now has gone from Clintonian slipperiness to Trumpian mendacity; only what was said last and loudest matters. But in the end, it's LeBron's life and his choice whether to leave Cleveland and Dan Gilbert. I certainly would bear him no ill will, and as much as I'd miss his excellence, I'd love to see him go some place he can be great on both ends of the court for 34 minutes a night rather than finding ways to conserve energy on offense and defense for 40 minutes a night. I'd also relish the opportunity to see players I like grow again: Cedi Osman, Ante Zizic, and yes, even Jordan Clarkson. Like I said do "something you love, and if you don't enjoy it, and if it only brings you misery, go do something else."
For all the play on the court, though, if James does leave, I think I'll miss his relevance and voice most though. He's made Northeast Ohio matter in a way no one else has nor probably will for a very long time. James' perspective and gravitas is needed here more than it's ever been needed in some coastal bastion of wealth, elitism, and cultural orthodoxy. Here in the purplest state James has brought so many people of disparate backgrounds together on multiple nights per week more than almost anyone else could.
If he goes, or if he stays, that's the legacy I'll cherish more than any other: James a touchstone and a community that has grown up around he and this team and this site that might be diminished in his absence. Still, in the grand scheme of things, it's but a trifle. Despite the world often seeming as if it's on the brink, we live in relatively peaceful times. By percentages, we're far more safe, well fed, and healthy than we have been as a species than at any point in our history. We forget the millions killed by Spanish Flu, the world wars, the black plague, the Great Chinese famine. The vast majority of those who read this blog have the luxury of cultural touchstones, fast food, and high definition televisions, and the luxury to kvetch – not over whether our house will be bombed tonight, if we have enough to eat, or if we're going to contract Malaria – but over whether our favorite player is going to go play for the Lakers. So maybe we ought to channel our angst into a force for good.
"Things fall apart" The Yaets poem and the Achebe novel say, "the center cannot hold; mere anarchy is loosed upon the world," a world that is in a state of constantly breaking and reforming itself. The truth is that you and I, common decency, every day people of goodwill are what keeps it from falling into the abyss. I hope that's what this community stands for more than anything. We have been incredibly lax at this blog about an opportunity that presented itself at the beginning of the Finals to do something special, and it's my regret that we've been lazy. I should have put this up sooner.
If you ever read this blog and wondered how we put this much time, money, and effort into something and never put up any advertising or asked for a subscription, it's because we know how many awful for profit sites there are out there, and because we wanted to put up something of quality because we love writing, basketball, this community, and the Cavaliers. If you ever wanted to pay us back, please click on this link below and give something to the greater Cleveland foodbank.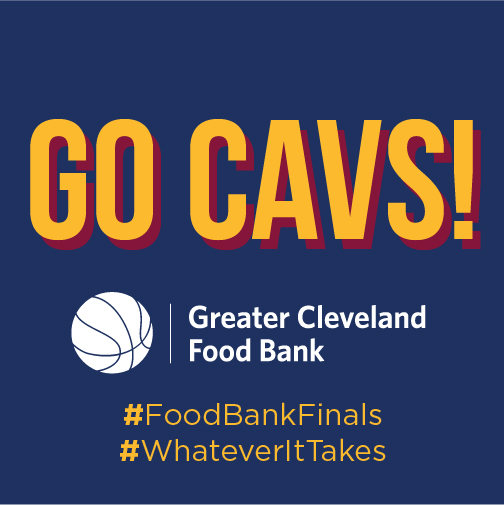 We'll be here to look at the draft soon enough, as wounds of the postseason heal, and we all remember that it this is all supposed to be fun, and about something more than just competing for trophies. Until then, and after, I'll be enjoying my summer and trying to get through a life that has probably had far too outsized an emotional focus on Cavalier basketball. In the interim we should all fill the void with figuring out one or two ways to push the world back from the precipice, and one or two ways to make ourselves better people. I pray for that for myself and the world every night, so I hope you will be trying. I will.