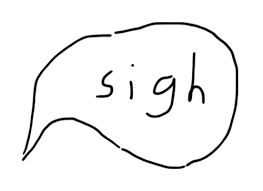 four point play….
1. Recently, I was told that a sigh is a literal reset of one's emotional state. I've been doing a lot of sighing lately when thinking about basketball and the Cleveland Cavaliers.
Here we are again. The Cavs are down 0-3 to a team that, despite popular opinion, is not drastically more talented than they are. No, they are down to a Warriors team that is only far more disciplined and well-coached than the Cavs. Steve Kerr's staff consistently monitors minutes. He understands how to maximize his players' skill-sets by using rotations that allow them to thrive. He allows them to play on the edge.
Meanwhile, Tyronn Lue has jacked around his players all season via rotation confusion and schematic change. Lue spoke as though he didn't care about regular season wins, yet didn't use that freedom to develop potentially helpful players.
Why didn't he? Because he doesn't actually know who his best players are. Lue is strictly a reactive coach. He rides one idea as long as it works. When it stops working (usually because the other coach has adjusted or his own players are dead tired), only then will he consider new options.
When things go awry, he returns to what has worked for him in the past. Unfortunately for the Cavs, those retro looks don't always come through.
If one doesn't think proactively, one can't truly consider how players can improve and develop their games. Lue has no foresight, thus rendering a guy like Cedi Osman completely disrespected and underused.
There are many things about David Blatt's short tenure that were not conducive to winning with LeBron James. (Notice I didn't say in the NBA).
Still, if Coach Blatt were currently at the helm, you better believe that the guys who play with with best combination of smarts and grit, would be getting the majority of the minutes.
The Cavs have the talent to beat this Warriors team. Nate beautifully tore down the narrative of the "unbeatable Dubs" in his recap.
That talent is simply not being used, hasn't been developed, and/or is being run into the ground by poor rotation management.
Coach Nick has made some great videos that rather clearly blame Lue for his rotation and his lack of defensive attention. This one is just sad. And so true.
2. So a series that should have at least gone to seven games has been short-circuited by atrocious officiating and incompetent coaching. Take away either one of those factors and the Cavs would likely be sitting at 2-1 amidst conversation of LeBron' ascension to GOAT status.
I'm so annoyed, I'm almost completely over it. I guess that is easier now after the highs and lows of public life and discourse since 2016 changed history. It's hard to get worked up about abject stupidity when it has become fashionable at every level.
Of course, we have to watch people cover their tracks now. The refs will likely call a ridiculously lopsided Game 4 in the Cavaliers' favor in order to even out the overall nonsense that has occurred thus far.
Refs are good at that. They have perfected the art of "foul balance" by blowing the whistle in garbage time for the previously scorned team. When someone checks the boxscore, they will only see the final tally, not how they got there.
By giving the Cavs Game 4, the NBA can say that both teams got a game from favor and the Warriors proved themselves to be the better team in the other contests. And make more Finals money!
Great, only giving a team Game 1 is very different than giving a team Game 4 when already in a 0-3 hole.
So yes, I expect a Game 4 Cavaliers victory. It won't be satisfying. The more dominant the Cavs look, the more frustrating it will be to accept that Game 1 was a robbery.
Maybe Lue will really torture me and give Cedi Osman and Kyle Korver the minutes they should have been getting throughout the playoffs.
The refs will toss Draymond Green for no greater action than that which he has performed on a regular basis up to this point.
The Cavs could win by 30 for all the right reasons and it would leave me needing a drink.
3. Too little too late. Alternatively, the Cavs could simply give up and allow the Warriors to celebrate another Championship at The Q.
I wouldn't prefer that. I still think LeBron will remain in Cleveland, but if this does turn out to be his last game as a Cav while in his prime (I'd be shocked if he didn't retire in Cleveland), I would hope he wouldn't take off that jersey following such a loss.
Ohio will always love LeBron, but it would be hard to watch the best player in the world play his last game in Cleveland and watch those whiney 14 year-olds in blue and yellow celebrate. Ugh.
4. On the bright side, Kevin Durant will likely prevent Steph Curry from getting Finals MVP. He has absolutely been the better player. He has also been the more palatable foe.
I literally had a dream directly after Game 3 in which KD and I hung out in Amsterdam. I told him that it was rough that the Cavs lost, but at least it was him that played historically great basketball and not Curry.
I don't love Durant or anything. I am a Blog Boy after all. But, I do appreciate his stoic approach to celebration. I'll take a mean mug over obnoxious grinning any day.
Quickies:
This whole post is rather quick. Can you tell I'm annoyed?
I will go on record here again. I think LeBron stays in Cleveland. The options on the table are not super enticing. If he goes to Houston, all those great defenders have to go. Salary cap is a thing, y'all.
Same with the Sixers. Without Redick, Bron doesn't really make a ton of sense next to Simmons and Embiid. Would he really want to play with kids?
The list is endless and ultimately pointless. We don't know. When in doubt, go with what you'd do if you were the most important guy in the NBA.
I'd bring guys to me, continue running my empire. And maybe make sure I always have a coach and/or owner who is just dumb enough to be my fall guy. Okay, that's not what I would do but… Go Cavs! Sigh