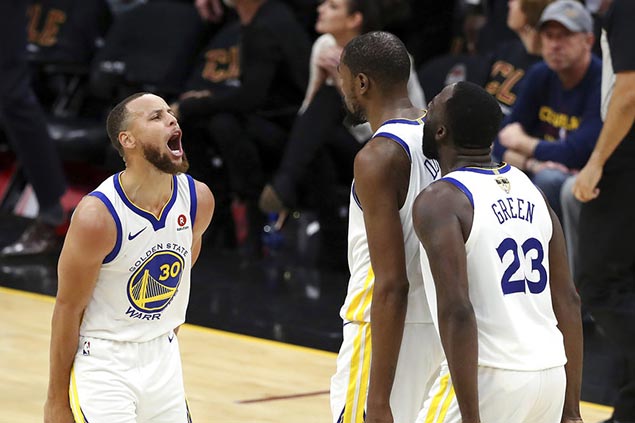 I'm already tired of the excuses. "They added Kevin Durant to a 72 win team…" "The Cavs don't have Kyrie Irving." "There's no 'margin for error' against the Warriors." Enough. The Cavs lost to Warriors Wednesday night, and the reasons people are offering for the loss are designed to protect their jobs, their egos, and their narratives. Terry Pluto offered this gem, "Can't criticize team for this loss." Of course you can, Terry.
Cleveland lost despite Steph Curry and Klay Thompson going 7-27. The papers will tell you that this was because Kevin Durant went 15-23, 6-9 from three, and 7-7 from the line, including three triples from over 30 feet out for 43 points, 13 rebounds, and seven assists. His last bomb? A boulder from a trebuchet that put the Dubs up 106-100. But the reality is the Cavaliers lost another winnable game because of an accumulation of strategic, tactical, and execution errors that doomed them to lose late in the game and allowed Golden State to outperform the Cavs in the Closing minute.
The Cavs actually came out hot in this one, going up 22-12 in the first eight minutes of the first quarter. Love, Smith, James, and Thompson were all aggressive getting to the rim and executing their offense, hustling after loose balls, and harassing the Warriors. The Dubs got themselves in early foul trouble with Curry picking up two. Draymond Green and Tristan Thompson also got an early double tech which led Jeff Van Gundy to comment to the effect that "Green will be able to do whatever he wants now, cause the officials won't throw him out." Green proved that thesis later in the quarter when he picked up a foul and shouted a stream of expletives into the air at mid-court.
The Cavs rolled until Steph Curry beat Kevin Love one-on-one to the rim and no one came to help him. After a timeout, Tyronn Lue subbed in Rodney Hood and Jeff Green for Smith and Love, and the Cavalier energy level immediately tanked. The Cavalier offense went cold as LeBron James was no longer feeding his best teammates, but was standing 30 feet from the basket trying to orchestrate a bunch of guys who weren't used to playing together.
George Hill clanked and coughed up a turnover while Kevin Durant got to the line and got his unstoppable jumper going for nine points in the final 150 seconds. The Warriors scored on six straight possessions, including one where Livingston went coast to coast to score a pull-up over a hapless Rodney Hood. They closed the quarter strong when Durant exposed the NBA's weakest rule by getting Jeff Green to bite on a pump fake and throwing himself into Green to get two freebies and close the quarter with a 16-7 run to make the Cavalier lead just 29-28.
I knew then, it was a bad omen, as the Cavs could've used that time to get LeBron James some rest instead of trotting him out in the middle of a slaughter. I knew when James took the court to start the second that Tyronn Lue would not rest his best player in the first half. Why not ride Kevin Love's energy? Why not rest your best player?
The second quarter saw the Cavs ratchet up the D and hold the Warriors scoreless for the first three minutes as Rodney Hood scored his very first basket in several weeks. But the Cavs got careless as a Durant flop on a push-off baited the officials into calling a LeBron James offensive foul. The Cavs gave up an easy one to Jordan Bell, continuing their trend of leaving roll men and bigs with semi-competent dive timing to be the beneficiary of Warrior passes for layups and poor communication from the Cavs. This would happen throughout the night as Jordan Bell, JaVale McGee, and Andre Igoudala combined to go 13-18 from the field and 4-6 at the line mostly as a result of these kinds of plays. The Warriors punish bad defense with well-timed cuts and passers who know where their safety valve is.
Bell would also be the beneficiary of more than one over-the-top feed from Draymond Green who threw perfect alley-oops off the short roll and drives when the ball swung to him.
James, Love, and LeBron got hot, and pushed the Cavalier lead out to 13 as Kevin Love scored his 12th point: a tough man's rebound and putback over Andre Igoudala, and his 15th point, a three-ball from 27′ off an elbow feed from the King.
Cleveland did a great job of getting Love going from the inside and then the outside in the first half, but Kevin Durant just kept coming, scoring 11 in the final five minutes of the period including two 30+ foot bombs. Cleveland got in the paint but missed too many bunnies, shot too many fade-aways, and could not buy a whistle. They shot zero free-throws in the first half, but much of it was due to their shot selection.
Hood came in for Love at the 3 minute mark, which was baffling cause he'd just played only a five minute stretch, and had eight points. Hood scored two straight buckets but gave up more than he got, as he got outrebounded for a Bell tip-slam and was a part of the general haphazard defense against their scorching Durant. It didn't help that KD got some ridiculous calls, like an and-1 against Larry Nance for a "standing there" foul.
Immediately after, James ended the quarter in abysmal fashion by driving with 15 seconds on the shot clock and 25 seconds left in the half, displaying awful clock management. Of course, he had just played two straight quarters, so maybe we can forgive him. James got hit in the air by Durant, no call. KD came back with an almost full shot clock to put up a 34-footer to cut the Cavs lead to just six. In case you're keeping track, between the bad call, the no-call, James' poor clock management and Durant's bomb, that's a 5-6 point swing to end the first half with the Cavs up 58-52. You can watch the last two plays.
Despite the lead, I wasn't confident heading to halftime. The Cavs should've been up double digits but were awful closing quarters, and James had no rest. I'd have easily traded six points for six minutes of rest for James.
My fears were confirmed in the third quarter  when Golden State erased the Cavalier lead in 107 seconds off the strength of three JaVale McGee bunnies, and a KD triple where everyone lost Kevin in transition. I understand that's easy to do. Durantula only had 24 points in the first half. I muttered a Draymond-esque stream of expletives from my couch. George Hill posted some anemic offense, missing two buckets (one an uncalled foul) and turning it over, while Dray picked the Cavs apart with pinpoint passing and cutting that exploited J.R. Smith's utter lack of defensive chops.
Tristan put in perhaps the niftiest finish of his career with a reverse-and-1 over Durant, yet the Cavs kept falling behind. Things looked bad when they got down by five, but somehow, timely threes, James' drives, and a couple of Rodney Hood buckets kept the Drayfest, and  Duranslaught from getting too awful. KD kept scoring with a man in his face, but the Cavs never made him uncomfortable. They never gave him a hard foul or pushed him off his spot or went through him to get the ball. They never made him feel them. Yes, JR had some steals early, but no one put a bone-rattling hit on his skinny little body: the kind of hit that James takes multiple times per game. The Cavs would would come to regret that as they entered the fourth down 81-83, buying a few minutes of rest for LeBron in the waning minutes.
The Fourth Quarter started with a Rodney Hood buzzer beater. And then a Jordan Bell layup off a nasty (moving) backscreen from Curry. Someone needed to tell Nance it was coming. Curry was as cold as ice though and missed everything. Yet Durant bailed them out time and again with elbow jumpers against tight defense. Somehow James and Rodney Hood kept pace with the Warriors as Kyle Korver struggled with a travel and missing an open look. The Cavs retook the lead, 93-92 on a James floater, but were quickly answered by an Iggy layup after a KD/Curry P/R. Check out the sweet play and the uncalled Durant offensive foul.
And the Cavs answered with two furtive possessions that featured multiple offensive rebounds leading to Warrior fouls and an incredible amount of fight from the Wine  & Gold as James and Love free throws sandwiched an impossible Durant pull-up from the left elbow. The Cavs brief 97-96 lead, lasted till just under the two minute mark, when Rodney Hood had an absolutely abysmal defensive possession, getting caught on the wrong side of Steph Curry, staring at Draymond Green (who the Cavs desperately wanted shooting instead of passing). Curry got an unacceptable layup.
The most pivotal play of the game came next when Kevin Love posted up Igoudala after getting two free ones the last time down, and spun, and looked like he had a shot at the rim until Igoudala reached out with lightning hands and stripped him. I've watched the replay four times. I still don't know how Andre got around to strip so fast. I also know that the horrible spacing caused by Thompson's presence on the opposite baseline caused Kev to pull up instead of laying it up or passing. The strip led to a Curry three over Hood after an absolute freaking brain fart got Steph open after Rodney bit on a pass fake. Curry drained the trey to put the Dubs up four with 2:38 remaining. UGH.
Somehow, amazingly, the Cavs got it back to one on this two-offensive rebound possession that ended in a James three. But, painfully, LeBron and Love blew their pick and roll coverage on Durant and Igoudala and both stayed with KD with nary a chuck on the roller. Igoudala got to the rim and Thompson went for the block instead of fouling the Andre dunk like any smart team would.  Dubs up 103-100.
On the ensuing possession, possibly the most important possession since 2016, James dribbled the air out of the ball for 20 seconds before spinning into help in the lane against Curry and delivering one of the most ill conceived passes of his career to Tristan Thompson, who predictably bricked a hook shot. Watch it. Why James didn't use his right hand on the block against Steph is beyond me. Yes, James was exhausted. But that looks like a give-up play to me.
On the back-breaker (above), I screamed, Jeff Van Gundy Screamed, "GET THE BALL OUT OF KD'S HANDS!" To no avail. JR and Rodney played too far off Durant as he kicked Cavs nation in the gut with 32-footer to all but shovel the dirt on the Cleveland season: 106-100, Warriors.
—
I couldn't sleep after the game and I went round and round on the live thread. I hate this. I hate it hate it hate it. This is the time that is worse than having lost, that time that the whole world knows you're going to lose, and they're ready to bury you. Not just now, but for all time: "LeBron is leaving." "The Front office is a joke." "Cleveland is a hole…" And the excuses. Oh my God, the excuses.
"Golden State is unbeatable." "Kevin Durant joined a 72 win team and broke the NBA." "LeBron has terrible teammates and needs more help." "Golden State has so much more talent." Listen. None of that matters. The Cavs had multiple opportunities to win games one and three, and didn't do it. They didn't fail because of intrinsic inequalities or because Kevin Durant is the biggest wuss in the history of sports. They failed because they made more mistakes than the Golden State Warriors from the front office to the coaching to the play on the floor from the end of the 2017 Finals until now. and they did not capitalize on as many opportunities as the Golden State Warriors did during that time period.
From the end of last season we howled that Tyronn Lue needed to find a way to get LeBron ten minutes off a night in the finals. He and the front office have yet to find a way to do that, and seem unable to realize that it is part of the reason the Cavs are having problems finishing games. We facepalmed last summer when the Dan Gilbert elected to dump David Griffin to save a few bucks and try to run the franchise himself with lackey Koby Altman. That summer the Cavs hitched their wagon to aging guards unable to fit the Cavs style of play or match up with the Warriors: Thomas, Calderon, Rose, Wade. We grimaced when the Cavs signed legendary fail artist Jeff Green who cannot shoot threes or make defensive rotations consistently yet still gets trotted out to do so. The Cavs failed to sign one player who could be a plus when playing the Warriors, even in a limited role, when there were players available. The one player they did spend money on, Cedi Osman, was not developed for a role to help stop the Warriors by the coaching staff.
Then the Cavs made one of the worst trades in NBA history for one of the most overrated players in its history who was also hurt. Then they refused to demand adequate compensation when the result of that injury was made clear. Then they traded at mid-season for the worst player in the league by RPM who played over 25 minutes a game (Rodney Hood), a lunk-headed combo guard (Jordan Clarkson), and two contributors (Nance and Hill), but refused to put any of them in situations that consistently accented their talents or gave them much direction. They rather rolled the ball out to LeBron and said, "here you go."
We howled at the ineffectiveness of Mike Longabardi's defensive schemes and Tyronn Lue's nonsensical rotations and unwillingness to develop/play rookies. Yet, they trodded along blissfully, allowed to keep failing. I loathe predictions and I didn't want to predict that this season would end without a victory due to Tyronn Lue's coaching failures, for fear of jinxing or somehow giving me a rooting interest in the failure under the guise of being right, and yet, so far it has played out exactly like so many of us have feared: with the Cavs unable to get stops, unable to get James rest, and unable to surround him with four players he can finish a game with.
And now we sit on the precipice with the Cavs having wasted another triple double from the King (33-10-11) and a 20 point, 13 rebound night from Kevin Love who was the second leading scorer and top rebounder, and led all starters at -1 plus/minus yet played fewer minutes (31) than J.R. Smith (33) or Tristan Thompson (34). Cleveland found fools' gold in Rodney Hood (15 points, -12 on the night, and on the wrong end of too many a highlight), and only found four shots for their leading net rating player in the postseason and the series, Kyle Korver. They refuse to run an offense that suits Korver, and instead insist on running LeBron into the ground possession after possession.
Yet people scream into the wild night that the Warriors are unbeatable. They are not unbeatable. Play LeBron 40 minutes at most. Run pindowns for Kyle Korver. Give Cedi 10 crazy energy minutes. Put every single one of these Warriors on their butts at least once. Tell George Hill to be aggressive. Foul the Dub's crappy free throw shooting centers instead of giving them dunks. Get the ball out of the hot hands of the hot shooters. Play with a fresh LeBron James down the stretch instead of an exhausted one. Have some freaking pride.
You can play smart and hard and tough and maybe lose, or you can crown their a**es: sit in press conferences complaining about how Kevin Durant gives the Warriors another dimension or wondering what it would be like with Kyrie Irving, or about how they give you no margin for error, or you can get up, get in the film room, talk about how much you screwed up last game, and what you need to fix. You can give all your players (not just LeBron James) an opportunity to play in an offense and defense that puts them in the best position to succeed, or you can keep trotting out LeBron James iso possession after LeBron James iso possession until he has one eye and one leg left. Stop focusing on the summer. Focus on the now. Win one game.