I know people have gone over game 2 of the Finals to the point of exhaustion already, but it's fun to relive the good and the bad. It's gonna be therapeutic, and if Tyronn Lue doesn't at least try to notice and change some of the things I'm bringing up, you can hold it against him.
Defensive Darling and James
George Hill's defense on big men in game one was nearly perfect. Here's the thing though, he's not actually a big, so even if he plays perfect defense, there's a huge chance it won't matter. The Cavs left him on an island against Kevin Durant and Durant scored several times, but Hill was contesting as well as he possibly could. Durant's simply too strong and tall to keep from getting to his spot and rising above a smaller defender.
In the play below, George Hill gets switched on Durant on the lower right block. Durant doesn't even dribble him into the paint to get a closer look. He just turns baseline and rises up. Hill is in his face the entire time though. What's aggravating about this shot is that LeBron James just watches it happen. James is covering Draymond Green and sagging off of him a decent distance. He's actually closer to Durant by the time Durant receives the entry pass. He should have crashed down. There's less chance of Draymond canning a 3 than Durant rising over a smaller guy for a jumper.
In the next play, Hill ends up on Durant on the right block again. Durant bullies him into the middle though to attempt a fading jumper. Hill actually rips the ball as Durant tries to turn around. Again though, LeBron watches Durant move Hill around. Again, he's on Draymond. James has to be a better helper, especially if he isn't on a shooter. He can't take those plays off.
All of the Cavs have fallen into the trap of leaving George Hill in Hawaii with bigs. In this play below, David West posts up on Hill and pushes his way into the paint. Thankfully, Hill has great hands and rips the ball away when West turns to the hoop.  James is sagging into the paint as this happens and doesn't help. He's already too far off Kevin Durant in the weakside corner to contest if the ball is kicked to him. He mine as well help George out. Kyle Korver is standing there too, eyes nearly burning a hole into Sean Livingston's soul. He could have helped out a bit as well.
In this play Hill is fighting and the Cavs need to help him. It's not fair that he plays 10 seconds of good defense only for the Warriors to score anyways. Sending a double or having someone smash down onto the bigs he's guarding is not hard. And, if Golden State doesn't have both Stephen Curry and Klay Thompson on the floor to space, it's borderline criminal not to try and force the ball out of a big's hands when it's going to result in an instant bucket.
Stopping the Heat
There's no arguing that Stephen Curry is an insanely talented shooter. He set the record for most 3s in a Finals game with 9 in game 2. Still, the Cavs have to stop him from dropping nuclear bomb morale killing 3s.
At the start of the fourth, the Cavs were down seven with 10:46 to go. In the play below, The Warriors run a West-Curry screen that the Cavs switch. Larry Nance ends up on Curry. He comes out to his level and sticks with him for a dribble before Curry fakes a drive to the paint and Nance opens his hips. Nance is reasonable in getting turned. He's planning to chase Curry and contest his shot from behind.
However, Curry just pulls back for 3, and Nance slips trying to recover. Watching the video just once makes it seem like Curry made a tough shot.
It's not really that tough though when you see this picture.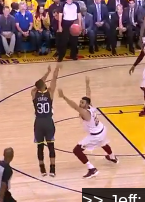 The ball doesn't even face a contest. It's out and beyond Nance's reach by the time Nance is contesting. Curry also isn't afraid of a dude charging him, which helps. Curry comes back on the next play down and drills another 3-pointer to put the Warriors up 13 and ultimately end the game.
Let's look at that play. Before this video starts, Curry grabs the rebound off a missed Jeff Green hook. He brings the ball up the court, and the Cavs are scrambled. Thus, Nance covers him again. Nance starts off fine forcing Curry to drive. Curry then passes to Draymond and quickly runs to the corner to catch the ball and score another 3.
A few things go wrong for the Cavs here. First off, since Curry is so fast, he's able to run Nance into his own teammate to create separation to get to the corner. Nance is sprinting, not thinking. Secondly, LeBron watches him do this. Again, James is on Green…You get the story if you read the rest of this piece. Nance tries to hustle to contest but makes an even more fatal mistake. He does the jumping fly by contest. Curry stays put and drains the shot once Nance flies by.
Everyone knows that Curry can get hot. And, if I have to explain that the crowd gets amped when this happens, you clearly haven't watched the Warriors ever. The crowd getting amped is bad. It's rattles the Cavs. I don't care if the score is 0-6. It's just not good to let the crowd get involved or for Curry to get going, since he's the one that will score the actual points that beat the Cavs.
This leads me to my grand point. The Cavs need to just run Curry off the line and eliminate any chances for him to get crowd pleasing 3s. Cleveland should play in his jersey and force him to drive every chance they have. That isn't easy, but it's a sellout way of defending and chances are he will probably drive, especially when a big ends up on him. He's going to make some layups, but last time I checked 2s are worth less than 3s. He'll probably get some guys shots too. Again, they aren't Curry 3s at least.
Now, he might not score every time if the Cavs can actually help down low more. By Cavs, I actually mean LeBron James. I'm going to preface this: LeBron is the best, He's the King, the Cavs wouldn't be here without him… and a bunch of other platitudes that are true about him.
However, James has to do more defensively. He's the primary culprit in the help mistakes I've showed here today, and that's because he was a poor help defender in game two. I'm calling him out because he has the tools to be an amazing help defender. He's the best guy in the NBA to run out from the paint to a 3-point shooter anywhere on the floor. He covers more figurative ground than the literal ground Jabba the Hutt does and James isn't fat.
If you don't believe me about James' help defense look at the play above. In it, J.R. Smith and Jeff Green fail to contain Curry because they botch the coverage. Kevin Love sags off his man and tries to help, but LeBron doesn't even leave Livingston. James has time to get to the hoop to do something once he sees what's happening. Sure, he may not block Curry; however, he's got the loudest feet in the league. There's not one guy in the NBA that wants James trailing them while going in for a layup.
Just to renforce this point about James, look at the play below.
Kevin Love switches onto Curry and plays proper defense forcing him to drive. Notice Love comes out past the 3-point arc. That's what needs to happen whenever anyone is covering Curry on-ball. Anyways, Love trails him and makes Curry take a tough layup. James, however, just watches him do it and leaves Durant open while doing so. Curry could have easily kicked the ball to Durant for an open 3. If James isn't going to play help defense, he needs to at least prevent shooters from being open. He needs to gamble with purpose and for an actual pay out.
I get why James may not be helping as much as he should. He's tired. He's really really tired. Playing 91 minutes in just two games is absurd. Scoring 51 points is absurd. Being the main offensive weapon and constantly having the ball in your hands is absurd.
Have no fear though, I sort of have an answer.
The Korver Question
In two Finals games, Korver has played just 33 minutes and taken just four 3s. Jeff Green has taken eight and hit just one. J.R. Smith has taken ten and hit just 3. Green has played 56 minutes while J.R. Smith has played 70 minutes.
Korver should be getting more minutes and he should be getting more shots. The argument against Korver is that he's a defensive liability. He is. So is Smith. Jeff is barely passable defensively, but he's an offensive liability. J.R. Smith also happens to be an offensive liability too. He can't make anything near the basket and his 3-ball isn't falling. Now, that seems to hint to me that Korver should probably be getting some of those guys' minutes, right? He should be getting their shots at the very least.
Here's where this ties into LeBron being tired. The Cavs need to base an offense without LeBron around Korver and Kevin Love. Remember all the beautiful two man action Love and Korver ran during the playoffs. If you don't, check Zach Lowe's piece that broke it down. I'll wait.
They have now played just 6.2 minutes per game together, and they haven't been running anything with each other. They've combined for one 3 while sharing the floor in Finals. In the previous rounds of the playoffs, they were playing 18.3 minutes together a night and combining for 4.3 3s. And, they were wreaking havoc against defenses because teams got so scared of them shooting they changed what they did defensively.
Korver and Love can sustain while LeBron sits if someone gets them the ball in the proper spots. Finally, up until this round Korver had the second highest on-court value of any Cav at 2.9. When he was off the court, the Cavs were outscored by 1.7 points. Again, he just needs more minutes, stats and video back this up. The fact that through 3 rounds Jeff Green and Jordan Clarkson were negative in their plus-minus while on the floor can't be ignored.
BONUS SECTION: CAVSPRESSION
Now, I was planning on ending the piece with a statement along the lines of:
Tyronn Lue knows the Cavs need something to change in game 3. He isn't going to go with Cedi Osman for the energy because he's a rookie, but he might trust a veteran like Korver who has shown his worth throughout the season. If the Cavs can get LeBron a little more rest during the game and hang in with a Love-Korver offense, the King might have the energy to be the rest of the offense and play just enough defense to change the outcome for the best.
However, having a smart phone ruined that thought and has thrown me into a Cavspression.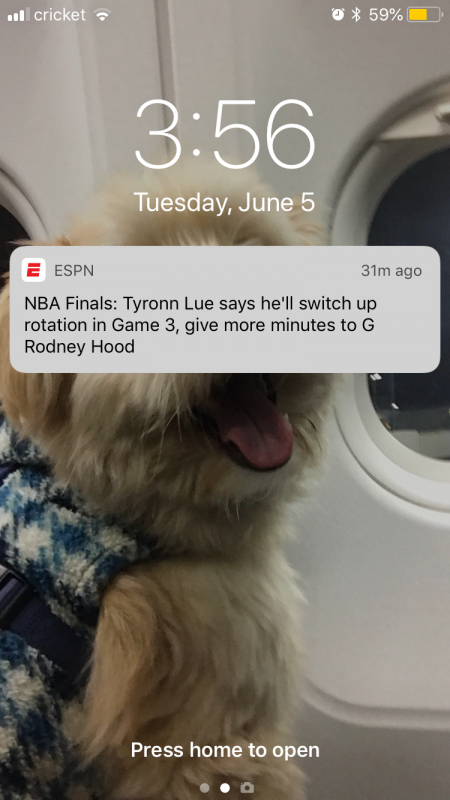 This is not photo shopped. The failure previously and still currently known as Rodney Hood will be getting more minutes. Just when I thought Lue was becoming a better coach, he did bench Jordan Clarkson in the second half of game 2 after all, he pulls this. Just for reference, Hood has a plus-minus of -6.1 during the playoffs; that's the worst on the team by 3.6. Not even my cute dog flying in an airplane in a fancy coat background on my phone lessens this blow.