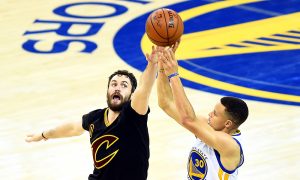 four point play….
1. The downsides of living in Germany are laughably few. Still, one disadvantage has thankfully visited me every June for the last four years. Let us just say watching live NBA Finals games from 3am to 6am is not the best way to have a productive work day.
I was set to go all LeBron "zero dark thirty" and simply not watch the contest until the following afternoon, but I woke up exactly at 3 am, roughly five hours before my alarm was scheduled to wake me from my peaceful slumber.
Like James, my internal clock screamed at me, "it's game time!". My regular season viewing analytics went out the window.
I hilariously thought I would just go back to sleep. No way. Instead, I stayed up and witnessed one of the greatest performances, and tragedies of modern sports.
LeBron James. Just… I, er,.. Thanks, LeBron.
The referees. How could you possible mess up that consistently and horribly?
I shall leave both of those topics for other columns (If you haven't yet checked out the Nate and Tom recap, do).  There are too many things to say on both to cram into this space.
Instead, why don't we check out some of the other important, albeit less life altering events from Game One.
2. Lost in the ridiculousness of Game One is how obscenely well Kevin Love played defense against Kevin Durant and Steph Curry.
Over the last few years, Love has mostly been asked to trap and recover in order to get the ball out of Curry's hands. Love's iconic "Stop" against Curry to help win the 2016 Championship was performed more as a late game necessity than as a consistent rule.
Until Game One, the Cavs have customarily switched all actions not involving Love unless it was as a last resort. Not this time. From the tip, Ty Lue had his squad switching every screen action both on and off ball, Love included.
It makes sense. You want to have your best guys on the floor. If the matchups are going to force LeBron to guard Kevin Durant as the primary defender, it isn't the worst idea to simply switch across the board.
Yes, it can weaken the defense at the point of attack, but it saves LeBron's energy on the defensive end. As long as Kevin Love and George Hill can at least make Curry and Durant work for their one-on-one possessions, it can be a net positive.
People pick on Love's defense but he has acquitted himself very well over the last few years against the Warriors.
In first quarter of Game One, the Dubs did a good job of dictating multiple on and off ball switches to ultimately force Tristan Thompson AND Love into being the two primary Pick and Roll defenders. It's one thing to plan on being put into a switch mismatch. Guarding a 1-3 PnR with a PF and a C is another thing.
If the Cavs switch everything, it is only a matter of patience before the Dubs can get Love and TT matched up on Curry and Durant.
The Warriors were able to get a lot of traction with that action early in the game. Rather than stalling the post switch offense with Iso Ball, Kerr was able to get his best guys going two on two against the Cavs' big men.
In the first stretch of play, the Cavs didn't do a great job of early rotation on the back end. As Jeff Van Gundy pointed out, there were many times that a weakside defender should have been planted near the paint.
Fortunately for Cleveland, the moment the Cavs went to its bench, that Warrior action ceased and the Cavaliers' defense at the point of attack improved.
Larry Nance's activity had a lot to do with that. The Warriors also lost the focus necessary to search out the matchup and then run real action.
Back to Kevin. The Warriors assumed that Love would tire as the game went on, but instead he began to anticipate their offensive actions beautifully.
In the second half, Kevin switched hard and early with an angle that forced Curry to his left. Love's early aggression on the initial screen eliminated any chance of an easy roll to the cup. Durant and Curry were forced left and out of easy play-making position. It was text book.
Sure, Love will get beaten at times. Unfortunately, one of those times led to Curry's And-1. But mostly, Love played championship level defense. If he can get a few more shots of his own to drop from distance, he is in great shape.
3. The rebounding edge the Cavaliers enjoyed doesn't look like a fluke. With the Cavs playing four out with either Nance or Thompson crashing hard to the glass, the Warriors aren't putting themselves in a great position to board.
If not careful, a switching defense can present the same problems on the glass as a zone. Outside of Draymond Green, the Dubs don't have a positional rebounder to prevent the Cavs crash.
Both Nance and TT are elite offensive rebounders. I don't see how the Dubs can solve the disparity unless they turn to JaVale McGee or Zaza Pachulia.
I doubt Kerr wants to go that direction full time, but it's got to be hard for him just to accept the the likelihood of giving up 10 plus offensive boards every game. It's the principle reason McGee got the second half start. 
There have been times that the Warriors have stolen some offensive rebounds because of the Cavs own switching. With Love and LeBron, it doesn't happen often. They are too good on the defensive glass for GS unless Kerr is rolling McGee out there.
Cleveland also doesn't leak out in transition as much as GS does. The Cavs contest and release only sparingly, perhaps too infrequently considering Love's outlet passing skills.
It might also be the exact correct amount. Teams that contest and leak as a rule do get points in transition. They can also get torched on the glass against the wrong opponent. The Cavs are the wrong opponent for the Dubs.
If the Cavs can continue to box out hard on the defensive glass while letting Tristan, Larry, and Kev do their offensive thing, the advantage should stay in Cleveland's favor.
4. As a frequent Lue critic, I feel I should give him a little credit for this game. The schematic choices were solid.
And yet, he continues to botch his primary duties: rotations and game management.
Whatever blame one wishes to place on J.R. Smith should be equally shared by Ty Lue. It is his responsibility to make sure his guys know time and situation. 
They needed to have a clear directive for all the potential outcomes of that free throw. It's sad that J.R. will get killed for "losing" this game when his action didn't actually lose anything, nor was it his alone.
Yes, it sounds like I have an anti-Lue, pro-Smith bias. I do because we know who these guys are. We know Smith can lose focus.
If I'm the coach of any team, let alone one with Smith and Jeff Green, I'm repeating the plan at every opportunity. Or didn't Lue have a plan?
Lue didn't seem to, and Smith squandered the possibility to take the lead.
Of course, the greater misery/mystery is the insanity that continues to be rotation minutes for Jordan Clarkson.
This horse is already beaten, dead, decomposed, and finding its molecular way into your cornflakes. Just. Stop. Playing. Him.
ENOUGH
Cedi Osman is built for this. Lue could infuse smart energy from a 6'8″ guy instead of dumb energy from a 6'4″ chucker. It's not like Clarkson has been running the point. (Nor should he). I'm happy Jordan grabbed that one steal, but man was he a wreck otherwise.
This continues to be the most baffling error in judgement of Lue's coaching career. He goes one-on-one talent over team skill-set. Shumpert over Delly, Clarkson over Cedi. It's coaching malpractice.
Quickies:
Draymond holds guys to prevent the Cavs' weakside defenders from rotating on every single possession. He has been doing it his whole career. It is a Dubs special. How the refs never see this is beyond me.
At least TT does some of that for the Cavs too. This is the lesson. If refs don't see a foul, it's not a foul. The Warriors have embraced this over the years by fouling on every play. It's smart basketball. 
Except it is also garbage. I can't ask the Cavs to do the same things when the refs clearly don't call things evenly for both squads. If they are going to call Hill for clean strips, it is an uphill battle.
The Warriors are immature 13 year olds who tease when they have power and crack under pressure. They do things behind the teacher's back and then try to charm their way out of the consequences. It's time to dress Perk. He doesn't need to play a minute, but having him in uniform couldn't hurt.