In sports, there are tough losses. There are gutwrenching losses. There are losses that make you scratch your head. And then there are losses that just make you want to throw up. This one trumped all of them. This game saw LeBron post a 51 point game, the second highest scoring finals game in NBA history. Yet, the Cavs got screwed by the officials to the tune of 7-9 points in the late fourth quarter, and then overtime…
…And none of it might have mattered if J.R. Smith hadn't totally boned the final play of regulation, an offensive rebound of a missed George Hill free throw, after which J.R. thought the Cavs were up by one instead of tied, so he tried to run out the clock instead of putting up a shot, passing, or calling a timeout, to send the game to overtime. The Cavs got screwed on the first call of overtime, and after just seemed defeated – unwilling to believe they couldn't beat the Warriors and the officiating as the Warriors went up 10 and put the game out of reach.
As if that weren't enough. Tristan Thompson took exception to a Shawn Livingston "run it up" shot attempt with two seconds left in overtime and fouled him, and was inextricably ejected for the most ridiculous Flagrant 2 call in NBA history. After which, Draymond taunted him and the Cavs and caused a big dustup. God, I want to vomit. Fortunately, Tom Pestak conjured all our collective rage for an "instacrap" (cause this game was crap).
OK, Deep breat. Let's take a look at how we got to this situation. The Cavs came out strong and put up a 30-29 first quarter lead on the strength of LeBron's 12 points on 4-4 shooting and three dimes. Kev dropped nine around the basket and in the post, and J.R. canned seven as they consistently looked to get him isolated Steph Curry. Unfortunately, George Hill picked up two fouls early and got replaced with Jordan Clankson who bricked his first three wide open shots and turned it over before getting a bunny from LeBron. Jordan did have a block, but Kyle Korver or Cedi Osman there would've put the Cavs up four to seven instead of just one.
The Dubs were led by a red hot Steph Curry who had 11 in the first, and was hitting threes and scoring on layups when the Cavs ran him off the line. Fortunately, the other Warriors were missing from outside. Also of note, was an early exit by Klay Thompson who was undercut when J.R. Smith slipped and rolled under him. Klay went to the locker room, but played the entire second quarter with a "contusion."
The Second Quarter started with more ice cold shooting from Clarkson who was thankfully replaced by Kyle Korver. Unfortunately the Cavs didn't seem to be able find ways for Kyle get open other than his left side baseline screen and he finished with just three field goal attempts on the night. LeBron continued his brilliance with a 12 point quarter, but got raked in the eye by Draymond Green and was on the floor for a couple minutes, and ended up with blood in the white of his right eye.
James was everywhere offensively, and consistently punished Steph Curry and the Warriors' bigs on switches, and driving to the rim with a series of Statue of Liberty one handed finishes. Larry Nance gave them major minutes filling the lane, scoring over littles on switches, and rebounding on both ends of the court: eight points and seven rebounds in 9:40. He might have been the Cavs' second best player tonight.
A Kevin Love turnaround put the Cavs up 11 with 5:19 to go, but the Warriors closed with a 16-5 run as the wine and gold turned the ball over and couldn't get into their offense and a couple defensive breakdowns assisted Golden State in getting easy buckets. The quarter ended when J.R. went for a ridiculous steal and missed, leaving Steph Curry open for a shot he buried to leave the score 56 all at halftime.
The Third Quarter exploded with the fireworks that the Warriors have shown in the period all postseason. The Warriors started Javale McGee and his energy helped kick off an 10-3 run as Kerr clearly had seen something in the Cavs' defense that made him think Javale could get some easy buckets inside. The Warriors got to the rim for eight straight while the Cavs missed threes until Ty Lue finally called a rage timeout. Fortunately, two bad plays got the Cavs going: a Steph Curry pass through Javale's knees, and an hilarious missed dunk that will have McGee on Shaqtin the Fool.
The Cavs got a much needed bucket on a Tristan Thompson post-up after he was switched on by Klay Thompson (you read that right). Then LeBron got to the line for two and got supernova hot from outside, scoring 13 in two minutes with three triples (all off the dribble) and a turnaround to draw the Cavs back to 73-all. The Dubs responded with another run centered around Durant, Thompson, and too many dunks. While a Kevin Love hook and a Nance freebie left it 84-78, Warriors.
I'll admit I didn't think the Cavs had enough in them to win this one when The Fourth Quarter started. LeBron looked gassed, and he was getting no help from his teammates' outside shooting, but a Clarkson steal led to a Jeff Green dunk from the King, and Curry was missing looks he normally makes. But Thompson scored five straight on Kyle Korver, losing him on a pick-and pop, and then drawing a foul on a bad closeout from Korver that netted him three free throws (Korver had a bad defensive game). But the Cavs responded with a huge triple from Jeff Green and then from Kyle to cut the Warriors' lead to just one for a Steve Kerr timeout.
Looney converted a flob and Clarkson finally made a bucket off the drive before LeBron re-took the lead with a gorgeous driving layup, while  the Warriors missed three after three… Then the first of many assaults on the profession of officiating occurred when Durant drove, James got a clean strip, and was whistled for the foul. Of course Durant missed the backend of the free throws, and Looney tipped in the miss for a three-point possession. On the ensuing drive, Bron was absolutely hatcheted by Loony for a foul ten times more obvious that was uncalled… That's at least a four point swing just on bad calls. Here's the comparison.
After a Love tip-in of yet another JR brick, Draymond Green broke the seal on the three point arc by making a rare triple, James threw the ball out of bounds, and Curry answered with another trey. "Crap," I said, as the Cavs called time out. I feared the game was about to get out of hand. Little did I know.
The Cavs answered with a stupid possessions: a J.R. Isolation brick against Draymond, but a missed Looney layup was followed by two gorgeous drives from LeBron sandwiched around great defense from Love where Kev pressured Durant into a left wing air ball. A Curry layup followed before J.R. clanked a trey and George Hill and Jeff Green both got offensive rebounds to set up Kev from the top of the key… BANG! Three pointer, Cavs down 101-102 with 2:04 left.
Cleveland kept defending and survived a minute long possession from the Warriors as Curry and Durant both missed shots. Then James drove, drew an and1 from Looney to give the Cavs a two point lead. This was a ridiculous finish.
Then the refs really put the screws to the Cavs. After Kenny Mauer called Kevin Durant for a charge on LeBron James on the floor, the officials went to replay to review if "LeBron was in the restricted area." Jeff Van Gundy mentioned that they can look at the feet, but also overturn the block/charge call. Then Steve Javey came on to discuss the play, and basically agreed that if both refs on the floor called it a charge, there probably wasn't going to be enough on the replay to overturn that call as long as LeBron wasn't in the restricted area (he was at least ten inches out).
It was a bang/bang play and a 50/50 call. The officials engineered the review rule on a play that was clearly outside of the restricted area to get to a replay and examine the play like it was the Zapruder film and decide it was a blocking foul on James. I've watched thousands of hours of playoff basketball, and I've never seen a play overturned like that. Ever. LeBron was rightfully incredulous, as were we all.
Durant made both free throws to tie, James rejected a Hill screen to blow right by Durant on the left and double clutched to finish over Draymond Green. Unfortunately, the Cavs had Kevin Love in (they'd been subbing him out on D earlier, and the Warriors didn't call timeout to allow Lue to do it again), and Kev comitted a dumb foul on the Curry layup nine seconds later.
With the hoop and the harm, the Warriors were up one with 23 seconds left. The Cavs played for last shot, and with four seconds left, Klay Thompson yanked George Hill down to send him to the line. He made the first, missed the second, and then J.R.'s brain fart ensued.
In J.R.'s defense it's either LeBron's or George Hill's (the leader and the point guard) responsibility to let everyone know the situation and to make sure they know what they're doing if they get an o-board or if the Warriors get the ball. After the game, Ty Lue remarked that J.R. Smith "Thought we were ahead." But J.R. insisted in postgame interviews he knew they were tied and wasn't going to put up a shot against KD. Still, in the moment, it sure seems like Smith might have said, "I thought we were ahead." The ABC crew sure thought he did. To me it looks like he said, "I thought we won." You be the judge.
After the game, J.R. sure sounded like he was trying to save face, but in his defense, LeBron was calling for a timeout, as was George Hill, and they never got one (more on that from Tom).
When overtime started, George Hill got whistled for his third absolute BS foul of the night, Durant made both free throws, Hill drove got blocked by Dray (it looked an awful lot like a foul), the Warriors quickly found Klay for three in the right corner and the Cavs were done – mentally defeated. They weren't allowed to guard Durant and couldn't buy a call. Here are four of of Hill's fouls tonight (the fourth was unavailable). The one for the hand in the small of Dray's back is literally what Dray gets away with every possession. I wish you could see the last one from another angle. It's all ball, and these calls were so much garbage.
You thought we were done with the game and the screwing by officials? Oh no. Tony Brothers wasn't done. Check out this garbage, the most ridiculous Flagrant 2 ever called which was UPHELD ON REVIEW?! And the ensuing dustup which probably won't get anyone suspended, but will probably get Thompson fined. It was ridiculous officiating by our old pal Tony Brothers. Here it is in all its glory.
Of course there's even a controversy that Kevin Love was off the bench during the fracas, and by rule could be suspended, but as many have noted, he was off the bench well before it became a fight and never engaged in the theatrics. I think he'll be fine. Of course, if the NBA is gonna screw Cleveland, they might as well do a proper job.
—
There's so much to take in and analyze on the end of that game, and I'll leave most of it to Tom, but the shame of it all is it wasted one of the greatest finals games ever played by any player: LeBron and his 51-8-8 on just 32 shots, in 47 minutes (including overtime), with a gouged right eye. I'll leave the highlight reel right here. It's legendary.
I'm worried. There's two factors at play here. As commenter, Scotch noted the Warriors have won when they didn't poke the bear, and tonight, they definitely poked the bear.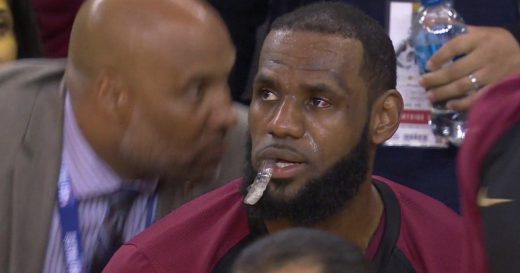 James' eye looks awful, but a bigger factor, Golden state shot 36% from three. Can the Cavs hold them to that? KD was 1-7, and Curry missed a lot of open looks. I hope they keep with their strategy of forcing him to play defense. Unfortunately, the Cavs were 27% from three. Just one of the 27 they missed would've won the game. Kevin Love (1-8), Jeff Green (1-6), and Kyle Korver (1-3) have got to be better, and Kyle has to get more looks. Don't even get me started on Jordan Clarkson's sorry behind. The only reason he's 11-46 from three this playoffs is that he was standing on the three point line for three of his bricks tonight (2-9 from the floor).
Rebounding-wise the Cavs had a monster 53-38 advantage with 19 o-boards. The Warriors are going to cut down on those second chance points. The Cavs only had 11 turnovers but there were some costly ones that led to breaks and threes. Can the Cavs conjure a performance like this again? Or was this their best shot to win one on the road?
Who knows if the game would've gone differently if JR had shot or passed or called a timeout? I hope the team rallies around him and gets mad for game two. But Smith has to play bettter. He was a game low -22.
I know that pissed off at a press conference Ty Lue is my favorite Ty Lue…
One great thing about poking this team is that they're much better when they're not in their own heads. Getting them revved up helps them a lot more than the ever-taunting Warriors. Just hope JR keeps his cool. Listen to Tom and shake it off. I know I'll feel better in the morning. I hope the Cavs do too. God, I hate the Warriors.