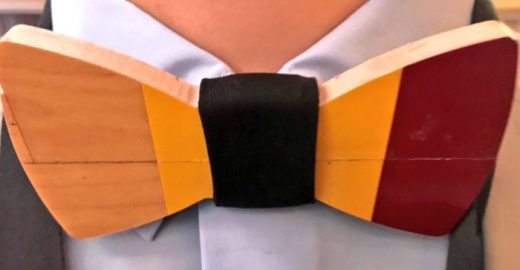 Game two isn't a must win; it's a "man they really ought to win" if they want to come out ahead in this series. So the Cavs look to bounce back from possibly their worst game of the season (especially given the stakes). Fortunately, the Cavs aren't playing on Sunday afternoon, where they tend to snooze like they're watching the third straight hour golf tournament.
The Cavs plan to start Tristan Thompson at the five, and move Korver to the Bench. We'll see if the Celtics counter with Baynes, but the Cavs should match Horford with Thompson all night. Hopefully, we'll see some rotation minutes for Cedi instead of the painfully obtuse Jordan Clarkson.
Hopefully the Cavs hit the boards tonight, after getting outrebounded 48-40. Also key, getting to the shooters. Cleveland just left too many guys wide open in Game 1 (I'm looking at you, LeBron).
Also on deck, the draft lottery, where Nick Gilbert (bowtie made out of the Cavs' championship floor pictured above) tries to play Leprauchan again, and get the Cavs into the top three. Prediction? Second pick, and a 109-105 Cavalier victory.