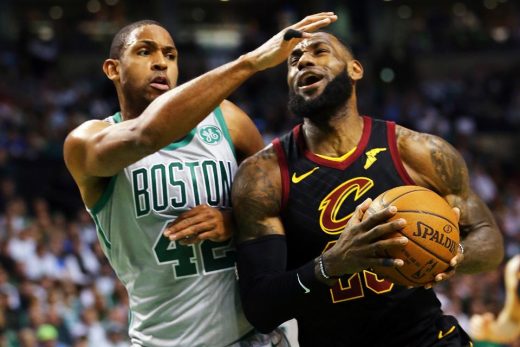 Well, that was disappointing. I never thought I'd have to do a "Not A Recap" for a playoff game, but here we are. I just couldn't justify putting more effort into a recap than the Cavs did into this game, taking more time away from my own Mother. On Sunday afternoon the Cleveland Cavaliers reverted back to the state they were in when the playoffs began. Unfortunately, instead of a feisty Pacers team, this afternoon drubbing came at the hands of the Boston Celtics who are absolutely devastated by injuries. President Stevens and the Celtics have been punching far above their weight all playoffs long and the trend continued in Game One of the Eastern Conference Finals. However, I didn't see anything all that different out of Boston than I did when they played Indiana. Kudos to them for taking us to the wood shed but I consider this more of a Cavaliers loss than a Celtics win.
From the moment the Cavs stepped on the court it was clear they were not going to be able to match the intensity and activity levels of Boston. After missing a few open threes they settled back on their haunches and watched as the Celtics played their hearts out. Maybe LeBron is more of a master tactician than we all think, his post-game interview certainly seemed like that might be the case. Maybe the amount of rest the Cavs had was too much rest, sort of like a slowly accelerating locomotive. Maybe Boston is really that good. I just can't see LeBron with another 7 turnover game. Or the Cavs shooting 15.4% from three. Fifteen percent?! Yeah, you read that right. Cleveland went a woeful 4 of 26 for the night. And there were plenty of open looks so it wasn't a result of some suffocating defense laid out by the great and powerful Stevens. Here are the highlights. Or, from our perspective, low-lights.
Some Quick Notes:
1) LeBron's stat line was very atypically inefficient in this one. He finished the night with 15 points, 9 assists, 7 rebounds, and 2 blocks. It's crazy that we can look at a line like that and it still be bad for LeBron. That's how good he usually is. Unfortunately he shot only 5-16 (0-5 from distance) and had 7 turnovers. He did continue his free throw shooting excellence though as he went 5-6 from the line. Boston shouldn't count on another game like this by the King.
2) Kevin Love wasn't any less effective than anyone else on the court and was Cleveland's leading scorer at 17. It was good to see that he won't take the brunt of this loss as he has in the past.
3) Once Cleveland started missing threes, instead of taking the ball to the hoop, they continued to settle for outside jumpers until the game was well out of hand. Hopefully this won't be a trend. I can't imagine they will want to replicate a 4-26 night from beyond the arc.
4) Tristan Thompson was actually not awful and brought a little bit more energy than his teammates tonight. He had a team high 11 rebounds and gave the Cavs just a couple more chances to miss some more threes.
5) Kudos to Boston's young guys. They played hard and hit some tough shots. Jaylen Brown and Jayson Tatum are going to be legit for a long time to come. I don't think they'll be enough over the course of seven games, but we'll see.
I still expect this to be an outlier game. The Cavs just didn't look like they had any legs to keep up with the young and hungry Celtics. Boston was the team with something to prove and as LeBron said in his interview, "I have zero level of concern. I never went to college. This isn't March Madness." And he's right. To a point. I will give them the benefit of the doubt until I see how they come out on Tuesday night. This was Mother's Day so most of us here at CtB had some mothers to celebrate so apologies on behalf of all the writers that this was all we could get up. Looking forward to Tuesday allowing me to forget about this travesty, Go Cavs!