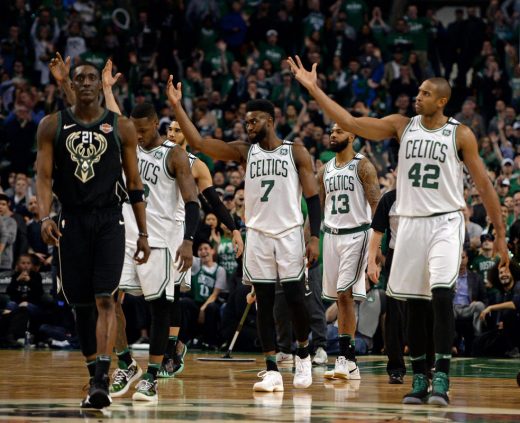 Happy Mothers Day, and Welcome to the Eastern Conference Finals, Cavs fans. The Cavaliers travel to the TD Garden this afternoon, to take on the Celtics and their hungry cast of young players. The last time the Cavs took on this squad in the playoffs, Boston was without NBA All-Star Isaiah Thomas, who'd been shut down because of a lingering hip issue, and the Celtics had new life because they'd won game three without him. The Cavs won game four comfortably and then stepped into game five in the Garden and dropped a 135-102 beatdown on Beantown that made us all laugh at NBA Analytics.
This time, the Celtics are better, though. Replacing Avery Bradley is Terry Rozier who's averaging 18/5.5/5.8 in 37 minutes a night. Replacing Jae Crowder is rookie Jason Tatum who isn't a rookie anymore and is dropping 18.8/4.5/3.8. Al Horford is having possibly his best year as a pro, and definitely his best playoffs while Jaylen Brown is chipping in a 58 TS%. The Clovers have those four guys averaging 17 or more a night, and six averaging at least double digits when you add the Marcus brothers, Smart and Morris, to the mix. Rounding out the top eight is bruiser, Aaron Byanes.
Thankfully the Celtics are without backup point guard Shane Larkin, who is out with a shoulder strain and likely out for the "entire series." Normally, the, diminutive point guard's absence would be a fairly nominal event, but the 14-minutes per game he plays are as Boston's lone backup point guard. This leaves Marcus Smart as the backup one for the Celtics. Depth at guard is going to be an issue for the Celtics, and Tatum and Brown will likely play a good bit of time there.
The Celtics have certainly have had their share of injuries this year, having lost Hayward, Irving, and Daniel Theis for the season, and now Larkin for the series. But expect no sympathy from the Cavs and their fans. There's little love lost for Irving even though the events of last summer and the trade that sent Crowder and Thomas packing from the Cavs both seem like a lifetime ago.
Tactics: I'm the Cavs, I'm giving help off Tatum, who is shooting just 31% from three this playoffs. I'm also going after Rozier defensively to get him into foul trouble as often as possible. For Cleveland, pressing their advantages over Horford (Tristan Thompson), Baynes (speed), and Rozier (lack of depth), and keeping Boston off the o-boards will be key, as will limiting turnovers that get the crowd and their young guns into transition and into the game.
Prediction: holiday afternoon games seem to favor the road team to me, as distractions are greater at home, and the road team is more irritated. Cleveland wins the war and wins semi comfortably 112-104.