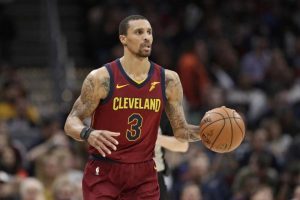 To say things are looking up for the Cleveland Cavaliers would be a major understatement. Just over a week after barely surviving a first-round series against the Indiana Pacers in seven games, the Cleveland Cavaliers looked absolutely dominant as they finished off a four-game sweep of the Toronto Raptors. They dominated the number one seed in the Eastern conference in a way that even the biggest Cavs optimist didn't expect. There are a lot of reasons the Cavaliers' play has improved so much, from the revitalization of Kevin Love to the improved play of several role players. However, the biggest reason is arguably the return of the team's starting point guard, George Hill
Full disclaimer, I've long been a fan of George Hill's game, and thought he would be the trade deadline acquisition to make the biggest impact on the team. While not quite a star, Hill's athletic two-way game combined with his solid outside shooting and high basketball I.Q. have always made him a highly effective role player who works well on a team built around stars. Hill has always been a selfless, team-first player, and it was easy to see why the great Gregg Popovich called him his favorite player.  Hill's the kind of tough, smart player who doesn't back down from anyone.
While Hill was a solid player for the Spurs, and a top-notch backup to Tony Parker, it was after he was traded to the Pacers for Kawhi Leonard that Hill really it his stride. Emerging as a full-time starter in the 2012-2013 season, Hill was never the team's primary ball handler, and has averaged just 3.3 assists per game for his career, but his ability to work as a secondary distributor and spot up shooter alongside Paul George was critical for a team that was more offensively challenged than most contenders. Arguably even more important was Hill's defensive ability, a product of great instincts and a seven foot wingspan, as he was the point of attack for one of the best defensive teams the NBA has seen in the past twenty years. Like his time with the Spurs, Hill was with an organization that had established a winning culture, but now he was a bigger part of that culture than ever before.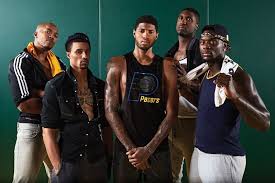 Because of these skills, it would be easy to label Hill as a sort of 3-and-D point guard, but that isn't quite accurate. Hill has always had the ability to create for himself and others, skills that were highlighted during the 2014-15 season, which George missed with a gruesome leg injury. That season, Hill averaged a then career-high 16.1 points per game while also setting a career-best with 5.1 assists per game. Most impressively, Hill did this while posting a true-shooting percentage of 57.7%, which is higher than a career mark of 56.7%. To up his usage like this without sacrificing efficiency showed that Hill was a more capable offensive player than many gave him credit for. While the Pacers went just 38-44 that season, and missed the playoffs by virtue losing the tiebreaker against the Brooklyn Nets, the fact that Hill was the primary scorer for a team anywhere near the playoff hunt shows that these weren't just hollow numbers.
Eventually, that era of Pacers basketball ran its course, and Hill was traded to the Utah Jazz in July of 2016 in a three-team deal with the Atlanta Hawks for Taurean Prince. Hill played well with the Jazz, averaging 16.9 points and 4.2 assists per game, while shooting over 40% from three for the second year in a row. He also finished the 2016-17 season ranked seventh among point guards by ESPN's Real Plus-Minus statistic, ahead of the likes of Damian Lillard, John Wall, and, yes, Kyrie Irving (in fact, the 2017-2018 season was the first time Irving ever measured better than Hill by RPM). When he was healthy, Hill was the second option for a team that made the Western Conference Semifinals, but health was a major issue. Hill played just 49 games in the regular season, and eight of a possible 11 postseason games as he battled several injuries including Turf toe. If Hill has one major negative as a player, it's that he has battled injuries throughout his career, and played in just 109 of a possible 164 regular season games over the past two seasons. Given his age and injury history, it wasn't that much of a surprise when Hill signed a three-year $57 million with the Sacramento Kings in July of 2017.
Of course, we know how that went. After spending his entire career with winning teams, Hill struggled to adjust to playing with the NBA's equivalent of the Cleveland Browns. Whether it was the losing, inconsistent role, or simply apathy after signing a large contract, Hill struggled in every area of the game outside of three-point shooting during his time with the Kings. He stopped moving the ball, attacking the basket, and his defense went from excellent to terrible, seemingly overnight. By the end of his tenure with the Kings, Hill was ranked outside of the top sixty for point guard in Real Plus-Minus after ranking seventh the season before. It quickly became obvious that this was an incredibly poor fit between player and team. When Hill began to earn DNP-CDs as the Kings moved toward a youth movement, there was no doubt that he wasn't long for Sacramento. Hill wanted to play for a winner, and the Kings wanted rid of Hill's contract. A trade involving Hill to the Cavaliers was rumored for quite some time, and came to fruition when he was acquired as part of the team's roster overhaul at the trade deadline.
Since joining the Cavaliers, Hill has continued to battle injuries, missing two weeks with a sprained ankle and most of the first-round series against the Indiana Pacers with a back injury. He's averaging less than 10 points and three assists per game, and is shooting roughly league-average from deep. But none of that tells the whole story. After a bit of a slow start as he found his way with the team, Hill's ability to give the Cavaliers another ball handler who can play alongside James and create for himself and others has opened up the team's offense, as has his pick-and-roll chemistry with Kevin Love. He's far and away the Cavaliers' best defensive point guard, and the team has been substantially better on both ends of the floor when he is on the court. The new starting lineup of Hill, JR Smith, Kyle Korver, James, and Love has outscored opponents by over 17 points per 100 possessions as opposing teams simply cannot guard this combination of shooters and ball handlers. As a point of reference, that same lineup with Jose Calderon replacing Hill at point guard has actually been outscored this postseason.
George Hill may not be the flashiest player, but he's been extremely effective both with the Cavaliers and throughout his career. He's the kind of battle-tested two-way winner this team needed, and the Cavaliers are lucky to have him.