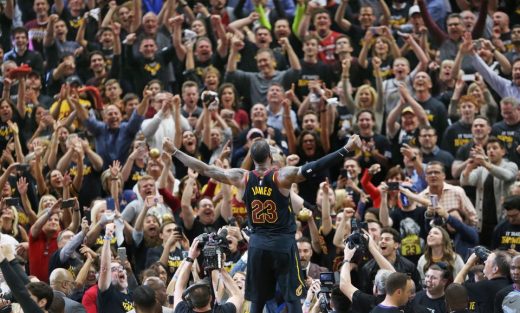 We've run out of ways to praise The King. In the 15th year of his reign, Saturday the fifth of May 2018, the Cavs build a 14 point lead going into the fourth quarter on the strength of incredible games from Kevin Love, Kyle Korver, and most especially LeBron James. Then we watched it melt away due to some disastrous lineups by Tyron Lue. Free throw misses and a clutch triple from OG Anunoby left the game tied at 103. With eight seconds left, James caught the ball in the back-court, used a Love rub screen at midcourt, turbo-buttoned past Anunoby at the left wing, pulled up on one leg and banked in a runner off the square that dropped calmly through the net as the buzzer sounded and the Q exploded in jubilation. Here it is in all it's glory.
"The bank shot," might have been the most difficult make of James' career, and it destroyed the Raptors souls when it fell through the twine. It spawned a legion of comments all across the internet from players and fans. It erased a fabulous comeback by Toronto and absolved Tyronn Lue of an absolutely incompetent fourth quarter. There are so many noteables about LeBron's dominance that it's hard to list them all.
Here you go #NBATwitter

We're back at it again…

LeBron James connected on his 7th career go-ahead shot in the final 5 seconds of the 4th quarter/OT in his playoff career.

His 2 buzzer-beaters this postseason are 1 shy of MJ's career playoff total. pic.twitter.com/Uh61h9WwsT

— ESPN Stats & Info (@ESPNStatsInfo) May 6, 2018
Every Raptors loss to the Cavs in this series has been more deflating for Toronto than the previous one. https://t.co/XClNCwVCHN

— Jeff Zillgitt (@JeffZillgitt) May 6, 2018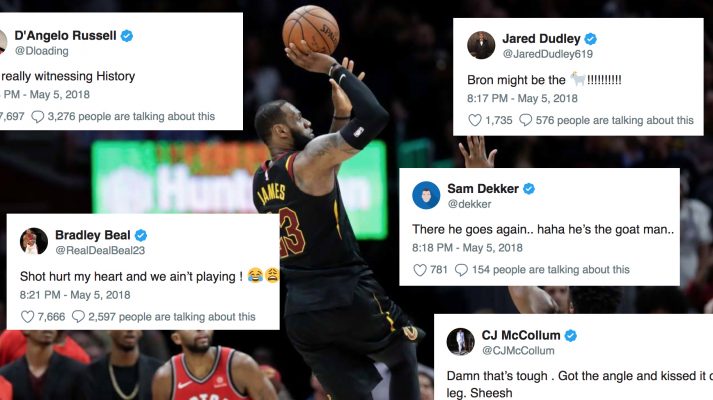 What happened Saturday night when LeBron James hit another game-winner will be remembered for many years. Those on both sides who lived it on the floor give their perspective (w/@mcten): https://t.co/h0iwbzhqgB

— Brian Windhorst (@WindhorstESPN) May 6, 2018
Yeah, that was one of the greatest game winning shots I've ever seen. Heck. We'll be watching videos of people reacting to it for years. We could spend this entire recap explicating it. Heck. Bryan Windhorst did. We'll be showing that shot to our grandkids some day. It will be as iconic as Jordan's shot over Ehlo. It was the absolute signature (for now) on a career that isn't even close to being over yet.
But it never ever should have even gotten to that point. Let's go through the game to see how it did. The First Quarter started out with the Cavaliers playing stout defense, and closing off the lane as Korver took a charge from new Toronto starter, Fred VanVleet. The Cavs established Kevin Love in the post, he kicked out to Korver on the wing, who found Hill in the right corner for three. Love's passing was on point all game, and a few plays later, he found LeBron on this sweet bouncer.
Cleveland kept hitting Bron in the post, and playing solid defense. Valnciunas, DeRozan, and VanVleet all seemed cold, and for the Cavs, K-Love post-ups, cut action, and LeDrives set up good looks and swings to the shooters. Cleveland was up 18-7 at the 3:44 mark before Kyle Lowry and C.J. Miles brought some answers for the Raps. Unfortunately, James subbed out at the 2:55 mark for Hood, and the foreshadowing of doom began.
Hood committed the first of many terrible fouls by hitting Lowry on a drive. (Ok, this one wasn't that bad, but it was the start of a pattern.) Clarkson completed a gorgeous reverse and then bricked his next two shots. His jumper is currently MIA, and one good make usually begets two bad misses. Jeff Green smoked C.J. Miles (a theme the Cavs would repeat throughout the night) on a drive and dunk before Rodney fouled Ibaka for two freebies with two seconds left in a quarter that ended 24-19, Cavs.
The King returned in the second quarter with the "plauge" lineup of James, Clarkson, Hood, Green, and Thompson. Green lost VanVleet on simple screen and pop action, and then Rodney Hood chased C.J. Miles around a right wing screen and gave him an and-1 on three pointer with a reckless closeout. Ugh. Fortunately, Miles missed the freebie.
Sandwiched between those two was a miracle Jordan Clarkson triple that came after he trapped himself in the right corner, shouldered Lowry to the ground (probably a flop), and then hit a rare threeball. In case you're counting, that was a 10-7 stretch for Toronto that should've been 10-4, with three Hood fouls in 4.5 minutes before Smith mercifully subbed in for Rodney.
The Cavs got Bron isolated at the top of the key against Pascal Siakam four times in a row, and the King turned it into a personal layup line as he abused Siakam and help defender, Serge "Chewy" Ibaka. Cleveland ended up with nine straight points to one Siakam putback on that action before Jordan Clarkson bumbled the ball out of bounds on a mind numbing possession.
The Cavs went cold, but were defending. Jordan Clarkson made his only good defensive play of the game, a transition steal when he hustled back and broke up a lob from DeRozan to Valanciunas. Still, big V kept pressing his advantage inside and the Raps cut it to one before a filthy K-Love J off a very nice setup from Bron and a screen from Hill.
The Cavs turned the lead into a wall, as OG Anunoby cut it to one twice before LeBron, Jeff, Kyle, George, and Keven blew up the Raptors with a 16-2 run to close the quarter. In the middle of that, Dwane Casey had a meltdown because a holding foul on Ibaka at the top of the key did not result in an and-1 for Toronto, and instead became a non-shooting foul for the Raps. You be the judge. Also, enjoy Dwane Casey losing his ****.
https://youtu.be/plnkKNg4kUw
Two-zus proved he isn't just a three point shooter as he back doored his way to a layup, drained a pullup, and then buried a left corner trey with Miles in his grill. Kev hit a trey, and then Jeff Green punctuated the half with a wide open dunk because Toronto was so worried about all the shooters, all while Hill and LeBron set perfect screens and threw perfect passes to put the Cavs up 55-40.
The Third Quarter got started when LeBron used a Hill outlet to motor past Anunoby on the left wing and thump one with no one guarding the rim. It was an eerie preview of the game winner. Everyone who watches the LeBron except for Anunoby knew he was going left there, and James left OG in his jetwash.
Toronto got it going with a 12-0 run behind a whole lot of free throws including a really bad Jeff Green foul on a VanVleet triple try, and some cold offense from the Cavs. LeBron answered with an and-1 then found George Hill in the left corner for another trey, and Threezus went draino for a 9-3 answer.
At the four minute mark, Kevin Love conjured some really aggressive play in the post to score nine straight for Cleveland to put them up 16 even with James off the floor. A Siakam layup, two Delon Wright freebies, and a sweet feed from Hood to Green (Rodney's only decent contribution of the evening) left the Cavs up 79-65 entering the final frame.
The Fourth Quarter saw everything the Cavs had built evaporate. James and the gang that couldn't shoot straight (Thompson, Hood, Green, and Clarkson) started bleeding points to VanVleet, Ibaka, Wright, Miles, and Anunoby. First, Rodney induced yet another scream inducing foul by nailing VanVleet who scored got the hoop and the harm.
On the replay, it appears Ibaka double-arm shoved ragdoll physics engine Rodney Hood into the guard, but still. Hood stinks. Cleveland kept losing Toronto shooters. Whether it was a slow Jeff Green closeout, the failure of J.R. Smith to get around Serge Ibaka's giant butt, or everyone going under on Lowry, the Raps scored three straight triples, and the Cavs only had LeBron and Jeff Green going. A block by the suddenly energized Serge Iblocka (as Hubie Brown kept calling him) led to a Lowry layup, and capped a 13-6 run for Toronto before Ty Lue timeout. Remember, this was all coming with the Raps supposed best player, DeMar DeRozan, on the bench.
Thank God for LeBron James who came in and dropped a pair of jumpers to push it back to 10 including this filthy step-back over our favorite Canadian pylon, C.J. Miles.
Toronto, and especially Kyle Lowry wouldn't go away though. Lowry abused Kevin Love on three straight possessions, first iso-ing him for a layup, then abusing a lazy switch for three, then Kyle fiund Ibaka for a trey when Kev had dropped too deep. That three cut the Cleveland lead to just four. Meanwhile the Cavs weren't using Love on offense, and LeBron couldn't score every time down the court to keep Toronto at bay.
The Cavs seemed to right the ship when Hill and Korver hit buckets, but the Raptors scored on Love two more times! In his defense, Anunoby dropped a miracle bank three, and Love got whistled for a foul on a Lowry drive in which Kyle drove to his body and flailed his way into a call. (Fortunately, James got the same call two minutes later). James was doing everything he could do to stem the tide, including yet another and-1 (missed freebie) against C.J. Turnstiles, and another impossible turnaround over the former Cavalier to put Cleveland up five with two minutes left.
OG Anunoby is going to be a player. He was absolutely relentless and fearless. He got his own miss and scored (over Love) before James missed a "prevent offense" triple. Lowry got trapped on the right wing with five seconds left on the shot clock and called Toronto's very last timeout of the game with his team down three and a minute left. It resulted in this baffling look by VanVleet with DeRozan still on the bench.
When DeRozan asks to be traded in the off-season, remember this fourth quarter. Casey can't think the offense is better with VanVleet chucking up 30-footers. #NBAPlayoffs

— Michael A. Giarrusso (@MichaelG1) May 6, 2018
James was fouled, made one to put the Cavs up four. To prove that it wasn't just Kevin Love that he could smoke, Lowry put Jeff Green on roller skates to score a layup, and then Green made 1-2 at the line with 15 seconds, giving the Cavs just a three point lead. So many options here, but the Cavs elected not to play the foul game with over ten seconds left on the clock (a move I agree with), and C.J. found OG Anonoby on the left wing who pumped, lost Jeff Green, and then drilled a triple to tie it with 8.0 on the clock.
What a game. Well, we all know what happened next. The best player in the world went 94 feet and broke Toronto's heart.
Whew
There was lots of teeth gnashing over the way the fourth quarter was coached, and when I started this recap I was blaming coach Lue for playing the death (to the Cavs) lineup. Hood, Clarkson, and Thompson went -8, -11, and -9 for the game. And while the Toronto run started with the plague lineup on the floor, much of the run continued when the Raptors absolutely abused Kevin Love. I'm not sure I can blame the comeback entirely on Lue.
Thankfully, C.J. Miles was a worse defender than Kev, and LeBron is the greatest player on earth. It is maddening that Cedi Osman has two minutes of bad shooting in April and loses his spot in the rotation while Rodney and Jordan continue to play.
According to basketball reference, Hood is shooting a TS% of 45% (13% from three), has a net rating of -29 in the playoffs, and Clarkson is dropping a mind numbing 38 TS% and is a mind numbing -34 on net rating. It would be almost impossible for Cedi Osman not to be better than Hood and Calderon not to be better than Clarkson. I think they even inspired this SNL sketch.
Tristan Thompson should probably not be getting all of Nance's minutes, and his late series energy from Indy seems unsustainable, but he is at least putting up a +24 net rating with a 70 TS% (before Saturday's game). Hood went scoreless, and Clarkson went for five on 2-7 shooting. As Tom Pestak said in the live thread, the Cavs will not survive Ty Lue not playing his best lineups against Boston and the West. Don't expect him to change a thing unless the Cavs lose a game though. And yes. We've all been sitting here for weeks beating the stinking rotten corpse of this horse.
Love, to his credit, made big plays, even though he was a liability late (though the Cavs didn't get him the ball). He still finished with 21 and 16 rebounds. Kevin  was also a defensive rebound machine throughout the night, eliminating second chance opportunities for Toronto and finished a game high +20. His play through the first three quarters was inspired.
Kyle Korver and George Hill were both great, combining to go 6-9 from downtown and finishing with 18 and 12 respectively. J.R. was mostly a no-show as he dropped zero, took one shot, and finished -4.
And the King. He was sublime… again. The Cavs needed every one of his 38 points, seven dimes, six boards, and three steals. He even had a block on a three. Yeah, he missed a clutch freebie late, but went 9-11 from the line.
In an age when everything is subjective, when the truth of what is real and isn't is filtered through belief systems, and people make a living convincing us that lies are truth, it is a blessing to watch a moment that cannot be denied. Even basketball fans are claiming somehow that Philadelphia players didn't screw up a game, that Boston players didn't make amazing plays, but that somehow the guy sitting on the sideline deserves all the credit.
Fortunately we have no such illusions. The greatest player in the world was given eight seconds to run down the court, and make a shot to win a game. He took on five defenders, elevated, spun a ball up with one hand. It caromed off the glass and silently fell through the net. That moment is an unassailable truth. The Cavs won. LeBron James is the greatest basketball player on planet earth. Neither of those things are refutable.