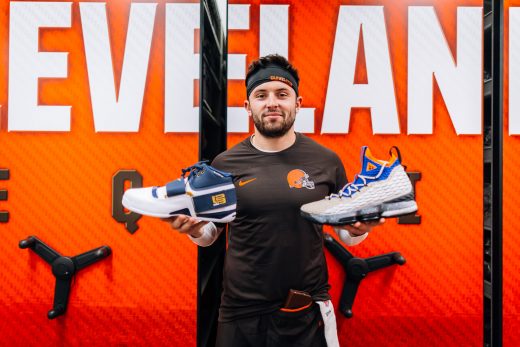 The Cavs are home, up 2-0 on the Raptors, who have to be feeling desperate at this point. A loss tonight, and this series is pretty much over. Justin May is on assignment at the game tonight, covering the Cleveland release of the LeBron Soldier I "25 Straight" to celebrate the Cavs Playoff run. The shoe is part of the recently launched "Art of a Champion" collection which highlights several NBA moments and iconic shoes that define basketball glory. https://news.nike.com/news/art-of-a-champion-nike-basketball-collection. Check out Baker Mayfield above with a pair at the local Cleveland concept shop Xhibition. Thanks to @nike and @LeBronJames for letting us cover it.
More on that to come, so for tonight's live thread and recap, you're stuck with me. Next up, check out Evil Genius recapping the series and what it's like to be an L.A. Cavs fan with Mark Schwab for WOIO.
Cleveland 19 News Cleveland, OH
As if that weren't enough, we get to watch the Cavs tonight! No changes as far as I know. I think the Cavs come in focused with a crazy Cleveland crowd and go up 3-0 with a 115-108 victory.