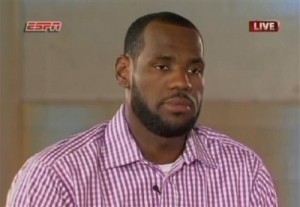 An article from Emma Carmichael reveals a few interesting facts about the nature of LeBron's much-maligned Decision last July. These insights are gleaned from the new ESPN oral history Those Guys Have All the Fun, in which Jim Gray briefly discusses The Decision:
I worked for this. I created this. I came up with the concept. Maverick Carter and Ari Emanuel are two of the most stand-up, honorable, loyal people I've been engaged with in television, in all my thirty-five years. When ESPN wanted to replace me and throw me under the bus, they stood firm and said, 'No, Jim Gray is with us, he gave us the idea, he is tied to this, and we're not going to change.'
As Carmichael notes later in the article, the section on The Decision hardly mentions LeBron; it seems that he was something a pawn in the whole production with Maverick Carter, Ari Emanuel, and Jim Gray at the helm. For what it's worth, LeBron didn't imagineer The Decision; rather, he stupidly allowed himself to be a participant.