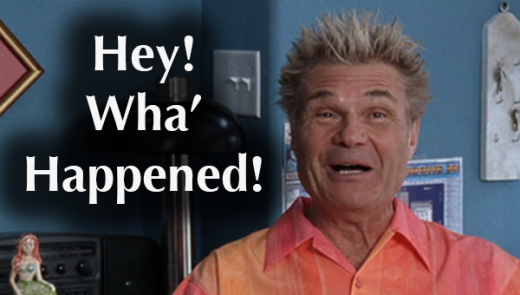 Well, I don't think many of us were expecting that. Gone were the Cavs' gaudy regular season stat lines with scoring up and over 110, and instead lay an 80-point stink bomb that started smelling from the minute that the Cavs took off their warmups. The Cavs were unprepared, didn't respect their opponent, and failed to compete throughout the afternoon. In a game that echoed many of their nights of regular-season malaise, the Cavs looked… disengaged and poorly coached.
First Quarter:
Myles Turner took an open elbow jumper right out of the scouting report to break the seal for Indy, and Rodney Hood ran a c-cut off a K-Love baseline screen, and scored a point blanker. Love missed a three, a reload, and a fadeaway before a James steal led to a George Hill dunk to tie it at four. The Cavs wouldn't score a point again for another five and a half minutes, and Kevin Love would only get five more field goal attempts for the rest of the game.  Meanwhile, the Pacers ripped off a 26-6 run fueled by the Cavs' terrible offense, and confused defense.
The Cavs offense mostly consisted of standing around, being unable to execute a post entry pass, and trying to throw skip passes that were intercepted by the Pacers, or forcing home-run touchdown passes that were intercepted by the Pacers. The Cavs just weren't valuing the ball. Here's a stretch when it was 8-4 Pacers: Shotclock violation, Korver 3-point miss, LeBron failed three-quarter court pass to Jeff Green, Love failed full court pass to LeBron, Hill alley-oop to LeBron deflected by Oladipo, Korver failed skip pass intercepted by Bogdonavic for an and-1 layup (on which Bojan blatently traveled), Hill airball floater (leading to another Bojan plus-one), before Larry Nance finally scored a bucket. You simply can't go seven straight possessions in the NBA playoffs, and only hit the rim one time.
Meanwhile, Oladipo and Bojan got it going. Dipo would back up, run at his defender, and then pull up for three in his grill. Here's one in the King's mug.
The Cavs were fueling the Pacers' offense, and it was maddening. George Hill was garbage and was overpassing. The Cavs couldn't get Kevin Love the ball, and the Cavs were being absolutely lazy on offense. The situation only improved slightly when Larry Nance came in and started setting screens and rolling. He got four quick points, but his running mate, Jose Calderon got burned in an isolation by Oladipo, and Ty didn't trust him much after that. Meanwhile, Jeff Green was turding it up on offense and defense, turning it over by dribbling against guards and just looking invisible on D.
The quarter closed when Victor drained another three. Lance's Dances came in, strutted his way to five points off Dipo dimes. Only two Clarkson freebies, and a layup by Nance gave the Cavs any hope as they were annihilated in the first: 33-14.
Second Quarter:
The Cavs looked poised to go on a run as a George Hill triple and two BBQ Chicken spin moves by James ripped off seven straight points. Unfortunately, the most bizarre stretch of the game ensued after James went to the bench, and the Cavs were running with Hill, Clarkson, Smith, Love, and Nance, a lineup I've rarely seen together. It looked like it might have a shot, but after two misses and a turnover, Trevor Booker cross-checked George Hill at mid-court with a debilitating offensive foul that left George holding his back as he returned to the bench. Hood came in for Hill, and Somehow the Cavs were running a lineup with J.R. freaking Smith at the point.
I guess Ty Lue didn't want to put in Jose Calderon and have him stuck on Corey Joseph, but after a J.R. finger roll, the Pacers ripped off six straight in just over a minute (including off a Smith turnover) before Lue called a timeout to get James back in the game (for J.R.) with the Cavs down 17. Ye gods.
With James at the one, and Clarkson at the two, the Cavs ran some interesting offense. James started attacking the rack (12 in the quarter), and this double screen with Clarkson and Hood for the King set up a great open layup for Jordan who put it home in the middle of a 9-2 outburst.
But when the Cavs got stops they couldn't score, and when they scored, they couldn't get stops. Oladipo kept pouring them in with buckets and dimes to keep the Pacers rolling. He has a swagger now and a confidence that makes him a very dangerous player. Cedi Osman reported to the scorers table, and after Vic walked into another three, Kev finally got on the board with a three of his own. James got to the line and split the pair before Myles Turner closed the quarter strong for the Pacers to leave it 55-38 at the buzzer, and Cedi never had a chance to check in.
We were all dumbfounded at halftime. No one expected this kind of start.
Third Quarter
The third started with a vomit-inducing left-wing isolation of Jeff Green on Myles Turner, which resulted in a laughable miss that left Jeff sprawled on the baseline. No one bothered to pick up his man as Turner stood alone next to the basket and calmly laid in Darren Collison dime. George Hill dribbled off his foot for another Oladipo layup, and a Thad Young block of James led to him hook one in on a ridiculously easy post up over Rodney Hood. Ty Lue took a whatever-emotion-Ty-possesses-that-passes-for-rage timeout with the Pacers up 23 and the Q booing.
Kevin Love put in a pick-and-pop triple from James, and despite some horrible body language and passivity by LeBron, the Cavs started clawing back. J.R. started heating up and the Cavs started clamping down on D. Larry Nance's energy was infectious, and the wine and gold kept forcing turnovers, and turning those turnovers into points. LeBron finally bought in (thank you, Larry) and started spin-moving his way to the basket. Larry Nance dove on the floor for a loose ball,  and then a Jordan Clarkson steal led to a Larry Nance, hoop and the harm. This was punctuated by the Banana Republican draining a three plus a foul for three more.
Unfortunately, the Cavs had been going under screen all night on the Darren Collison, the league leader in three point shooting, and getting away with it. But when Myles Turner gave him a simple left wing hand off, they got burned, as D.C. rose up and pushed the lead back to ten.
The game got nasty, then, when LeBron drove, got pushed, and then clocked on the head by Lance Stephenson. Somehow it wasn't ruled a flagrant, but two shots and a technical. LBJ made two of three and the quarter ended with the Cavs in the game at 73-65. What's a flagrant foul? I don't know. You be the judge.
Fourth Quarter
While the run was magic, it had come against the Pacers' bench, and when Ty Lue trotted out most of the same lineup that had gotten them back in the game, I said, "Crap. Ty's gonna run these guys into the ground." My fears were confirmed when a classic crappy LeBron closeout led to an easy drive by Stephenson followed by a Clarkson miss. Smith and James scored to cut it to seven before a Nate McMillan time out.
I cringed when a rested Oladipo took the floor, and the Cavs ran out the same lineup. A 12-2 Pacers run ensued against the gassed Cavs. Trevor booker scored on a switch against ragdoll physics engine Jordan Clarkson. Oladipo used a left wing pin down to lose Smith and drain a trey. Sabonis put one back over the ragdoll. Victor walked into a J, and the Pacers abused the trap and found Bogdanovic in the corner (below) to put them up 17 with 7:28 left
Somewhere in this stretch J.R. hit a two. Somewhere in this stretch, the Cavs started trapping way too much. Somewhere in this stretch, Ty Lue waited two possessions too long to call a time out. Somewhere in this stretch Jeff Green bricked a pair of shots, including a wide open corner three. Somewhere in this stretch, we all died a little inside.
The Pacers were too good to lose the lead at this point of the game. Despite a pair of shots by Rodney Hood and a couple freebies by James that cut the deficit to 12, the Pacers were content to milk the clock and rely on the Cavs' exhaustion for buckets. The Cavs put a lid on their own basket, and after a slick reverse and yet another trey by Vic the lead was 17, and Ty sent his mainliners to the bench with two minutes left. Cedi Osman and Tristan got two minutes of garbage time, and we all had more questions than answers.
Wha' Happened!?
What the hell was going on with the rotations this game? After saying he was going to run a 10-man rotation, Lue essentially ran with 8.5 guys, with Calderon only getting nine and a half minutes. Cedi got nothing but garbage time. What the hell was that stretch where the Cavs ran with J.R. at the point?
Speaking of garbage, Jeff Green was flaming stinking rotten garbage. In 26 minutes, he scored zero points and grabbed four rebounds. He was 0-7 from the floor and 0-3 from the three, with most of those threes coming from the Pacers daring him to make them. Defensively, he was matched up on Thaddeus Young most of the night. He finished a team low -16.
It baffles the hell out of me that the Cavs started Jeff Green for his defensive versatility on guards and then had him on…Thad Young? As if Larry Nance Jr couldn't just guard Young?

— Mike Zavagno (@MZavagno11) April 15, 2018
Why the hell couldn't the Cavs hit the broad side of a barn? They were 8-34 from three, and 12-20 at the line. The Cavs were 50% from inside the arc. Why didn't they go to the basket more? Why the hell can't they post up Kevin Love any more? Why weren't they taking more advantage of Indy's kamikaze closeouts? A couple pump and jumps would've served them well.
How did Kevin have three shots in the first two minutes, and five the rest of the game despite grabbing three offensive rebounds and 17 overall? (Reward the big man!) Kev just had two shots from inside the arc. He still finished with nine, but this team has turned one of the league's best post players into a jump shooter. And when they do post him up, they can't get him the damn ball.
How in a game that the Cavs desperately needed offense, did they not find minutes for Kyle Korver? Yes, Korver was 0-3 and -10 in 3:38, but the team was getting blitzed in the first. Ty Lue said at the end of the game that it wasn't a minutes restriction or because of Kyle's foot. Did he just not feel like there was anyone on the court Kyle could guard? I'd've put him on Bojan and lived with it.
Why was LeBron James so passive in the first quarter? He took three shots and finished with two points. Maybe he knew he'd be playing 44 minutes. You can't fault the rest of his game: 24 points, 10 boards, 12 assists with only three turnovers, and he became the second ranked all time player in playoff field goals made. Yet his body language in the third was demoralizing at times. Still, the team responded in that stretch and got him re-engaged. I just wish I knew where his three ball (0-4) went. Also, does he know how bad of a perimeter defender he's become? He seems he routinely makes 2-3 awful closeouts per game that lead to buckets. Can anyone stop his spin move? I don't think so.
Why is George Hill so damned passive at times? His passivity was a part of the Cavs problems in the first quarter, as he refused to attack the basket and just seems to have little confidence in his game. He finished with just seven and an assist.
Why the hell isn't Larry Nance starting? Jeff Green is a freaking bench player and to be frank, I'd rather have Larry taking corner threes than Jeff. Larry defense is light years better (even though he is over-aggressive at times), and his chemistry on screens and rolls and high-lows with Love should be fantastic. And it's not like this Indy lineup is one he can't play against. Larry held his own in isolations against Oladipo and added two steals and a block to go along with 10 points and five rebounds.
Is Jose just too unathletic to play in this series? He went 0-3 with just one dime in his 9.5 minutes. Yet the Cavs were just -1 in that time. He still should've been playing when Hill went out.
Was Jordan Clarkson's play an illusion?  Despite going 0-3 from downtown, he played in control and didn't take bad shots. Though he only scored six, he was just -1 in his time on the floor. I thought he played some decent defense, but apparently the numbers tell a different story.
Clarkson and Smith had a 114 dRTG together this season
They had a 120.2 dRTG in the 15 minutes they shared the floor in Game 1
The whole "Play Clarkson with an Adult" thing went away very quickly

— Mike Zavagno (@MZavagno11) April 15, 2018
Still, the Cavs were at least mostly holding their own with him on the floor.
Should J.R. Smith be starting? He was the lone guy who was getting it done from outside. J.R. dropped 15 in 29 minutes and went 3-6 from downtown. Yeah, he got burned a lot on D, but Rodney Hood and George Hill seem terrified at times. And at least he competed at times on D.
Is Rodney Hood the same player who was just plain bad in Utah? Last year he was -.77 in RPM, and this year he was a -3.09 and that was almost all because of DRPM. I feel like I rarely see him make a play on that end of the court. He just seems kind of tall, skinny, and… there. Hood put up nine and two boards, but his passivity led to a terrible turnover at the end when he tried a wraparound pass to Nance instead of just laying it in. Rodney needs to play with an edge. He seems terrified most of the time.
What does Cedi have to do to get minutes? How can you not throw him out there for 15 minutes when Jeff Green is getting lost? How does Jeff Green get an endless amount of slack, and Cedi gets buried after missing some crunch time shots?
Does Ty Lue pay attention to what lineups are playing well, or does he just throw guys out there based on what's going on in his head? Did the Cavs practice any plays? Cause it sure seems like they didn't. Did Ty get any sleep last night? What is this new "totally different" defense we were supposed to see in the playoffs? To be honest, the defense wasn't why the Cavs lost this one (though they did miss key stops), but doesn't he realize that the fact that some of these lineups have barely played together is part of why the Cavs put up 16 turnovers? Why did the team look so unprepared? Do the Cavs just stink in afternoon games? Has a coach ever resigned after the first game of the playoffs?
Do the Cavs have an answer for Oladipo? He finished with 32 with six three pointers and 11-19 shooting. He added four steals, four dimes, and six rebounds. The Cavs did force him into a few turnovers, but the constant trapping isn't going to work. Sabonis especially, is just too good on the short roll. Honestly, if he's going to be out there, I don't know why the Cavs didn't try Jeff Green's length on him. If George Hill isn't going to score, siccing him on Vic wouldn't be a bad idea either.
Are we all overreacting? There's a certain fatalism that fans of this team have adopted. The Cavs are either awesome of the worst team ever in our eyes. Maybe this is just a bump in the road…
For the last two years, we've seen a Cavs squad that has underachieved in the regular season, and then totally "flipped the switch" in the playoffs. Though many thought this wasn't sustainable, and that the years of the regular season informing the post-season were a false narrative as far as the Cavs were concerned, will this be the year that what people think they know in the regular season finally catches up to the Cavs? I hope not, but that game didn't look good.