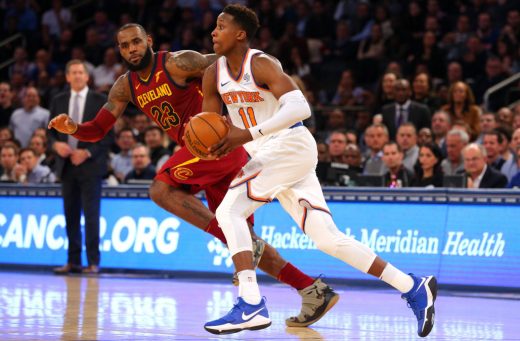 If you're still watching the Cavs this far into the season, you've done it. You've survived one of the most bizarre seasons in recent memory. I'm not going to get too deep into it, but just keep in mind that the team traded Kyrie Irving for Isaiah Thomas, Brooklyn's first round pick this season, Jae Crowder, and Ante Zizic.
Zizic is the only player still on the team.  And, remember this.
If Ante Zizic doesn't get off the bench for the Cavs this postseason, that means none of the 4 players (Zizic, Kyrie, IT, Jae) in the BOS-CLE trade will play for either BOS or CLE this postseason.

— Tom Haberstroh (@tomhaberstroh) April 5, 2018
Anyways, the playoffs start Saturday. The Cavs are currently the fourth seed. If they win tonight and Philly loses to the Bucks, they will get the third seed.
Now, if the Cavs keep the fourth seed they will face Indiana in the first round. The sixth seed, whom they face if they land the third seed, is up in the air between three teams: Bucks, Heat, and Wizards.
The Bucks land the sixth seed if they win. If they lose and the Wizards and Heat win they drop to the eighth seed.
The Heat earn the sixth seed if they win and the Bucks lose. That's the only way they can earn that seed. And, the Wizards only get the sixth seed if they win and the Bucks and Heat both lose.
If all theee of these teams lose, then they will keep their respective seeds. Heat at 7th, where they  face the Celtics. Bucks at sixth. And, the Wizards at eight where they face the Raptors.
Quick Notes
The Cavs should win tonight, but this team is a wild card that has lost some gimme games this season.
If Rodney Hood is able to play this game, it will mark the first time since the trade  shake up that Cleveland has had all of its players healthy.
The Knicks are missing seven players currently.
LeBron James is playing tonight. This will be the first time in his entire career he has played in all 82 regular season games.
Tristan Thompson is dealing with some baby mama drama after he was caught cheating during his time spent in NYC over the weekend. Usually, I don't care about this type of thing, but this might be what finally pushes Tyronn Lue to kick his butt out of the rotation completely in favor of Larry Nance. Their ability to play winning basketball doensn't seem to factor in much with Lue.
Update
*According to Joe Vardon of cleveland.com, LeBron James is playing until he reaches just ten points. Kevin Love and Rodney Hood will be sitting this game along with Kyle Korver. Jeff Green is questionable.