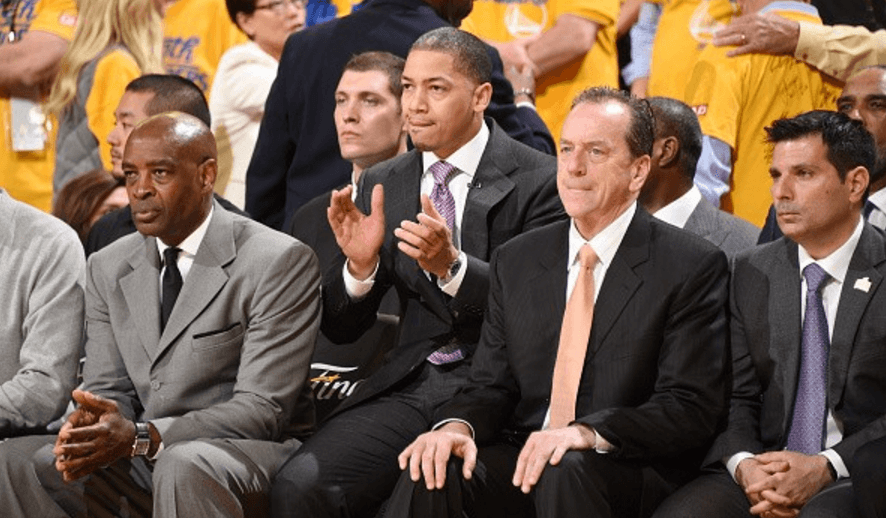 "When a true genius appears in the world, you may know him by this sign, that the dunces are all in confederacy against him." — Jonathan Swift, Thoughts on Various Subjects, Moral and Diverting
Before you go expecting a deep dive into John Kennedy Toole's famously posthumous, Pulitzer Prize winning novel as a pointed allegory for the current state of the Cleveland Cavaliers coaching staff… just know that it was merely the Jonathan Swift epigraph above that inspired the book title and my subsequent recap subtitle. Granted, Ty Lue has more than a few things in common with Ignatius J. Reilly, from his eccentric and abject stubbornness to his insistence on watching film to inform his worldview and narrative. Yet, where the novel descends into an episodic and tragicomic meandering through the American South… this recap will instead descend into an episodic and tragicomic meandering through the wasteland known as the Cavaliers' defense.
It's safe to say that nothing the Cavs tried against the Nuggets in varied attempts to stop them… or even slow them down… worked in the slightest. Not that the team stuck with any one sort of defensive scheme for any length of time…
"They had it going tonight offensively, so we just tried to throw everything at them," Lue said. "We switched. We blitzed. We showed. We did a little of everything. They got hot."
I suppose that might be a fair assessment, and even a reasonable excuse… except that it seems like we've heard something similar from Lue all too often this season. Sure, it's been a little less often since half the roster was traded and upgraded at the trade deadline… yet, since the All Star Break, the only team that hasn't scored at least 108 points on the new look Cavs were the League worst Memphis Grizzlies. The Nuggets are certainly no slouches, averaging 108.7 points per game, and being one of the higher paced offenses in the NBA. However, they came into this contest at a meager 10-19 on the road, and were on the second night of a back-to-back. Not to mention, Denver's defense has actually been worse than Cleveland's over the last month… meaning all the Cavs had to do was put up enough resistance to tip the scales in their favor.
Unfortunately, Lue's explanation goes to the root of why the team failed to prevail in this one… because, if you try to do a little of everything… it often means you don't accomplish anything.
Offensively, the Cavs hung with the hot-shooting Nugs initially behind the efforts of George Hill and Cedi Osman. The Jedi hit an efficient 4-5 shots (including a dunk off a LeBron assist) for eight quick points, and Hill was equally impressive going 3-4 (with a three) for seven points and three dimes in the opening frame. LeBron dished five of his own assists, including an alley oop to Tristan Thompson, to go with six points. The only starter who didn't score in the period (actually the entire first half) was the soup slinging JR Smith. In fact, JR had a rare box score goose egg going without even a shot attempt before halftime. Meanwhile, the Nuggets quickly tested the saggy perimeter defense of the Cavaliers with a barrage of threes in transition halfway through the quarter to open a double digit margin. Luckily, Larry Nance Jr. checked in at that point… and took a defensive rebound coast-to-coast for a Statue of Liberty slam…
HOPS.
LIKE.
POPS. pic.twitter.com/C5mvxL5PSR

— Cleveland Cavaliers (@cavs) March 4, 2018
Hops like pops indeed.
With Nance manning the paint, the Cavs were just able to keep the Nuggets under 40 for the opening period of play. He kept his trademark hustle and intensity going into the second quarter as well, working in tandem with Jordan Clarkson to create some beautiful pick and roll action. The big man was lively and electric, scoring 10 of his 14 points in the quarter while channeling his namesake with a smooth 17 footer and this absolute baptism of Mason Plumlee…
UNREAL. pic.twitter.com/lnR6I6q0TK

— Cleveland Cavaliers (@cavs) March 4, 2018
Together, Nance and Clarkson scored the first 19 points of the period for the Cavs. Once Nance subbed out for Thompson, however, Gary Harris started going nuts from downtown… scoring 10 of his game high 32 points in the frame. LeBron kept the Cavs semi-close with a triple and another three the hard way on an and one… but Denver hung 73 first half points on Cleveland for a lead of 11 going into the break.
During his halftime interview with Allie Clifton, assistant coach Jim Boylan had the temerity to suggest that the defensive schemes looked okay, but that the Cavs just weren't being physical enough in defending the Nuggets. While his statement about physicality was accurate, the part about the schemes rang hollow. Clearly, the schemes are not okay if the opposition has 24 assists at halftime because most possessions end with an open shot.
Events did change for the better to open the second half though… primarily because JR Smith started to boil. You'd have thought the ball had a Campbell's sticker on it the way JR was slinging it for the first few minutes of the half. After not attempting a shot in the first half, JR swished his first four of the second… helping the Cavs claw back to a five point deficit halfway through the period. Out of a timeout, Jamal Murray bombed a three, and then LeBron got jostled a bit on a missed alley oop… leading to a true anomaly in the game… a Ty Lue technical. It was the very first tech of the season for Coach Lue (only the third of his career), but it was long overdue. Unfortunately, it seemed to have the opposite effect on his team, as Gary Harris and Wilson Chandler hit threes to give Denver it's largest lead of the game at 15. After an ill-advised Nance triple try out of a time out, the Cavs buckled down on defense, and LeBron found George Hill twice and Jordan Clarkson once for deep balls. The Cavs rode a 13-4 run to end the third down by just four.
Cleveland continued to climb out of the hole in the fourth, as JR kept up his piping hot shooting. Swish made his first three shots of the quarter, including a triple and this shifty step back…
ooo JR is feeling it pic.twitter.com/ddrB3KcG3z

— Cleveland Cavaliers (@cavs) March 4, 2018
Yet, every time it looked like they might overtake the Nuggets… one of the Denver sharpshooters would pop open and drain another long range bomb. The Cavs did manage to close the gap all the way to a single point on a pair of LeBron free throws, 115-114, with 2:40 remaining. From there, however, Denver went on an 11-0 run to put the game out of reach. JR went cold, missing his last three attempts from deep, and the Cavs committed a crucial turnover when they couldn't afford a mistake. Not to mention, they continued to leave Nuggets wide open from the corners.
The Evil
The Cavs allowed the Nuggets to shoot at about a 60% clip for most of the game. Only a combination of effort and likely tired legs from the Nugs on their second night of a back-to-back dragged them down to a mere 55% by the end of the game. Hot shooting or not, it doesn't take a genius to figure out that guys left open in the corner are probably going to hit those opportunities. The Nuggets also drained 19 threes (on just 35 attempts) for a 54.3% average.
Denver kept finding the open man with the extra pass all night long (to the tune of a whopping 35 assists), mainly because the Cavs were trapping or over helping on defense and leaving shooters wide open. Ty Lue might want to consider holding off on the "switch everything" defense until guys start playing better man defense. The Cavs missed Jeff Green in the front court tonight, but also got shredded by a guard heavy lineup for the Nuggets.
The numbers don't look horrible for Tristan (12 points on 6-10 shooting and seven boards), but he was a team worst -18 in 28 minutes. Most of that is because TT gets repeatedly caught in the middle on defense. He's been getting abused inside by big men and has been at least a step slow when switching onto guards on the perimeter. He's lost his box out mojo, and can't seem to dunk in traffic (with the exception of one lob he got sky high for early). Also, a lot of his rebounds lately are of the "nobody in the area" variety after a long jumper. His days as a starter should be more numbered than they seem.
First half JR was an absolute zero. Zero points… zero attempts… zero impact on the game. He redeemed himself in the second half, but even a couple of buckets early could have potentially swung the outcome.
Though he had a few nice hoops off the dribble, Rodney Hood struggled mightily from the outside (0-4), including another crucial wide open miss late in the game. The honeymoon period is just about over on the new guys, and Hood needs to start stepping up in these situations.
Waiting to hear if Kyle Korver was sick or injured… otherwise, no real reason he should have received just the seven minutes he did in this game. Certainly seems like the Cavs could have used some of his three point threat down the stretch.
I'm creating a kickstarter campaign to collect and burn all of the awful grey uniforms so the Cavs will stop wearing them. They're now 1-5 on the season when they wear them.
The Genius
Larry Nance, Jr. is just awesome. He not only had the "hops like pops" going, but just completely changed the dynamics of the Cavalier defense when he was out there. He showed a well-rounded game with epic dunks and smooth mid-range jumpers, and was active on the boards with eight. Yes, he banged knees with a Nugget later in the fourth, but by his own admission felt fine to come back into the game. Other than that, there's really just no excuse for him getting 20 minutes vs. Tristan's 28. He did pick up some ticky-tack fouls, but still had two more to give. Nance has got to play more for this team to have a real shot.
LeBron messed around and got one of the quieter triple doubles you'll see, with 25 points, 15 assists and 10 rebounds. He got to the line quite a bit (8-11), but really seemed focused on setting up his teammates in this game. If Korver plays a bit more, and Hood and JR hit their shots down the stretch… LBJ probably cracks 20 dimes.
Second half JR almost shot the Cavs back into this one. After his zero in the first half, he was aggressive coming out of the break and went on a 7-8 tear. He finished 0-4 which tempered things a bit, but still it was good to see him come alive with confidence for a while. It even inspired me to find a soup pipe…
George Hill was solid if unspectacular, with a workmanlike 17 points (6-10, 3-4 from three) and four assists. He had one critical turnover late, and his defense wasn't tremendously on point… but still a decent overall game.
Cedi had a pretty brilliant offensive night, 6-7 shooting for 13 points, but also struggled a bit getting to the right spots on closeouts. He also picked up a few more touch fouls that seem to always find rookie defenders. The Cavs could have used some of his energy late, but he didn't see the floor in the fourth until garbage time.
Jordan Clarkson had some good moments, especially combining with Nance to pace the Cavs to start the second quarter. He didn't jack too many shots, and knocked down two big threes. Although, he did miss a couple of layups down the stretch. JC could still benefit by keeping his head up on drives because he's still missing a few open options.
The Dunce-worthy
I'm tired of hearing about how the defensive schemes aren't the problem from Ty Lue and his assistant coaches. There's no reason a group of relatively young and athletic guys can't defend at a higher level than this. And, by the way… if JR and TT are the primary culprits in being either a step slow, or mixed up on a rotation (which they frequently are)… then they should ride the pine. It's not rocket science.
Here's an idea… how about instead of trying a bit of everything on defense… you just try to excel at basic man defense. So many times, the Cavs get burned trying to trap or show and recover. Just play teams straight up and stop switching everything until you've had time to establish better communication between all of the new and old pieces.
Ty once balked at Isaiah Thomas' assertion that the coaching staff was incapable of making adjustments within the flow of the game. But, honestly, that often seems like the case. Why does it take an entire half to try and run some plays for JR Smith to get him going? Why does it take 10 minutes of Tristan getting blocked, blown by and generally clogging up the offense before installing Larry Nance? Why stick with guys way too long and exhaust them? Why play LeBron 42 minutes… even if he says he wants to start the fourth quarter? Why keep Korver on the bench in a shoot out against a team that's knocking down threes at a better than 50% clip?
Why suddenly can't this team win at home?
Why are guys who used to play here now playing better elsewhere?
Why does Mike Longabardi still have a job?!
Why?
It's a Season of Why?
Maybe we're all the confederacy of dunces… unable to understand the genius of Ty Lue's decision-making. But, somehow I doubt it. And, from the sound of it… even some of the staunchest outside supporters are starting to as well…
What I'm trying to say is it my personal opinion that the coaching staff is lost.

— Sam Amico (@AmicoHoops) March 4, 2018
There's still time to fix this… at least, there would be provided Ty Lue doesn't subscribe to the belief that the outside world are the confederacy of dunces that get in his way. Instead of studying the film of the game, he should start with the film of himself staring slack jawed on the sidelines, dumbfounded as to why his defensive schemes aren't being executed properly. Maybe the realization will finally dawn that coaching isn't just about the ability to make adjustments… but more importantly about the timing of them and commitment to following through.
Or… maybe I'm just a dunce to believe things can change…
Well… fingers crossed.