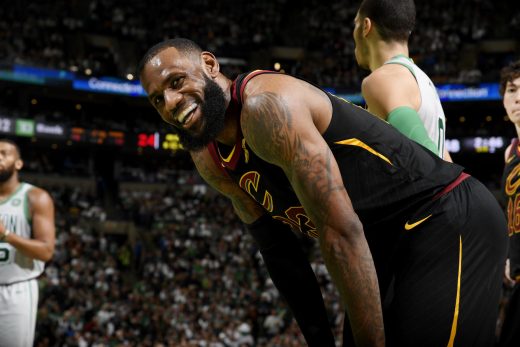 WHOA. The new-look Cavs hung with the Celtics in the first quarter, pulled ahead in the second, and then blew the doors off Beantown in the third and fourth quarter. The Cavs were electric from the start, and it's amazing what going from the worst defensive player in the last 20 plus years to a good defensive player in George Hill at point guard will do for your defense. Hill looked just fine on both sides of the ball and the rest of the new look Cavs ran around like kids on Christmas morning. Let's good to it.
The First Quarter saw all the Cavaliers defer to LeBron a little too much as they forced every action through him and most of the players seemed reticent to attack on their own. Kyrie Irving got going early for Boston with nine points and two dimes, mostly off the bounce, and Marcus Morris added eight of his own, mainly because LeBron was sagging way off of him, which let Morris get loose for a couple treys.
The Boston crowed was KEYED UP for the Cavs match-up and Paul Pierce's retirement ceremony, and LeBron was booed lustily every time he touched the ball. Fortunately the Cavs started getting to the line and LeBron started attacking the rack. J.R. Smith broke it loose with an early YOLO trey and then reached back into the past to throw one down over Aaron Baynes on a drive to put the Cavs up 14-12.
Smith followed that up with a nifty layup and a blocked Ojeley triple try, and J.R. finished with seven first quarter points and a pair of blocks. Cedi was active and matched up with Irving often, and often battled him to a draw. LeBron checked out at the five minute mark, and his replacement, Jeff Green, tipped in two misses and followed it up with a turnaround fadeaway on the block.
With LeBron on the bench, The Cavs ran their offense through Nance in the high post, and Junior set up Clarkson and Hood for buckets as the quarter ended with the Celtics up 32-31.
Cleveland put the clamps down on the Leprechauns in the Second Quarter as their bench dominated Boston's and held them to 20 points. Rodney hood got it going with a three from the top as Jordan Clarkson kicked it to him on a drive. Man oh man does Rodney hood have a gorgeous jumper. He shoots it like a lefty Klay Thompson. He's going to love playing with the King.
The Cavs were locking down and closing out well forcing the Celtics out of rhythm on the perimeter and at the basket. Clarkson had an awesome steal of a Rozier pass and turned it into a layup. Hood easily swatted away a layup attempt by Daniel Theis. Even Korver got himself a block that turned into another Rodney Hood trey off a dime from the King.
The lead see-sawed back and forth into the middle of the second, with Boston being buoyed by setups from Horford, Rozier, and Irving, but a fastball to the left corner from LeBron set up a George Hill trey halfway through the quarter for a lead Cleveland wouldn't relinquish again. The emotional high of the first quarter led to a lull in the second for Boston, and the Cavs seized the moment to go on an impressive run. Greg Monroe assisted Cleveland as he was hapless on defense and mostly a lane clogger on offense. I'm not worried about him helping the Celtics in the least.
The Celtics started settling for threes (which they missed), and LeBron started picking them apart. If he wasn't swishing jumpers, he was dicing the Celtics Defense with assists. Things really broke openn when Jordan Clarkson stole a bad Horford pass, then eschewed an oop to LeBron in order to throw it down himself. We haven't seen someone get their own dunk when running with James in quite some time. Cedi Osman followed it up with another steal, and an uh… not quite so successful dunk attempt.
Despite Cedi's rim check, LeBron was full of encouragement as they headed to a timeout and Cedi followed it up with an impressive offensive board just a minute later. The Cavs ran a deliberate ground-and-pound offense for the last three minutes to limit turnovers, yet still had so much more energy than the Celtics who were content to throw the ball away time and again. The Cavs finished strong up 64-52.
Halftime was hilarious as noted Cavs hater and flip-flopper Jalen Rose declared Cleveland the best team in the East and we all gushed about the Cavs. The Third Quarter saw more of the same as Marcus Morris punished a sagging LeBron again with a three pointer, but Hill answered with a triple of his own. James slithered into a hook/teardrop off the drive – another new trick in his book. Tristan Thompson put back a Cedi trey. And George Hill completed a nifty drive with a layup high off the glass that left me saying, "Isaiah who?" as the lead stretched to 15.
The Celtics looked poised to go on a run as their defense smothered Cavs on three straight possessions, and it looked like they were going to get it back again before J.R. elevated over the trap to bury a triple from the right wing over Morris and Jaylen Brown. It seemed to take the wind out of Boston's sails, and the Cavs' D ratcheted up to force a couple turnovers including this charge that Hill took from Jayson Tatum
The Celtics just started hoisting threes and missing most of them, as the Cavs held them to just four points in seven minutes while Cleveland turned on the jets. A long strided Cedi drive and another J.R. trey, set the the throttle to max, and then James, Clarkson, and Hood turned on the afterburners to score 11 points in less than two minutes.. Clarkson did his Kyrie Irving impersonation, nailing a pair of catch-and-shoot triples which sandwiched a Rodney Hood trey and another James floater. The Cavs were suddenly up 26 as boos rained in Beantown. They fought tooth and nail to close out the quarter with frenetic defense and leave the Celtics without a final bucket to stay up 95-74.
To say the start of the fourth quarter was quiet would be an understatement. The Celtics fans were stunned. I'm sure they were all feeling like Bill Simmons. I know we Cavs fans were all hopeful, but I don't think anyone expected this. The Cavs kept it going as Boston was content to chuck treys. Clarkson walked into an unguardable pull-up J from the right elbow, and then Nance and Korver worked a gorgeous two-man-game to get Larry his first dunk as a Cavalier, which got LeBron and the bench crew off their butts to cheer. Another Nance high post dribble hand-off netted Hood a free throw line J, and a Hood steal and Clarkson swish put the game out of reach with a 29 point lead at the 9:41 mark. LeBron looks just a little bit happy in these highlights.
It was officially garbage time after that, and the Boston faithful were only able to just chant "We want Paul Pierce" to get through the drubbing. Though Clarkson got a little shot happy, and the Cleveland offense devolved into a little too much one-on-one, the wine and golders still defended and still talked on D. The exclamation point came when Larry Nance put Monroe in the blender at the top of the key and then drove to thump one in Greg's grill, which was followed by a Kenny Powers trey. Cedi got his J going with a couple late triples from Calderon and even Zizic got on the scoreboard as the Cavs closed this one out 121-99.
YAY!
Holy Crap. That was beyond all our wildest expectations. The Cavs just came in waves. There was never a dropoff in the Cavs' energy, talent, and athleticism throughout the game. Though the Boston starters hung with Cleveland, and you could chalk a lot of it up to a bad shooting night by Beantown, the Cavs' bench completely outclassed the Celtics'.
The Cavs had seven guys in double digits and only John Holland failed to get a bucket. LeBron led the team with 24, eight boards, 10 dimes, and +23 with just two turnovers in just 28 minutes. That's efficiency, my friends. Speaking of efficiency J.R. might be hearing Rodney Hood's footsteps in the depth chart, but it didn't affect his Jumper. Swish was filthy tonight, going 6-7 from the field for 15 points and six rebounds.
Cedi is a bundle of defensive energy who just throws opponents' offenses out of rhythm. Despite a blown dunk, Cedi's offense was solid (12 points). He's just got to get the butterflies out of his stomach at the free throw line (2-4). He still is a nice driver with a quick first step, and his J is going to start gettting some respect. If he can work to get his release just a little quicker this offseason, it's going to be a weapon as his dribble drive game is good enough that he'll burn reckless closeouts. Oh, and his behind the back dribble and his attack in transition is only going to get better.
TT was +18 and though he had just six points and four rebounds, he defended the interior better than I've seen him all year. He contested so many shots. And as Arch's first comment notes. He still owns Al Horford.
Speaking of defense, George Hill makes me sooo happy. First, the dude is cut. It looks like he's got zero body fat and his arms are ridiculous. They're also immense, and his six-foot-nine wingspan lets him play so much bigger than his height. He got switched on Marcus Morris once and didn't give him an inch. He also has very good feet and defensive positioning and smarts. When this team figures out where it's supposed to be defensively, he's going to be the head of the snake. His jumper is also very good (12 points), and he can put the ball on the floor enough to keep you honest. LeBron also already trusts him to bring it up the floor.
Jordan Clarkson and Rodney Hood are going to be absolute nightmares off the bench. Clarkson is a microwave that can get hotter than July blacktop. Tonight he scored 17 on 11 shots in 23 minutes, including 3-4 from downtown he's the perfect bench guard. Rodney Hood loves to shoot, and he fired up 11 in 17 minutes. I get the feeling he's going to be on the end of a lot of plays as I didn't see him move the ball much. He didn't need to. Putting the ball in Nance's hands in the high post with Clarkson and Hood might have been Lue's best coaching move of the season. It makes Nance the playmaker and lets Hood and Clarkson focus on scoring. If I ever coach a left handed player again, I'm just going to make them watch video of Hood's jumper. It's so damned gorgeous.
Nance was gluier than a Walton and with the Cavs' high usage players, a guy who does all the little things like setting screens, getting back on defense, and dishing bounce passes is soo valuable. Nance finished with five points, four boards, and three dimes in 21 minutes. He can also do this.
His counterpart,  Jeff Green (10 points) is also a gifted playmaker and his relentless attacks in transition are a part of what has made and will make the Cavs' bench so deadly. Green's handle lets him accelerate to the basket with just a hint of daylight and gets Jeff to the line consistently. Green also has stopped chucking up bad shots, as most everything comes in the rhythm of the offense or in early transition. Gone are the isolation chucks that infuriated us early in his career.
The Cavs played very well in their debut and as they start to get on the same page defensively and offensively, they could be even better. The sky is the limit for this squad, and when Kevin Love comes back, they'll be 11 deep, and someone very good will be trapped on the bench. Cleveland has the length and versatility to play truly positionless basketball and the numbers to run other teams into the ground.
Congrats to Paul Pierce. I was actually a Celtics fan when they drafted him and I was so happy when he fell to them. I'd put Paul as the biggest and best villain of LeBron's career. He and Bron's battles were legendary and Paul always gave as good as he got. As we know. LeBron never got over the hump against him till he went to Miami. Happy Trails, Paul. You deserve it. Now get back in the booth where I can go back to hating on you.
MEH
Now the bad news. Yes, we're excited by this game, but let's not be irrational. Jersey retirement games are weird. They have a strange energy that throws the home team out of whack. The emotional high of the start clearly left the Celtics fans and team drained in the second and third. I don't know why in God's name organizations schedule quality opponents for them. As Eli asked me during Kobe's retirement, "why don't these teams pick a bad team so they can bump the ticket prices, and also win?" Still, as Tom texted me earlier, "I've seen the Cavs often lose by 30 for no reason, so watching them blow out another team is always fun."
Also, Boston is going through a rough stretch right now. Tatum has hit the rookie wall. He's shooting 33% from three in 2018, a full 12 points lower than December. Jaylen Brown's also fallen off a cliff, shooting 34% in 2018 after 40% in December. Yes, the Boston twitterverse is pointing out that the C's are missing Marcus Smart, but it's really just the Celtics reverting to the mean and struggling to get to the All-Star break for a rest. They didn't get the juice that playing with an all new set of teammates might get them.
Also, as an overcoached team, the Celtics thrive on scouting reports and figuring out how to stop what other teams do best. With no blueprint on this Cavs team, the Celtics had to play them straight up, and couldn't tailor their game plans. Let's hope Ty Lue can keep other teams guessing. I was impressed with the offense he installed on short notice.
The Celtics missed a lot of shots tonight. They were 10-38 from three and missed more than a few makeable ones. They also didn't have the energy to work an offense and looked a lot like the Cavs did in their January doldrums with their shot selection. Even Kyrie was 1-7 from downtown, and eschewed attacking the rack. The Cavs defense was good, but the Boston offense just bad. Thank God Danny Ainge opted not to add any live bodies to the squad (Monroe doesn't count as I'm not sure he's alive).
The Cavs still gave up 13 offensive rebounds. They're going to have a hard time defensive rebounding till Kevin Love comes back. None of these guys are natural box out players. Still, many of those boards came because the Cavs were actively trying to block shots around the basket. If the team is being aggressive on defense, you can live with that.
Whew.
Well, the season is fun again, and I can't wait to see what happens next. We'll see you Tuesday when the Cavs look to enact their revenge against the Thunder for the 148-124 beatdown a few weeks ago. Let's hope the King holds a grudge.