It was obviously a very exciting week for the Cavs. Having picks 1 & 4 gives them a variety of options. The NBA draft combine also occurred. A few interesting items regarding previously profiled players includes that Kyrie Irving was taller than Brandon Knight (6' 3.5" in shoes versus 6' 3.25") however Knight's wingspan was 3" longer. Irving's body fat was reported as 10.2% (6th highest at the combine). For comparison; Knight was 4.2% (2nd lowest), but Derrick Williams was at 10.8%. Irving went through medical exams, didn't work out at the combine, and is focused on "getting in the best shape possible". Kemba Walker had the combine's smallest hands. Anyways, today's profile is about a player that was not present in Chicago. Jonas Valanciunas may be of interest with the 4th pick or if the Cavs trade down.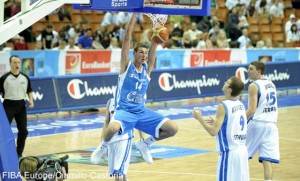 Jonas Valanciunas
Height: 6' – 10"
Weight: 230 lbs
Position: PF / C
Age: Turned 19 in May
Summary: Valanciunas is a 19 year old Lithuanian power forward / center. He has found great success versus his age group and played significant minutes in Europe's top professional league last year. He has buyout issues with his European contract, and has positioned himself as a top 5 – 10 pick depending on resolution of the buyout.
Basketball Bio: Valanciunas has been a top player on the European Junior circuit for several years. In 2008, he led Lithuania to the Under-16 (U16) European Championship before leading them to the U18 championship in 2010. He was the MVP of the 2010 tournament, averaging 19.4 points, 13.4 rebounds, and 2.7 blocks on 70% field goal shooting. In 2009, he was first-team all tournament at two major Europeans events; the U18 European championship and the Nike International Junior Tournament. He plays professionally with Lietuvos Rytos in the Euroleague, Lithuanian League (LKL), Baltic League (BBL), and VTB United League (VTB). For 15 games in Europe's highest league last year, he averaged 7.7 points and 5.8 rebounds in 15 minutes per game. In his other 46 games in 2010 – 2011 he averaged 10.7 points and 7.3 rebounds in 20 minutes and was named MVP of the LKL all-star game, totaling 18 points and 10 rebounds.
Skill Overview: Valanciunas has great length and may still grow. His long arms are immediately noticeable. He is not an elite athlete; but does jump quickly, run the floor well, and play with energy. There are U18 highlights that include some athletic dunks. He has good touch around the basket and shoots free throws well, typically around 80%. Offensively, his greatest skill is operating in a pick and roll. He is a willing pick setter; always moving on offense and looking to set picks. Following the pick, he can effectively find open space and convert in the paint. According to draftexpress.com, Valanciunas had 52 possessions through 12/26/2010 used as "pick-and-rolls or cuts to the basket." He scored or was fouled on 42 possessions, which is a remarkable rate of conversion (unfortunately I was unable to update this stat through the end of the year).
One concern about Valanciunas is his defense. He frequently plays center and possesses the size and "motor" to play good defense, but needs to add strength as he has trouble with stronger players posting him and sometimes gets pushed too far under the basket trying to maintain rebounding position. He needs to improve his instincts as he often appears a half move behind when rotating. Surely some of his difficulties can be excused due to playing the most important defensive position in quality professional leagues at 18 years old. Valanciunas' offensive game is still developing. He is effective, scoring 20 points per 40 minutes with nearly 70% shooting, but most of that comes on offensive rebounds and assisted shots in the paint. He rarely shoots from the perimeter and is still developing post moves. To maximize his pick and roll potential, he will need to hit 18 footers (like a former Lithuanian Cavs big man). Hopefully his free throw shooting reflects this ability.
Additional Info / Advanced Stats: Valanciunas played as a reserve professionally, but he was very efficient at what he does best. In 15 Euroleague games this year, he averaged 20 points and 15 rebounds per 40 minutes while shooting 71%, finishing with a PER of 26. In his other 46 games in 2010 – 2011, he averaged 21.5 points and 13.5 rebounds per 40 while shooting 66%. Due to his aggressive play, quick leaping, and long arms; he was great on the offensive glass, averaging over 5 rebounds per 40 minutes. He showed good ability to block shots; averaging 1.7 per 40 minutes in the Euroleague and an impressive 3.5 per 40 in non-Euroleague games. A symptom of his current defensive issues is a propensity for fouls. In the LKL, VTB, and BBL he averaged 5.7 fouls per 40 minutes and in the Euroleague he averaged a troubling 8 fouls per 40 minutes. The energy Valanciunas brings to the floor is outstanding, but he needs improved defensive positioning and controlled aggressiveness to stay out of foul trouble.
Considering that the Cavs have two lottery picks, Valanciunas may be an interesting selection. He is currently negotiating buyout conditions for his contract with Lietuvos Rytas. If the Cavs are willing to use a lottery pick on a player that may be in Europe for two years, they could trade down and gain an additional asset while also securing Valanciunas. I like to envision Kyrie Irving and Valanciunas as the Steve Nash – Amare Stoudemire pick and roll combo of the 2010's. That is admittedly a crazy dream. A good case scenario would be Andris Biedrins of a few years ago; one of the most efficient scorers and offensive rebounders in the NBA, only with an added bonus of making free throws. John Hollinger of ESPN describes Biedrins with: "he rebounds and finishes shots in the paint as the dive man on the pick and roll. He can't…defend the post." Very similar to Valanciunas' current skill set, but if Valanciunas can develop the ability to capably defend the paint or shoot from mid-range; he will be even more valuable in the NBA.

Tags: Draft Profiles