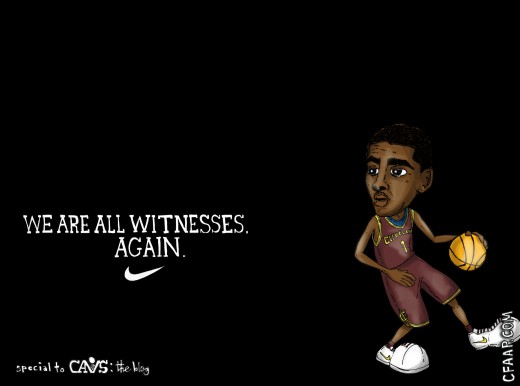 Hello Cavs: the Blog.
My apologies for being a little late to the party. I'm the picture guy. And what was initially conceived as a series of companion pieces to the ever so informative profiles Kevin and Mo have been supplying have since gone the way of the addendum; tragically tardy, but hopefully still of note.
I've brought with me today picture number one (Kyrie "good god please find your way to Cleveland because there is literally no one else I'm at all excited about" Irving) and I'm shooting for a new one to be posted each Sunday from now until the draft. Gauntlet thrown down. To myself.
Let's hope this picture, more so than any of them to come, turns out to be prescient.
Colors by AJS, pencils by Chris Grant.
Tags: Drawings from the Notebook of Chris Grant, Kyrie Irving