Brandon Knight is an intriguing player. He is young and has been very successful however he is still a work in progress. I think he would be a good pick for the Cavs for the long-term and could be a good consolation prize if the lottery doesn't go well. That said, hopefully the lottery goes extremely well tomorrow.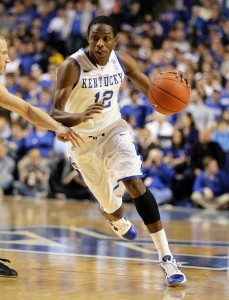 Brandon Knight
Height: 6' 3"
Weight: 185 lbs
Position: PG
Age: Turns 20 in December
Summary: As a freshman this year, Brandon Knight was the point guard for the Kentucky Wildcats. Kentucky went to the Final Four, and Knight led the team in scoring and assists. He is still inconsistent, but current projections are that Knight will be a top 5 pick in the draft.
Basketball Bio: Knight went to high school at Pine Crest in Florida. After leading Pine Crest to two State titles and twice being named Gatorade National Player of the Year, Knight was a top 5 recruit in the class of 2010. Knight also found success on the AAU circuit, as his team won national championships in 2007 & 2008. He chose to attend Kentucky and during his freshman year averaged 17.3 points and 4.2 assists in 36 minutes per game while shooting 42 / 38/ 80. His performance earned him first team all-SEC honors as he helped Kentucky to 29 wins, an SEC tournament championship, and a Final Four appearance.
Skill Overview: Knight is 6'3" – 6'4" with long arms, so he has great size for a point guard. Although he doesn't possess amazing speed like his Kentucky predecessor John Wall, Knight is very quick and a quality athlete. His speed allows him to create shots for himself; on drives, in transition, or by gaining separation on the perimeter. Using a quick release, he is an effective shooter from mid range to beyond the three point line, hitting shots off the dribble and coming off screens. His size and quickness provide the tools necessary to be an excellent defender. Knight diligently works on improving his game and is very intelligent. He finished his first year at Kentucky with a 4.0 gpa and is academically a sophomore.
Negatives for Knight include that he is turnover prone. He turned the ball over 3.2 times per game this year, experiencing trouble in traffic and when confronted with double teams. There are questions whether Knight can be a point guard in the NBA as he currently has better skills at creating shots for himself than for others. Getting to the free throw line is an issue due to settling for shots in the 5 – 10 ft range. Knight shot one free throw for every three field goal attempts, averaging only 4. 5 free throws per game. Finally, despite having a reputation as an intense defender in high school; Knight did not always exhibit this effort at Kentucky. Watching KY's games, Knight sometimes lingers in no-man's land when double teaming and can appear to coast defensively.
Additional Info / Advanced Stats: Knight turned over the ball 0.2 times per possession used and had an assist to turnover ratio of only 1.33, resulting in a negative pure point rating. In his defense though, freshman point guards typically experience turnover problems as they adjust to better competition. Knight's turnovers per possession are similar to this year's other lottery point guards (Walker's freshman year) and with John Calipari's three previous freshman guards. Each player's turnover rate was between 0.19 – 0.24, and none had an assist to turnover ratio over 1.7. Early in the year; Knight particularly struggled, especially when forced to go left. In his first 19 games, Knight averaged 3.7 assists per game against 3.3 turnovers. As the season progressed though, he began showing signs of improvement as a ball handler and distributor. In the second half of the season he improved to 4.6 assists versus 3 turnovers while playing stronger competition.
Conversely to his ball handling, Knight's shooting percentages got worse in the season's second half. In his first 19 games; Knight was an efficient scorer, shooting 46% on all field goals and 41% from long range. In the latter half of the season; these percentages dropped to 39 and 35. The combination of his inconsistent shooting and ball handling was a slightly above average PER of 19.6 and true shooting of 55. Despite his flaws, Knight was the leader in minutes and the highest usage player on the NCAA's 13th most efficient offense, and surely he deserves some credit for that. Improved consistency on his shot, in finding open teammates, and avoiding turnovers will be important for Knight to be a high caliber NBA PG.
Projecting Knight's NBA potential is tricky due to questions about his eventual position and his inconsistency. He is very talented, athletic, and a hard worker; however he still has stretches like the SEC & NCAA tournaments, where he shot 34 / 29 / 79. Knight will continue to improve on his skills and get stronger, and a good case scenario for his career could be similar to Chauncey Billups (who incidentally averaged 4.5 turnovers per game his freshman year at Colorado). Both players are big point guards, good shooters, and can capably run an offense while not being outstanding assists guys. Hopefully unlike Billups, it doesn't take a fifth team before Knight's full potential is realized. If Knight doesn't work out as a point guard, he could be a small, scoring "2" like Jason Terry or a player capable of manning both guard positions effectively, like the good Delonte West (from 2008 – 2009).
Knight is an interesting pick for the Cavs. He is not ready as a point guard in the NBA but could play alongside Baron Davis or Ramon Sessions. Knight could improve his strength and skills while not needing to be the primary ball handler today. By Knight's third NBA season, the offense could become his as the starting point guard. The Cavs' coach may have some tips for Knight too. Once upon a time, Byron Scott was s a top 5 draft pick as a 6'3", 195 lb guard with a sweet shot.
One other note on Knight; several reputable sources list his birthday as 12/02/1992 however other sources say 12/02/1991. I called Kentucky's basketball program, and they told me his birthday was 12/02/1991.
Tags: Draft Profiles