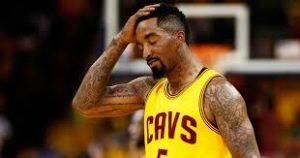 Fresh off an 0-3 road trip that LeBron James labeled as "trash", questions that have bubbled below the surface for a while have understandably begun to pop up for the Cleveland Cavaliers. Should Tristan Thompson play over Channing Frye? How will the return of Isaiah Thomas affect the matchup between the two teams? Has the bench really improved when it matters most? One question that has been in the back of minds of those that follow the team is undoubtedly, what's going on with J.R. Smith?
It's understandable that Smith's 0-for-5 effort against the Warriors may have drawn attention to that concern. Heading into the new year, Smith is shooting just 38% from the field and 35.7% from deep on the season, numbers that are only slightly better than his dreadful performance last season. The difference is that last season, Smith was dealing with injuries and serious family issues that prevented him from building any momentum on the court until the playoffs. This season, Smith has been mostly healthy, yet appears to still be struggling, but is he really?
Smith's absymal start to the season has been a huge drag on his shooting percentages. In seven October games, he shot just 26% from the floor (7.7 field goal attempts per game) and 17% from three (five attempts per game). While some of this may have been due to Smith (reluctantly) coming off the bench for the first time since joining the Cavaliers in early 2015, he has always started the season slowly. In fact, in 14 seasons, Smith has only shot above 40% from the field once for the month of October, and has only done so seven times in November and five times in December in his 14 seasons. The man is nothing if not a slow starter who typically heats up a bit in the second half of the season.
Still, Smith typically has shot well from the outside as the New Year has drawn closer, and that has also been the case this season. It's been hard to notice without looking at the numbers, but Smith has shot just over 40% from three on over five attempts per game in November and December, which is higher than his career average of 37.3%. Considering Smith's poor overall field goal percentage, one would assume he is still shooting poorly on two-point shots, and while that would be somewhat true (he's well below his career average of 46.4% on two-point shots), his 43.8% shooting percentage on two-point shots is actually the same percentage he his during the 2015-2016 championship season. His True Shooting Percentage from November on is 55.6%, which is higher than his career average with the Cavaliers and higher than he has posted since the 2008-2009 season. Over the last two months, Smith has basically been the same shooter he's always been for the Cavaliers, albeit on a lower volume of shots.
The issue that is causing Smith's shooting percentages to remain so low for the season is simply that he hasn't gone on a hot streak yet. If this seems like an overly simple explanation, that's because it is. Despite ranking 12th all-time in three pointers made, Smith isn't the kind of consistent shooter that Kyle Korver is. He tends to have stretches of absolutely torrid shooting that raise his percentages to acceptable levels. While Smith has shot the ball well for the last two months, he has yet to go on the kind of roll of high volume shooting where he is making the kinds of shots that have the fans and media simply shaking their heads. Unfortunately for Smith, there are several signs that such a hot streak may never come.
One reason that Smith may not go on that kind of hot streak is that he simply doesn't get the same amount of shots that he used to. Over the last few seasons, Smith has typically been the Cavaliers' fourth option on offense, behind LeBron James, Kyrie Irving, and Kevin Love. This season, even without Irving, Smith is currently behind James, Love, Dwyane Wade, and Kyle Korver in the offensive pecking order. One could make the case that Jae Crowder and Jeff Green are ahead of him as well. The impending return of Isaiah Thomas will only push Smith further down the pecking order, possibly reducing his role in the offense even more. Smith's 7.4 field goal attempts per game this season are already his fewest since his second season in the league with the New Orleans Hornets, and four fewer shots per game than he took during the championship season of 2016. While the argument can be made that the Cavaliers should get Smith more shots, they rank third in the NBA in offensive rating as it is, so it's doubtful that Smith will become a greater focus of that offense.
Another issue is that Smith has seemingly become a more hesitant shooter at some points this season. This was never more evident than on Christmas Day against the Warriors, when Smith started the game 0-for-5 from the field (and 0-for-4 from three) and subsequently stopped shooting. One could make the argument that Smith knew his shot was off that game and didn't want to hurt the team. You could also make the case that a more discerning shot selection would allow a player to improve their efficiency by eliminating bad attempts. However, we know that's not how Smith's offense—particularly his outside shooting—works. Smith is at his best when he is shooting with confidence and abandon, making shots that others wouldn't even think of attempting. A hesitant Smith means that he is lacking confidence in his shot, and is unlikely to get hot from deep. Meanwhile, a gunning Smith means that, for better or worse, anything can happen.
To his credit, Smith has accepted his lesser role on offense, talking about how he has become a defense-first player, and has worked hard both on and off the court for the Cavaliers after having a turbulent career prior to coming to Cleveland. Unfortunately, his defense seems to have slipped a bit this season (possibly due to age, at 32 is likely nearing the end of his career), and has never been the kind of defender to slow down an elite scorer. Still, if Smith seems to continue to have the trust of coach Tyronn Lue, and if he can get back to being the three-point gunner he has been the last few years with the Cavaliers, that would give an already tremendous offense another useful weapon.