I wrote a few reports prior to starting posting. This is the last of those, so starting next week Mo and I will settle into posting a report on Monday (me) and on Thursday (Mo). Hopefully we're giving Cavs fans some additional food for thought on potential lottery picks.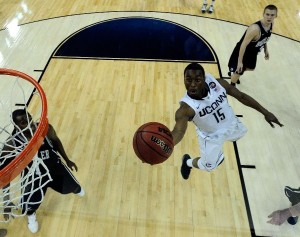 Kemba Walker
Height: 6' 1"
Weight: 172 lbs
Position: PG
Age: Turned 21 in May
Summary: Walker led UConn to the 2011 NCAA championship. He is a very fast point guard who had many outstanding performances in the 2010–11 NCAA season. His play in the Big East and NCAA tournaments has raised his draft stock to a potential top 5 pick. His speed and play-making ability will make him a quality PG in the NBA.
Basketball Bio: Walker attended Rice HS in New York City and was a top recruit in the class of 2008. He attended UConn and spent his freshman year as a primary bench player on a Final Four team. It was a solid season for Walker, highlighted by a 23 point, 5 rebound, 5 assist outing in the Elite Eight. Following that season; much of the team graduated or entered the draft, leaving Walker as a sophomore leader on a disappointing 18-16 team. Walker was the most effective player on the team, averaging 14.6 points, 4.3 rebounds, 5.1 assists and 2.1 steals in 35 minutes per game. Following his sophomore season, Walker was viewed as a late first-round draft pick due to his quickness and other skills. He returned to UConn and probably does not regret that choice. Walker was electric in 2010 – 2011 in leading UConn to the NCAA championship in addition to championships at the Maui Invitational and Big East Tournament. For the season, he averaged 23.5 points, 5.4 rebounds, and 4.5 assists in 37.5 minutes per game and was first team All-American and Most Outstanding Player at the NCAA tournament.
Skill Overview: Kemba Walker is very fast. He is a great athlete and ball handler that can change speed and direction at any moment. Defenders have trouble staying in front of him in the half court and on fast breaks, providing many scoring opportunities at the basket and frequent visits to the foul line. Walker is a great leader and made many big plays for UConn last year. He is a very hard worker and an above average rebounder for his position. He plays tough man-to-man defense and fights through screens when chasing his opponent off the ball.
Concerns about Walker include his size; many suggest he is shorter than his listed height. This results in shots getting blocked and is a defensive concern against bigger point guards. Walker has never been a consistent outside shooter. His 33% three point shooting may not bode well for effectiveness from NBA range. Finally, there are concerns about Walker as a "shoot-first" point guard. When driving, he is typically focused on scoring which can result in poor shots when a better option was to pass to an open teammate.
Additional Info / Advanced Stats: Walker significantly improved every year while at UConn. His PER improved from 17.4 in 2008–09 to 20.5 in 2009–10 to 29.6 this year (15th in the country). Walker was tasked with handling much of the Huskies' offense this year (31% usage rate), and the results were good as the Huskies are national champs. That said, the road to an NBA championship is not built on Kemba Walker using 31% of his team's possessions. He scored frequently but somewhat inefficiently. He took 18 field goal attempts per game and shot 43/33/82. His 54% true shooting was respectable due to his eight free throw attempts per game. In the Final Four, he scored 34 points on 34 field goal attempts while distributing 7 assists against 6 turnovers. Scoring efficiently will not be any easier in the NBA.
Regarding his prospects for NBA 3-point shooting, Walker is described as having good shooting mechanics. From his freshman to sophomore year, his three point shooting improved from 27% to 34% as he worked hard to improve between seasons. He dropped to 33% his junior year, however he was asked to take shots he shouldn't take in the NBA. Of his almost 6 threes a game last year, many were contested. Assuming natural progression from a player with a fluid shot and strong work ethic, Walker should convert spot up NBA 3s at a rate higher than his contested college shots.
Where Walker most needs to improve is showing the inclination to pass more often when he drives to the basket. Replacing some low percentage shots for himself with high percentage shots for teammates would greatly improve Walker's effectiveness. Walker has exhibited good passing skills, as after his sophomore year nbadraft.net said he has "above average vision with the ball, showing the ability to hit the open man, open up the floor, or thread the needle". At that time, DraftExpress.com said that Walker "has a lot of good tools, excelling in the pick-and-roll game and showing good court vision in general, capable of making tough passes to cutters in the lane." Walker has improved at taking care of the ball, as this year he committed turnovers on only 11.6% of his possessions (6th best in the Big East). Through reducing turnovers, Walker has improved his pure point rating every year of his college career.
Assuming Walker can balance scoring and distributing more effectively; a best case scenario is as a high quality third scoring option on a contender (like Tony Parker, although Walker's situation won't be as good). As a third offensive threat, Walker should not feel the need to force shots and could play to the opportunity/match-up. A lower end of the potential career spectrum for Walker could be similar to Lou Williams or Brandon Jennings; small, fast guards who are more scorers than distributors. Walker will not be a franchise changer, but he will be a quality NBA point guard.
One final note is that Walker is from New York and has mentioned that it would be fun to play for the Knicks. If you are not yet prepared to see another face-of-the-Cavs wearing a NY Yankees hat, Kemba Walker is not the lottery pick for you.

Tags: Draft Profiles