Kevin Hetrick contributing again. My second overview of a potential lottery pick is about Jan Vesely from the Czech Republic. Mock drafts have him as early as 4th, but I am not particularly high on him as a lottery pick.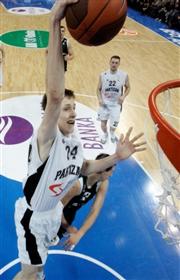 Jan Vesely
Height: 6-11
Weight: 240 lbs
Position: SF / PF
Age: Turned 21 in April
Summary: Jan Vesely is from the Czech Republic and plays for Partizan Belgrade in the Adriatic League and Euroleague. NBA scouts view Vesely as a top ten pick due to his combination of size & athleticism. He is known within the Euroleague for his highlight reel dunks and has exhibited good stretches of perimeter shooting. He is very active on the court however he needs to work on fundamentals on both offense and defense.
Basketball Bio: Vesely has played for Partizan Belgrade for three years. Partizan is the top team in the Adriatic League and participates in the Euroleague. He played limited minutes in 2008 – 2009 before becoming a potential NBA lottery pick the next year. In 2009 – 2010 at age 19, he played 22 minutes per game in 28 Adriatic League games; tallying 8.4 ppg and 3.5 rpg while shooting 57 / 32 / 66. Vesely really impressed in Euroleague games that year. In 22 games against the top teams in Europe, he averaged 8.4 points and 4.9 rebounds in 25 minutes while shooting 40% from three point range as Partizan advanced to the Euroleague semifinals. Vesely was projected as a lottery pick in the 2010 NBA draft however he returned to Partizan for 2010 – 2011. This year Vesely has not made much progression. In Euroleague play, he averaged 10 points and 3.6 rebounds in 28 minutes while averaging 10 points and 4.4 rebounds in 24 minutes during 26 Adriatic league games. Euroleague moved the 3 point line back 20" to 22.1 ft and Vesely's shooting percentages from deep dropped to 31% across both league's games.
Skill Overview: Vesely is a great athlete. He is tall, runs the floor extremely well and is an explosive jumper. This combination is rare and gives Vesely the potential to be a special player. Many of his points come from hustling and running the floor when he finishes fast breaks, oftentimes with dynamic dunks. He has shown flashes of being a good long distance shooter. His quick, long first step allows him to beat people off the dribble and get to the basket from the perimeter in a couple of strides. He is active and aggressive which results in offensive rebounds and steals. On defense, dirty work is his specialty; he hustles for loose balls and shows hard on pick and rolls.
He has typically played SF however defensively he struggles staying in front of quick perimeter players. About his defense he told NBA Draft Express, "Of course, they are smaller than me, they are faster so I need to work on my aggressiveness, try to get faster and play better defense." To be a PF, he needs to add strength to defend and keep rebounding position. Vesely came to the game late and is still fundamentally raw and his basketball instincts are described as average. He will occasionally start dribbling without much of a plan. He is an inconsistent jump shooter and a poor free throw shooter. Two years ago he shot free throws at 63% however in 2010 – 2011 that dropped to 51% over 161 free throw attempts.
Additional / Advanced Stats: Despite the top-tier athleticism, Vesely does not yet have a history of doing productive basketball things. He is young and playing in competitive professional leagues, so to some extent that is understandable. On the other hand, he is now the age of college juniors and is still fairly raw. In 2009 – 2010, his PER was 15.2 in Euroleague games and 17.9 in the Adriatic League. This year his PER improved to 21.0 in Adriatic League games however it was 16.5 in the more competitive Euroleague. He converts efficiently around the basket however he is not asked to create a lot of shots for himself as he peaked this year at 6.5 fg's attempted per game. Despite flashes of quality range on his shot, he was only 21 of 67 on threes this year and will need to step back another foot and a half in the NBA.
Vesely's defensive rebounding is anemic due to lack of strength and positioning. In 16 Euroleague games this year, he averaged one defensive rebound every 15 minutes. This continues a trend as he has rarely rebounded much better than 4 defensive rebounds per 40 minutes. His long arms and aggressive defense result in steals however he is not a prolific shot blocker. For an extremely athletic 6' 11" player, his average of 1.2 blocks per 40 minutes in both Adriatic and Euroleague games would seem to indicate poor timing or positioning. Aggressive defense has also lead to foul trouble; he averaged over six fouls per 40 minutes last year before reducing that to five per 40 this year.
NBA scouts are very intrigued by Vesely's combination of size and explosiveness and think his talents will translate well in the NBA. He is however 21 years old and the only consistent skills he has exhibited are being tall, playing hard, running fast, and jumping high. These are good things, but he has never consistently shot well or rebounded. There are concerns about his strength, basketball instincts, and ability to defend in the NBA. A reasonable good-case scenario for Vesely is as a solid role player who plays hard, shoots well, and finishes with authority; perhaps Omri Casspi with great leaping ability. As a worst case scenario, let's say he projects as a skinny JJ Hickson that can't shoot free throws and doesn't rebound. That's mean, but he is only 1.5 years younger than Hickson. A best case scenario for Vesely is improving his strength, shooting, & rebounding while refining the remainder of his game. If he can maximize his skills and build on his performance of 2009 – 2010, he can be a very special player. I don't think a top 8 pick should rely on so many improvements at 21 years old.

Tags: Draft Profiles