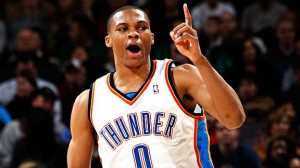 Regardless of the absence of a certain wine and gold-clad group of professional basketball players, I hope all of you are watching the NBA Playoffs. It has been documented by many: we're in the midst of the best mélange of match-ups in recent memory. Also documented by many: the polarizing play of Russell Westbrook. The 22 year-old guard has been remarkably inefficient in OKC's six games, shooting a tick above 40% and posting eight or more assists only once while turning the ball over 4.4 times per game. This isn't a case in which a stat line obfuscates the truth. If anything, the eye test further indicts Westbrook's performance: he is having trouble finishing at the rim; he appears to be pressing; and his body language is wrought with frustration.
Though the information I'm relaying is accurate, I'm uncertain there are any compelling conclusions we can draw from Westbrook's struggles. Dude just looks a little lost, perhaps infected with a virus part playoff pressure and part hero complex. Perhaps Kevin Durant will tell him to get his mind right; he will stop forcing up contested 23 footers and rim-glancing layups in traffic; and he will post an efficient 22-9 for the rest of the Playoffs. The Thunder require this of the Long Beach native. They will not—barring multiple transcendent performances from Durant—advance much further without his help. But if he fails to provide OKC with his characteristic blend of bucket-creating drive and kicks and gutsy shotmaking, he will not be a failure. History has not yet selected the language in which Russell Westbrook will be defined. He was born in 1988. Right now, he's a super-talented player who needs to start performing like one.
If there is any positive that can emerge from an ostensibly likable guy such as Westbrook click-clunk-clanking his way to frustration, it is the ideological debate that can be explored in wake of his troubles. Unlike some ideological debates, this is a fun one in which to engage—your father won't disown you due to your alignment with one side or the other. A couple weeks ago, Matt Moore wrote about Chris Paul going "I'm the best player in the whole wide world" all over the Lakers in Game Four of the LA-NOLA series, and he articulated two things I have always known in my soul but never read. First, that Paul, operating at his pinnacle, is everything a point guard should be:
[Paul]'s at the center of everything. The offense doesn't just flow through him, he's the engine, the wheels, the carborator, the air filter, the spoiler, the tinted windows and the air conditioner. He's the entire mechanism.
And that Derrick Rose is a force of nature—he inhabits the opponent's paint like a wolf's howl inhabits its prey's psyche—but not a point guard:
"[There] are such strong performances, night after night, after night, from point guards in this league, and… whatever the hell Derrick Rose is (cause that ain't a point guard)."
The same can be said of Westbrook, though his athleticism is merely really, really good, and he did not carry his frequently injured team to 62 wins and the number one seed in the East. In terms frustratingly insufficient, both Derrick Rose and Russell Westbrook are combo guards. They are scorers who accumulate assists, not distributors with a knack for scoring. Rose is a might more apt at finding nylon than Westbrook, but the gulf between the two is widest in terms of court vision. Rose is a savant at calculating angles, finding teammates, and knowing where the ball should go a half second before anyone else does. One imagines he could drop 13 assists per game if his role on the Bulls allowed him more leeway in shouldering the scoring load. For Westbrook, creating easy baskets for his colleagues and making the smart basketball play are skills to be learned and developed, not something woven into his DNA. Unlike Rose, he is not burdened with acting as his team's primary scoring option in every game. If he finds himself in the midst of a 2-9 night, he has the option to defer to one of the best scorers in the league, or better yet, say to himself, "My shot's not falling. I need to use my talents to create for others." It seems he has instead elected to shoot himself out of a slump, to the benefit of Zach Randolph's defensive rebounding numbers.
At present, Russell Westbrook is unable to flip the facilitator switch. The numbers illustrate this. In the 42 games this past season in which he shot 46% or greater, he put up an average of 16.7 shots, posting 24 points and 8.7 assists. The Thunder were 31-11 (.738) in these games. In the 39 games in which he shot 44% or less, he shot 17.4 times, averaging 18.7 points and 7.7 assists. The Thunder were 23-16 (.589) in these games. The guy gets his shots up whether they are going in or not, sometimes to the detriment of his team. Faced with a rough shooting night or an oppressive defense, he has one mantra: "I'm sinking the next one." While supreme confidence is a necessary trait to be a star in the NBA, it can be poisonous if employed erratically. If Westbrook wants to realize his potential, he needs to understand he has the tools to score in bunches and feed Serge Ibaka a steady diet of open 15 footers. This is a struggle because Westbrook is not a point guard. He just happens to be 6'3″ and a capable ball handler. That facilitator switch is something the little electricians in his brain are still wiring. If and when he connects red wire to red and blue to blue, OKC will drop the "young" from their title of Best Young Team in the League.
Chris Paul is the platonic ideal of the point guard position made flesh. He possesses something around which stats and language can't quite wrap their feeble mitts. He has tools: speed, shooting touch, passing ability, confidence, and a sense of The Moment, but describing components of his game is like describing a party by talking about the name of the bar and the brands of alcohol served. Paul's game is an experience more than an amalgam of traits. In the first and fourth games of the Lakers-Hornets series, he commanded his teams' possessions. He was in control at the offensive end. One expected that, at his whim, he could turn Derek Fisher to dust or pull a balloon animal out of his shorts. He made all things possible, even defeating the defending champs twice without his best teammate and a front line that looked dwarfish compared to their counterparts.
Baron Davis is 32 and not as good at basketball as Rose, Westbrook, or Paul, but ask J.J. Hickson if it's satisfying to dart through the lane knowing he's about to receive an orange sphere in the chest and an easy dunk. In 13 games of 20 or more minutes, Davis averaged 6.8 assists and the Cavs went 5-8. Like Westbrook's playoff stats, I'm unsure there are significant conclusions to be drawn from those numbers. I'm unsure anything related to Baron Davis is significant. He will earn $28.6 million over the next two years, throw some cool alley oops, then presumably retire to Los Angeles. But Davis is proving a point, even if it's not his own: a natural point guard is an antidote for stagnant offense. Numbers aside, the Cavaliers are undeniably a better offensive team with Davis on the floor. When his teammates are screening and cutting, he finds them in space; when his teammates look like they don't know what the hell they're doing, he scores. It's an art—sensing the balance between facilitation and passivity, between control and selfishness—but having someone on your team who possesses an artist's mind can animate your team in spectacular ways. In the Cavaliers' case, this means rendering the team watchable.
There are three point guards who will likely be drafted in the top 10 of this year's draft, where we can assume the Cavaliers will have two selections. Only one, Kyrie Irving, has exhibited a point guard's understanding of the game. I don't know that he actually possesses this understanding, but it's an eyeball thing: the way he careens around the court and discovers passing lanes at age 19 suggests his vision might one day balloon panoramic. If Cleveland attains the privilege of drafting him with the first or second pick and he is, indeed, special, the Cavaliers will be special. Maybe not championship contender special, but maybe playoff upset special, definitely special to watch. Imagine Christian Eyenga hamming it up and gesturing towards Irving after his third uncontested dunk of the night. Fun, right? Therein lies the power of a point guard. The Cavs are not talented enough for fans to dream of Nash's 2007 Suns or Kidd's 2003 Nets. In 2011, we can only hope for improvement, perhaps .500 and a seven seed in a couple years. But if he has any Nash, any Kidd swimming in his cells, Irving could provide a foundation for that hope and make this team fun again while the front office builds a contender.