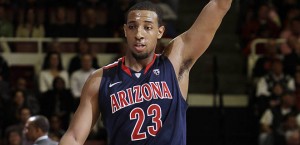 SBNation has the Cavs taking Derrick Williams and Bismack Biyimbo:
As you can see from the thread below, not much has changed in the NBA mock draft world, as the SB Nation crew still has the Cleveland Cavaliers taking Arizona forward Derrick Williams (2nd) and forward Bismack Biyombo (8th) in their latest 2011 NBA mock draft.
This is soma for any of you watching the NBA Playoffs thinking Man, I hope we can get back here soon. This is also rampant speculation, which I try to shy away from when providing you guys with links. But, I mean, with the Indians playing well there is almost no Cavaliers news of which to speak. Consider this a forum to talk about who you would like to see the Cavs select with their two lottery picks and why. We will obviously know more about who Chris Grant and co. can and will select once the lottery takes place on May 17th. In the meantime, speculate away.