Hello Cavs fans! I'm Kevin Hetrick, one of the Cavs: the Blog draft experts. John actually picked two of us; me because I was persistent and Mo Nuwwarah because he is very talented. Also Ryan Braun will be providing animations of each of the players that are covered, which should be awesome. Every week, we will be posting a couple of reports on likely lottery picks that the Cavs may be interested in. I'm going to start with an easy one, Kyrie Irving, the player most people would like the Cavs to be able to draft.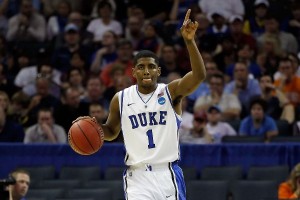 Kyrie Irving
Height: 6-2
Weight: 180 lbs
Position: PG
Age: Turned 19 in March
Summary: After coming to Duke as one of the most highly recruited prospects in the country, Irving has finished his freshman season. Irving suffered a toe injury and only played 11 games for Duke however they were very impressive games as he is generally considered the likely #1 pick in the draft. He is very effective at creating shots for himself and others. His defensive abilities are very solid and he possesses great work ethic and leadership.
Basketball Bio: Kyrie Irving played high school basketball at St. Patrick High in Elizabeth, N.J. He was ranked as the #4 prospect in the class of 2010 by Rivals.com, #3 by ESPN, and #2 by Scout.com. Irving only played 11 games in his freshman year at Duke due to a toe injury. In the midst of leading Duke to an 8-0 record and #1 ranking, Irving injured a ligament in his toe following a win over Butler. These eight games included four wins over eventual NCAA tournament teams and were highlighted by a 31 point, 6 rebound, 4 assist effort against Michigan State. For these eight games, Irving averaged 17.4 ppg & 5.1 apg in 28 minutes while shooting 53 / 45 / 90. After three months recovering from the toe injury, Irving returned for the NCAA tournament. In three tourney games, he averaged 17.7 ppg & 2 apg while shooting 52 / 50 / 91. Duke lost in the Sweet 16 to Arizona when Irving had 28 points and 3 assists. Following the first 8 games, Irving was generally viewed as the #1 pick in the draft despite his injury.
Skill Overview: Irving is the best point guard in the draft. He is quick and is an effective dribbler with either hand. Great body control allows him to start and stop and change directions must faster than defenders. These skills result in outstanding ability to penetrate and either finish at the basket or find an open teammate. In combination with the body control, he is very strong which aids in his converting in the paint at a high rate. He is a very good shooter with excellent form, resulting in his 46% three point shooting (9th in NCAA if maintained for the year). His size, discipline and excellent fundamentals should allow him to play quality defense in the NBA. His work ethic is great and he is routinely described as an extremely confident player and leader.
The largest concerns about Irving as a prospect are that eleven games is not a huge sample size and there are questions whether the injury represents the start of a trend. Due to missing the ACC season, Irving has not been exposed to significant amounts of high level competition.
While not a super-athlete like recent first picks Derrick Rose and John Wall, Irving is a great athlete and has been compared to Chris Paul, Tony Parker, and Mike Conley. Irving is one of the few prospects in the draft who appears to be a "can't miss"; at a minimum eventually being a very good starter at his position. Best case prospects are as an NBA all-star to borderline all-NBA.
Additional Info / Advanced Stats: Irving did not play enough minutes to qualify to be "ranked" for per game & efficiency stats. Based on the small sample size available however it can be said that Kyrie Irving made scoring the basketball look easy. His PER was 31.68, ranking him as the 5th most efficient player in college basketball and highest for a PG. Due to his ability to draw fouls (9.4 ft attempts per 40 minutes) and his high shooting percentages, his true shooting percentage was 69.7. This is a ridiculous true shooting percentage for a high usage guard. Although unlikely; if he had maintained this for a season it would have ranked third in the country behind a 3-pt specialist (Jon Diebler of Ohio State) and a low volume power forward (Shane Johannsen of Northern Arizona). Performing like this against a schedule that included 7 NCAA tournament teams, even if for only 11 games, is pretty impressive. His offensive rating (points produced per 100 possessions) would have ranked seventh in the nation and better than any other high-usage player. In summary, Irving was very effective at creating scoring opportunities and finishing them.
Based on his skill set and performance to date, comparisons including Chris Paul and Tony Parker seem appropriate. As a scorer and a distributor, a good projection is that Irving will be better than Parker but not as elite as Paul. Irving has similar skills to Parker but is a much better shooter and will also get to the free throw line more frequently and convert better when there. Making free throws at 90% would have ranked Irving as the 10th best in the NCAA last year. As a passer, it is obviously no disservice to Irving to say that he is probably not Chris Paul. Watching Irving play it is apparent that even when moving at full speed he has a firm grasp on where his teammates are at, both in the half court and in transition. With that mind though, quantitatively Irving was not a great distributor. Pure Point Rating adjusts assist to turnover ratio to account for both productivity and pace. Irving's PPR of 1.35 was respectable however it was lower than "shoot-first" point guard Kemba Walker. Irving's assists per possession used and pure point rating were very similar to Walker's numbers as a sophomore (In Irving's defense, why pass when scoring is so easy?). There is little doubt that Irving's frequent drives, awareness of teammates, and ability to stay in control will result in easy baskets for teammates however it is reasonable to assume he will not be a transcendent passer like Chris Paul.

Tags: Draft Profiles