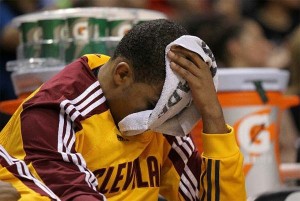 Bob Finnan recaps the Cavs' futility, report card style:
C Ryan Hollins, 7-0, 240, 5th year: He went from an end-of-the-bench guy to being the team's starting center. That shows just how bad this team really was. His play did pick up considerably after Davis arrived on the scene. He started looking for Hollins in the post, especially on alley-oop dunks. He shot a team-high 59.8 percent from the field. His lack of rebounding – 2.7 per game on the season – remains a sore spot with Coach Byron Scott. He wants his bigs to hit the boards. That point was pounded over J.J. Hickson's head. He never really got it through to Hollins, who owns a player option on his contract for next year. He'll undoubtedly pick it up. Grade: C-
Let us never speak of this season again.