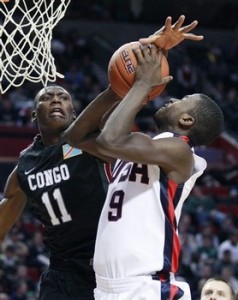 \
From Scott Sargent at WFNY:
[With] the team's desire to add post defenders, Byron Scott's athlete-focused offense and a potential multi-year rebuilding process, Biyombo could find himself as the second Congloese-born player selected by the Cavaliers in the last three years.
If you have been perusing Twitter and/or draft sites over the past month or so, you've heard Biyimbo in connection with the Cavaliers' second first round selection. If you're unfamiliar, this WFNY piece serves as a solid introduction to the Congo native, who stands 6'9″ and has a 7'7″ wingspan.