This was one of the greatest displays of basketball dominance in NBA history, and certainly the biggest thrashing of a team in Cavalier history. Cleveland absolutely decimated Boston in a way there are not words to describe. Even the Celtics seemed to be resigned to their fate. This isn't a recap, it's a prose highlight reel.
When we saw that Gerald Green was going to be in the starting lineup, to make it Thomas, Bradley, Green, Crowder, and Horford, I knew the Celtics were in trouble. This team wasn't going to be able to rebound or defend the Cavs' front line. The First Quarter started fairly mundanely for Cleveland. Kyrie looked to get into it early with a spin into a sick lefty jump hook in the lane. Then, J.R. set a backscreen on Crowder which let LeBron get to the right side of the cup for an alley oop over the Leprechaun, oh, and Kevin hit a three.
On defense Cleveland was no longer trapping the Leprechaun (Isaiah Thomas), but showing hard with help and then recovering. Boston did not seem prepared for the tactic change. But a couple Gerald Green triples (one from an impossible angle from the left corner) kept Boston close until a Ty Lue T.O. six minutes in. Then the game was over.
Cleveland went on a 12-0 run behind stifling defense and Kevin Love and Kyrie Irving, rebounding, shooting, and getting to the line, beautiful fast breaks, and a defense that left Boston bewildered. The Cs did get a couple buckets after, but the ball kept humming around for Cleveland as Tristan, LeBron, and La Flama Blanca got in on the act. r. James also snuffed out any hope of a Boston rally with this demoralizing chase down block. Never go up soft with the King at your back, Avery.
After ten and a half minutes of basketball poetry, James went to the bench, and  Jaylen Brown and Terry Rozier got checked in for Boston, which shows you just how far coach Stevens was reaching into his bag of "tricks." To be fair, Jaylen was probably Boston's best player Friday, with 19 points, but the cause was already lost. Especially when Kyrie ran up Rozier's back for a trick nasty double clutch layup with 48 seconds left to leave the score 32-18.
In the Second Quarter our old pal, Richard Jefferson got to the line for a pair then blocked a Marcus Smart layup to kick off a 13-2 run as James drove and shot threes at will to put the Cavs up by 25 at the 7:46 mark. Cleveland was still giving no quarter defensively, and when Boston did break free, they bricked. That's the thing about great defense. When you're playing it, even when you blow an assignment, the other team hears footsteps, a sentiment reflected in this bitter (but oh so sweet) tweet.
This is embarrassing by the Celts. It's like the entire team has the yips. All open shots and close-range shots and they're gakking them.

— Bill Simmons (@BillSimmons) May 20, 2017
Then the Boston three party started. The Love, LeBron, Shump, Deron Williams, and Irving lineup played the part of the patriots, looting their way to an 18-3 romp to make it 63-24 (not a typo). Everyone but DWill got a trey, Love dunked, LeBron got a layup. The unselfishness was off the charts, as was the glorious Boston disappointment.
Probably my favorite struggle face of all time. pic.twitter.com/h8GRkc0XEe

— realcavsfans.com (@realcavsfans) May 20, 2017
I don't like showing guys up. I'm all about respecting your opponent, but after the last two years of Beantown idiocy against the Cavs, watching LeBron and Co. rub their faces in the muck felt pretty darned good. As Tom Pestak said in his epic instacap, "I was tempted to tweet a pic of Al covering his face and trying to get out of the way to Anna Horford."
The game stalled for the last three minutes of the half as Cleveland cooled down and Kev went 1-4 on triples. Jaylen Brown and Avery Bradley combined for seven, but at some point late, Isiah Thomas started limping down the court. "This is as good a time as any to fake an injury," I thought. I was resigned to a 39 point lead going into the half until J.R. hit a fadeaway buzzer beater on a Hail Mary heave to make make it a freaking fourty-one point lead, 72-31.
I just had to tweet out this pic of a Cavs fan giving J.R. his props. Even Boston fans were smiling.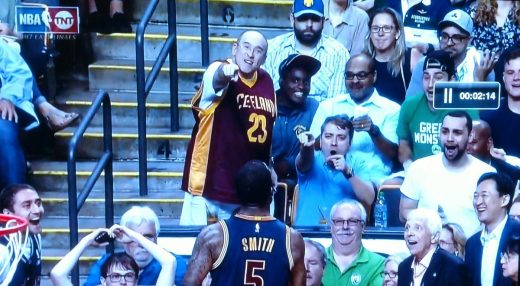 As we sat at halftime, we all knew we were witnessing something legendary. Cleveland was transcendent and the Celtics were reverting into a shell they never realized they'd need to crawl into. Just like Indiana and Toronto, this loss was shaping up to be franchise destroying. Tom Pestak dubbed it an "extinction level event." Suddenly any talk of trading the number one pick for Paul George or Jimmy Butler seemed silly and pointless. When Isaiah Thomas didn't come out to start the third, we knew it was over not just for this game, for this series, but for this incarnation of the Celtics.
Isaiah Thomas pulled from the game. They say it's his hip, but really Ainge just put him on the trading block.

— Nate Smith (@oldseaminer) May 20, 2017
The romp continued in the third quarter. LeBron kept hitting and Kyrie Irving was pwning Marcus Smart on D, and taking over on offense: getting to the line, setting up TT, and finishing with ridiculous layups. He got his stepback three rolling towards the end of the frame and hit two straight. Somewhere, Steph Curry started trembling.
LeBron took a seat for the night at the 1:47 mark. The Celtics were deep into their bench with Tyler Zeller and Amir Johnson in the game, while Kyrie, Korver, and Shump continued to lock in and finish the quarter up 103-57.
Do the Celtics exist?

— 11-0 JACKSON (@WayneEmbrysKids) May 20, 2017
The fourth quarter was all garbage time, and we savored every minute of Cavs' strut. We were all waiting for the Cleveland lead to get to the half century mark, and it did at 9:41 when a D-Will bunny made it 110-60. Shump balled out to get them there: chasing down every rebound, hounding (still) on defense, and knocking down his threes.
The lead was never extended, but this was all for fun anyway. Channing and R.J. got it going late with some threes and a Jefferson dunk. Dahntay Jones came in to snuff out any funny business. He had a hilarious play where he pulled the chair on a Jordan Mickey post-up and Mickey floundered about. James Jones got to make a token appearance (he's this year's victory cigar). And Derrick Williams played like the league's best 11th man.
Someone asked me the other day if Derrick Williams sucks. I said, "no. The Cavs just have the greatest bench in NBA history.

— Nate Smith (@oldseaminer) May 20, 2017
It was all smiles for Cleveland at the buzzer and we knew we'd be telling our grandkids about this some day.
By the numbers, Cleveland was epic. LeBron was something like +42 in the first half and +46 for the game. He finished the game with 30, seven dimes, four boards, four steals, three blocks, and one turnover. "Daayaaamn…!" Uncle drew got his stroke back: 8-11 from the field with 23 points, three assists, and four turnovers (really the only "bad" thing about this game). K-Love dropped 21 and 12 including 4-9 from three.
Deron, super sub, Williams was +20 with four points, six dimes, three boards, and two steals in 17 minutes. That production is insane. And Iman was even better: Seven points, five boards, three dimes, two steals, and +20 in 12 of the most productive freaking minutes you'll ever see.Even the Road Trippin' Crew, R.J. and Channing had 10 and seven respectively.
Other numbers: LeBron just tied Jordan with his eighth straight 30+ playoff game. Cleveland has won 13 straight playoff games. The 41 point halftime lead was the biggest in NBA history. Isiah Thomas was 0-6 with two points, six dimes, -32 in 18 minutes. This was a beatdown.
LeBron James' reaction to not being named a finalist for the 2016-17 NBA MVP award https://t.co/notRSRrTtP pic.twitter.com/TiZgF2phdR

— Sports Illustrated (@SInow) May 20, 2017
LeBron has made a mockery of the regular season, the Eastern Conference Playoffs, the MVP award, and the notion of basketball parity in general. For as much talk as was made of The Warriors, the Cavs have sneakily put together the greatest bench in NBA history to support the King's quest for a repeat. This bench has two former all-stars in Deron and Korver, a guy who should've been an all-star in his prime in Jefferson, former plus/minus all-star in Frye (his RAPM stats in Phoenix were ridiculous), and a two-guard who'd start for a third of the league in Shumpert. Former number one pick Derrick Williams who had a regular season 63TS% and whose whose lineups were dominating people is the 11th freaking man! Dahntay Jones is the enforcer, and James Jones (66TS% in regular season!) is the best 13th man/assistant coach you could ever ask for at the end of your bench.
This Cavs team is beyond special, and this series is over. I feel bad for Boston even having to play the next two games. I know Cleveland could be in for a letdown, but Boston will say something stupid to fire them up and no team has ever gone 12-0 to the finals. The quest for history alone will motivate the wine and gold. So let's root for some Spurs' wins to tire the Warriors, and let's gear up for one of the greatest finals match-ups of all time. This seems presumptuous, but I'm just gonna leave this right here…
@WayneEmbrysKids Shhhhhh

— Nate Smith (@oldseaminer) May 20, 2017