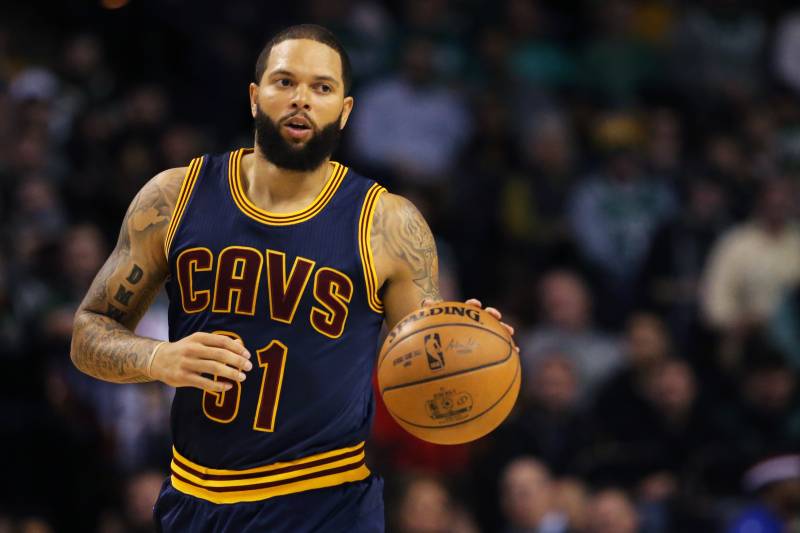 1. There have been numerous articles written complimenting the playoff production of three-time All-Star, Deron Williams. Rightfully so. The 32 year-old PG wasn't just good in the Cavaliers' first round sweep of the Indiana Pacers, he was offensively transcendent. It's easy to look at his box score numbers and be generally underwhelmed. He only averaged a little over eight points per game in a measly 15.5 minutes per contest. But for the love of basketball, those 62 minutes of offensive basketball were about perfect. Obviously, one shouldn't get too excited about offensive rating in such a small size. Normally, I would give the rating a cursory glance and be on my merry way. That is the right thing to do except for when the number staring back at you is 210! What?! Just to remind folks, the offensive rating over at Deron Williams' basketball-reference page indicates that the Cavs scored 210 points per 100 possessions with Deron on the floor. Yes, Deron didn't actually play 100 possessions, but that number is still absurd. An offensive rating over 120 is already incredibly good. To put it more into perspective, one time Williams nemesis, Chris Paul has a playoff rating of 130 in 120 more minutes. I'm not saying that Deron will continue this or that he is better than Chris Paul on the offensive end(though I would have engaged in that argument about 8 years ago), I just want to share my awe of a number north of 200. We spend a lot of time here at Ct:B scouring these various metrics, and I have never seen 62 minutes of 210 offensive efficiency.
2. Deron has drilled open shots off the dribble and in spot up situations, but more importantly, he has effectively run the Pick and Roll with LeBron James as the roll man. LeBron is the most devastating roll man in the entire NBA. Last year, the Cavs offense mowed through the league anytime Mathew Dellavedova handled the rock with James as his dance partner. Delly had the pacing and pass accuracy to force LeBron to actually roll as the screener. The King has a tendency run the 1-3 PnR only to get the mismatch when the opposing PG is forced to switch. With Delly in last years early playoff rounds, Bron short rolled more frequently or even rolled hard when Mathew was able to get a defender on his hip. Dellavedova would throw lead passes that required LeBron to leave his Pop comfort and roll. That was great, but with a player as supremely gifted as Deron Williams, the options are more numerous. Deron is a filthy one-on-one player known for his jump crossover either direction. Bigmen cannot stay with him when he goes into ankle breaking mode. The Cavs end up winning any switch situation either with LeBron or Deron as the resultant ball-handler. Delly could make good offensive decisions. Deron can straight punk fools.
With that said, Williams is still a pass first PnR player. If the defense decides to show and recover, or ICE (NBA defenses mostly switch in small ball situations against the Cavs, but not in every instance) Deron is content to use the threat of his jumper to get a defender on his hip as he slow drives to the cup. His pocket pass and cross-court timing is elite. With the floor spacing provided by Channing Frye, J.R. Smith and Kyle Korver, a defense is essentially helpless to defend the action. "I hope he misses that wide open three" is not the most enjoyable defensive gameplan for a coach.
3. Ok, I guess we also have to look at Deron's defensive rating of 120 if I am going to wax poetically on his offensive rating. Did I mention is was 210?! I think I did. Obviously, Williams is not a great defensive player. He has good strength to defend the post and to chuck the roll man from the weakside, but his on-ball D certainly leaves something to be desired. He doesn't always anticipate pick angles very well which mitigates his underrated ability to actually slither by a seemingly solid screen. When Deron is fully engaged, he does a decent job of using his hands and upper body strength to avoid out and out collisions, but his feet are too often in the air when he is guarding. The same thing that makes his offensive crossover so deadly, the jump cut, is what undermines his defensive quickness. One's feet need to be on the ground if one wants to react to an offensive move quickly. Well, unless one has wings. Or a jet pack. That would work too. Regardless, D-Will is serviceable as a defender. Being plus 90 per 100 isn't bad.
Serviceable defense. That's about as good we can describe the Cavaliers' first round defense. And ya know what? That is still just fine. This team has been consistent all year in doing just enough necessary to win. At no time in the first round did it really seem like the Pacers had a shot to take multiple games. Even when C.J. Miles' jumper was making its high arc to the basket, a general feeling of "meh" came over me. Had it gone in, the Cavs would have just destroyed them in five. For all the ink spilled over the Cavs series victory having had the lowest point differential in NBA sweep history, it never really seemed close to me. Kyrie's 21.9% shooting from three probably contributed to that sensation. Had Uncle Drew nailed his threes a click above that abysmal number, things wouldn't have been close. Other than the second half of Game 3, neither team put much effort into "helping the helper". Even then, the Pacers made some awful offensive decisions that helped the Cavaliers' ramped up defense. Serviceable. The word, by definition, means it was enough. Let's hope for that going forward.
4. Quick shout out to my man, Dennis Schröder. It has been fun to watch the 23 year-old German PG take his game to the next level. Even though the Atlanta Hawks lost Game 5 to fall behind in the series 3-2, Schröder continued to display his trademark confidence. He has drilled 14 threes in five games, fifth most in the playoffs, and has given John Wall a general headache. Wall has certainly been up to the task, but few people would anticipated that the series point guard battle wouldn't be tilted drastically in Washington's favor. Schröder hasn't always locked in on the defensive end and his loping, seemingly arrogant disposition can rub people the wrong way, but his talent and emerging skill-set are impressive. No one can really stay in front of the young man even when he isn't hitting his outside shot. If this shooting from deep becomes more the rule than the exception, the league will be in trouble next season. The Wizards already have their hands full.