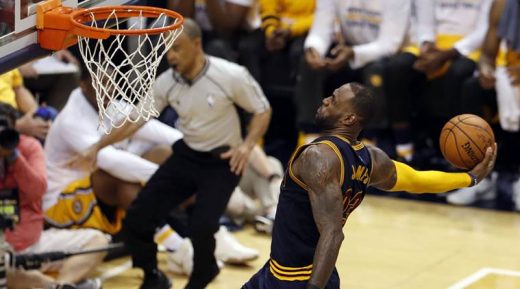 After giving up 74 points in the first half, and trailing by as much as 26, the Cavs channeled their inner Frank Reich and outscored the Pacers by 31 points in the final 24 minutes to complete one of the great comebacks in NBA Playoff history, and to send the state of Indiana into a 3-0 depression.
If you watched from the tip, you know the Cavs were lapped by the Pacers in the first two quarters. But, if you were paying attention, the game displayed the telltale makings of a classic comeback. Every great sports rally has them. You just have to look for the signs.
Sign 1: Overconfidence
You knew the Pacers were going to come out with a chip on their shoulder. And, you knew their fans would be tweaking on anger, upset hopes, and basketball angst. Paul George and Co. fed on that anger. Cleveland weathered the storm till the 3:20 mark of the first quarter when bench rage himself, Lance Stephenson started going YOLO and drilling threes, setting up his teammates, and whooping at the Cavs like he was a founding member of Baha Men.
Indy scored 18 points in final 200 seconds, as bench mobbers, Lance Romance, Glenn Robinson III, and Kevin Seraphin went nuts. Lance and GR3 hit Js and Seraphin dominated the Cavs in the paint on defense and offense, notching rebounds, blocks, free throws, and layups. Only threes by Kyrie as well as Kyle's heady two man game with Channing Frye kept the first quarter deficit at 37-27.
Cleveland coughed up the ball five times in the quarter, and despite Tristan Thompson dominating the offensive glass, Cleveland struggled with their shooting, at times missing three or four times in a possession. Kevin Love, Kyrie, and J.R. all seemed especially cold, and Kyrie was responsible for three turnovers on his own.
Bankers Life Fieldhouse was filled with gold clad crazies who were losing their minds to euphoria as the lead piled up. By the second quarter, the Pacers were hitting everything, and the Cavs were ice freaking cold. Ty Lue dumped the LeBench lineup early and brought back the starters at the 10:52 mark. It didn't help.
Nobody save LeBron James could score for the Cavs, and Myles Turner was going primal rage with defensive blocks and the most vicious dunk of the playoffs so far.
The Pacers kept scoring. Paul George started going off, and Monta Ellis started beating the Cavs with his drive and kick game. Thad Young was doing his best 2015 Finals Andre Iguodala impersonation. The Cavs (LeBron) decided to leave him open, and Thad made them pay time and again with timely jumpers, weak side cuts, and an insane number of weak side offensive rebounds. But, the second quarter was all about George as he dropped 21 on eight shots. Most of those points came from the mob offensive rebounds that got George open threes and trips to the line.
The thing about defense is that if you give guys easy shots, they start to hit the hard ones. The most egregious defensive play of the half came on a sideline out when LeBron just watched PG13 cut to the basket from the right corner for an easy alley-oop from Stephenson. Afterward, James yelled at TT and Love, causing a collective eye roll from the C:tB live thread.
Meanwhile, the Cavs were playing five on six against the officials after Cleveland got grabbed on rebounds, pushed in the back on drives, and whistled for touch fouls on defense. If there's anything I've learned in the last two weeks, and any lesson that might have been taken from the collapse against Atlanta two weeks ago, it's that the refs are swayed by momentum. Aggressive teams get the calls.
Yeah. It's safe to say that the whole state of Indiana was smelling themselves, and by this time, the Cavs' offense had devolved into LeBron and Kyrie iso-jacks. The Indy offense was purring, the wine and gold were sputtering. When the buzzer sounded, to end the first half, Indy was up 74-49.
Sign 2: Resolve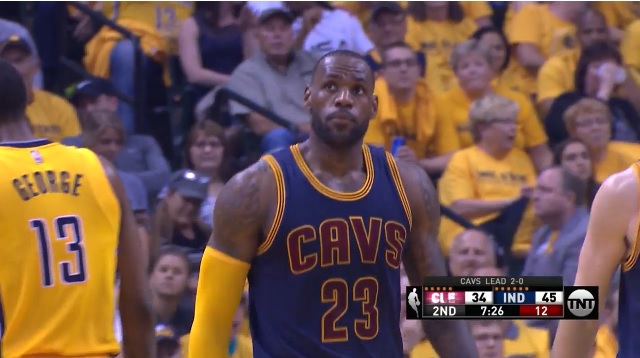 When the half ended, there were more than a few ticked off commentarians. I'm no Cavalier apologist, but I commented that the game wasn't as bad as the score. The Pacers had hit an insane number of threes, going 10-17. Some of them were tough shots, some of them off ridiculous bounces, and a couple came from YOLO Lance Stephenson, a career 30% shooter from downtown. Kyrie was also encased in carbonite: 3-12 with four turnovers, and he was missing pet shots he normally makes. Kev was cold too, but…
LeBron's jumper was wet. He hit a tickled a few silky smooth went 2-4 from three. Aside from his blowup at Love and Thompson, nothing in the first half was affecting him. He was cold, emotionless, but not apathetic – focused. I call this "Playoff Road Game Face" (see above). He was weathering the storm. I always say that "if you don't believe you can win, you can't win." LeBron's belief in the possibility of Cavalier victory never wavered.
When you're trying to come back, you have to focus on something that's working. And for the Cavs, that was LeBron and spot up shooters. Kyle Korver was 2-3 from deep with a couple of dimes, and his shooting form looked perfect. It would be the foundation upon which Cleveland would build its comeback.
Sign 3. The Lull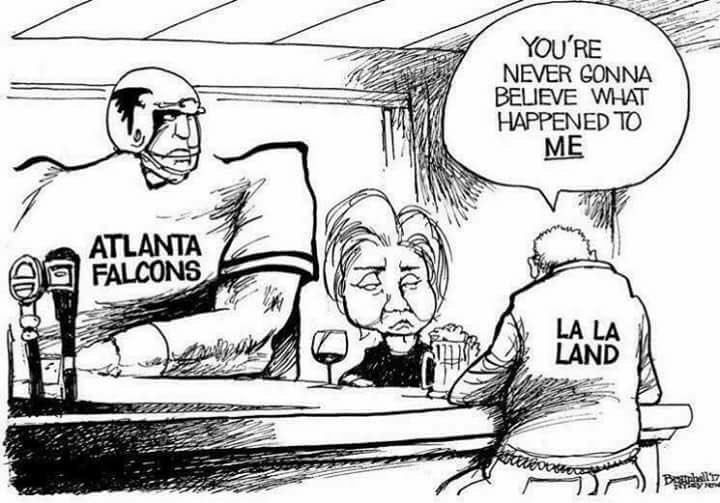 In any great comeback, the team with the lead must play a part. Take Atlanta in this year's super bowl. I always say, "if you don't think you can lose, then you you're vulnerable." Atlanta didn't think they could lose. By the time the time they realized they could, they'd already checked out. Then they panicked. All they had to do was run the ball and not turn it over. All Indiana had to do Thursday was to keep the energy going and to keep doing what they were doing. But, their fans made a critical mistake.
The early third quarter is a dangerous time for the home team. Half the fans, especially those in the Royal Estates of the Lower Bowl, have yet to file in. There's an energy drop. If the Cavs could get some momentum going before Indy realized what was going on, they had a chance.
A J.R. triple started the third quarter, and the Cavs' defense kicked up a notch. They were still struggling on the boards, but they were scrapping. A key basket came when Thad Young grabbed three offensive rebounds but missed three layups in one possession. Love finally grabbed the ball, and then got it back on cross-court King feed before ripping the net with a left corner trey. Suddenly, Cleveland had put a lid on the basket, and a velvety left wing triple from LBJ had cut the Pacer lead to 15 just four minutes into the third.
Sign 4: Changing Tactics 
We've all seen it, when a starting player goes out, and the other team relaxes. One key tactic for Tyronn Lue was benching Kyrie Irving. When Jeff Teague and Lance Stephenson had pushed the Pacer lead back to 20 at the 4:35 mark of the third, Ty Lue called a timeout, and we never saw Kyrie again. This was a good thing. The flat-earther's play in the third was trash. He consistently ignored teammates to take inexplicable pull-ups, let guys drive right by him for layups, and misplayed the pick-and roll.
Deron Williams came in, and the Cavs started running a sort of "matchup zone." For not doing it very much, Cleveland was making fantastic rotations defensively and switching expertly. Deron defended positionally like I've rarely seen him before. Tristan Thompson was electric, with two big blocks: one on George, and one on Seraphin. No one missed Kyrie.
Sign 5: The Blunders
Most collapses are possible through some classic blunder or series of them. All Matt Ryan had to do in the late moments this year's super bowl was just avoid a sack. Dwayne Rudd just had to leave his helmet on. "Don't touch the ball," Leon Lett! Think Draymond Green's Game 4 groin shot on LeBron, or the horrible Oilers' special teams gaffes that plagued them during the Bills' 35-3 point comeback in in 1993. Think of the inbounds blunders that doomed the Knicks when Reggie Miller and the Pacers overcame an eight point deficit in 11 seconds. That one made even the Cavs' comeback seem tame.
But let's not celebrate the Pacers. Indy's blunder revolved around Nate McMillan's insertion of Kevin Seraphin. Seraphin, while he went nuts for a nine point first quarter, killed the Pacers throughout the second half. The Cavs would routinely seek him out and put him in pick-and-rolls, or isolate and exploit his girthy lack of foot speed.
Seraphin had come in because Myles Turner was playing with both hands around his throat, missing layups and jumpers galore, and the Cavs were getting stops. Seraphin missed a pair of free throws, and frequently found himself at the point of attack as James went right at him like in this "and-1" when LBJ became the third all time playoff scorer.
McMillan relented at the 1:46 mark benching Seraphin, but comically put him back just 27 seconds later as Myles Turner foul trouble seemingly forced Nate's hand. Kevin didn't disappoint. He ran Deron Williams over and gave the Cavs the ball back yet again with an offensive foul. Then James exploited K-Seph's crappy pick-and-roll D with a 27-foot left wing draino to cut the Pacers lead to just five before a pair of Stephenson freebies ended the third quarter, 91-84, Indy.
Sign 6: Panic Versus Cool
By this time, the Pacers had composed themselves a bit. Five quick points from Paul George, including three free throws that came from a very dumb foul behind the arc by Shump, had extended Indy's lead back to double digits. But, the Cavs secret weapon had come out to start the fourth: Cleveland's four out+LeBron offense. LeBron was surrounded by DWill, Channing Frye, Shumpert, and Korver.
Lance Stephenson might've been great at jump shots in the first two quarters, but by the time the fourth rolled around, he was terrified of stepping into them. After a Lance brick, a fastball swing pass to Kyle in the left corner cut the lead to just five. McMillan had to call a timeout just to change the Pacers' diapers, and sadly to sub out K-Seph.
At this point, Cleveland was just scrambling on D and forced a shot clock violation. Then Channing Frye hit three free throws after over-aggressive closeout by Ellis. LeBron baited Stephenson into yet another three-point clanker before a James dunk tied the game at 98.
The dunk came out of a timeout, and as much as I've bagged on Lue, in this game he was masterful. Maybe all those minutes late in the season were just conditioning LeBron for this comeback. James played all 24 minutes of the second half, and Lue spaced his timeouts and game stoppages perfectly to provide James much needed rest. Lue's timeout plays also worked to perfection. As you can see above, the Pacers were in full-on panic mode. No one stepped to stop the King's flush.
The Pacers weren't done though. Despite a great block and kick by Shumpert to the King to give the Cavs their first lead since the beginning of the game, Indy suddenly looked pissed off. Teague threw his shoulder into D-Will's jaw while jacking a three, and got an and-1 for Deron's pain. Williams would pay Teague back with a block just 20 seconds later. When Frye and PG13 traded threes and the lead just before the five minute mark, Austin Carr exclaimed, "It's on now!"
Out of a time out, the Pacer collapse was complete. Somehow, after starting out in a big huddle at the free throw line, a baseline out of bounds play lead to a wide open layup for the greatest player in the universe. Ty Lue was like John Wooden with the inbounds plays this game. James stuck with Paul George to force a missed layup, and then James drove and kicked to Korver in the left corner. With superhuman focus, Kyle adjusted as Monta Ellis deflected the pass, gathered, and swished for a four point lead.
Sign 7: Endurance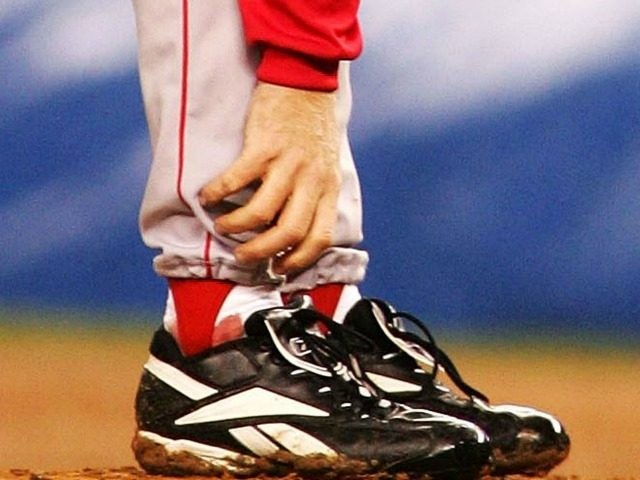 We've seen it a hundred times with the Cavs: the letdown after the comeback. Austin Carr always talks about it. Sometimes when you expend all your energy coming back, you're drained by the time you get the lead. The Cavs looked it. After another ridiculous Paul George three, LeBron had the will to drive and get to the line. He didn't have the legs to make the gimmes. But Cleveland, as they had all second half, did a great job of clogging the passing lanes. Kyle Korver picked off a pass and after walking it up, James redeemed himself with a three ball.
The problem with Indy is that they have a lot of first three quarter players. We all remember how good C.J. Miles was when the pressure wasn't on, and for as much as I've been on the Thad Young train over the years, the dude's never hit a memorable shot. His fourth quarter brick at 2:32 was no different.
By this time, the Cavs were in full-on walk-it-up ground-and-pound prevent offense. James managed a LeChuck special as he burned 22 seconds and fired one. Nine seconds later, Myles Turner back-ironed a line drive heave from three with just under two minutes left, but C.J. grabbed the long ball carom.
Sign 8: Unexpected Contributions
Frank Reich, Jared Phalen, Dave Roberts, Derek Fisher… someone unexpected always plays a role.
Channing Frye had two insane plays defensively (I know, right?). First, he played those passing lanes to pick off an ill-conceived Teague pass, and after another LeClock burning brick, Frye blocked a PG13 drive. With a minute left, LeBron was on fumes, and the Cavs were desperately clinging to a four point lead.
But, the Cavs got unexpected juice when James slung the rock to J.R. at the top of the key. Smith crossed up Teague, maybe twice. Turner converged, and as J.R. got into the lane he set up Frye with a perfect right wing trey… splash!
Cleveland spent the next 54 seconds in a tedious free throw battle as they protected their lead, but gave up layups, dunks, and threes while they split free throws before a C.J. triple cut the lead to a single three-point possession. As he had all game, Lue played it like a maestro, using his timeouts at just the right time, and finally getting the ball into Deron Williams' hands who put the game away with two charity shots with 14 left to give us our final score.
Aftermath: Glory
It was an amazing game. Cleveland became the only team to come back from a 25 point halftime deficit in playoff history. They rode their superior talent and their tendency to come out swinging when cornered to an historic comeback. There were so many heroes: LeBron and his Pantheonic 41-13-12 in 45 minutes; Kyle Korver and Channing Frye, who each put up 13, canned five triples between them, and gave the Cavs unexpected defense; Deron Williams, who played the entire fourth and whose defense and clutch shooting were needed after Kyrie left the game due to his cranium being impacted in his own rectum.
Indiana is left with nothing but questions and what-ifs. They peaked too early and their emotional lull in the early third let the Cavs back into the game. This might be the game that pushes Paul George out of Indy. More than a couple people noted that George's best option might be to go to Milwaukee who absolutely suffocated the Raptors last night. Teams rarely recover from this kind of collapse.
Meanwhile, Cleveland has to feel invincible. Though given this team's makeup, who knows what Sunday will bring. The game was maddening, frustrating, awe inspiring, and enduring. We'll be telling our grandkids about it some day. We'll all say despite the odds (models gave the Cavs less than a one percent win probability), we could knew it would happen all along. We saw the signs.