Four points I'm thinking about the Playoffs…
1. With each playoff series two games in, we now have enough evidence to make sweeping conclusions and informed predictions. It sounds somewhat crazy to say that two games of playoff basketball is more informative than 82 games of regular season ball. The game is about matchups and a singular matchup can't tell us everything we need to know about a teams' future likelihood of success. Nevertheless, certain players simply don't play the regular season with anything approaching the energy with which they play the postseason. Moreover, some plucky teams play their 82 at near maximum capacity. Their complete lack of second gear is made painfully obvious in the NBA's fun season.
Look no further than the Bulls vs Celtics first round matchup. The top-seeded Celtics are a well-coached, physically underwhelming squad. During the dog days of March, a team like that can out-effort and out-exucute the average NBA team. Come playoff time, the Celtics have been exposed yet again as a small team without enough consistent shooting. Isaiah Thomas is too little to be an adequate defender against any playoff team that has a chance to gameplan against him. They don't have enough two-way length on the perimeter and their bigs are poor rebounders. That has spelled disaster against their playoff opponent as the Chicago Bulls are the complete opposite. They bumbled their way through the regular season, vacillating between general confusion and occasional competence. Regardless, the Bulls feature size at every position and three potential Hall of Fame talents. It has been particularly fun to see the return of "playoff Rondo". Rajon has toyed with the Celtics, bending their defense before dishing to the suddenly sweet shooting Robin Lopez. Ok, you're right. No one could have anticipated Lopez's hot shooting from 18 feet, but his dominance on the glass was absolutely in the forecast. Toss in a three-point barrage from Dwyane Wade and the Celtics are toast. Expect this to be the last we see of Thomas in a Celtics uniform. Danny Ainge knows that he can't go deep into the playoffs with his mini, albeit mighty, PG.
2. The Bulls, however, do have a chance to steal two rounds this spring. Jimmy Butler exploded in the third quarter of Game 2, displaying his throwback styled all-around game. He is a bear at both ends of the floor, anticipating weakside action on D and finishing through fools on bullyball offensive drives to the cup. With Butler, the aforementioned Rondo, Wade and Lopez, and their talented young big, Bobby Portis, the Bulls have a chance to make some noise against a paper thin Wizards squad.
Washington has squeaked by the the Hawks in their first two games, but has showed huge holes in various lineups along the way. Jason Smith is getting far too many minutes for a team with big aspirations. The Wizards top four guys, Wall, Beal, Porter, and Gortat, are a talented bunch, but the rest of their lineup is insanely inconsistent. The Hawks destroyed the Wizards' bench lineups before Brandon Jennings essentially saved the day. Gortat and Smith couldn't stay with Paul Millsap or Dennis Schröder drives. The Wizards might have a more talented backcourt in 2017 than the Bulls, but are you really taking the seemingly fragile psyches of Wall and Beal over the supreme confidence and championship pedigree of Rondo and Wade? And again, Jimmy Butler would be the best player in that series.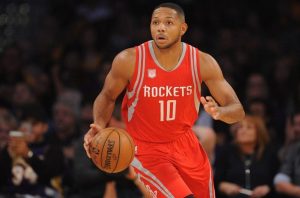 3. The question of who is the best player in the Rockets/Thunder series also happens to be the question who is the NBA regular season MVP. Rather than adding my two cents to that seemingly endless debate, I'd like to bring attention to the Rockets' explosive bench backcourt. Eric Gordon and Lou Williams combined for 43 points in Houston's Game 2 win. They shot an identical 8-14 from the field helping to match Russell Westbrook's early fourth quarter insanity while James Harden rested on the bench. The Rockets have two bench guards who can absolutely go for 30 on any given night. Gordon and Harden both have the size to guard opposing wings when necessary giving  Mike D'Antoni great positional flexibility. Let us not forget Patrick Beverly, who has been a monster on both ends, battling Westbrook into inefficient shots while drilling his own opportunities. Russell is as relentless as they come, but he is still a human being. The Rockets' guard play has been stellar and The Beard is not the only one responsible for that fact.
4. James Harden did most of his damage from the line in Game 2 much in the way the Cavaliers' Kevin Love (brilliantly covered by David's Woodshop) and Kawhi Leonard did in their Game 2 victories. Officials are notorious for having looser playoff whistles than they have in the regular season. It has been been interesting to see how officials have reacted to consistent physical pressure put on by offensive players this postseason.
David Fizdale went on an entertaining rant against the officials for what he considered terrible officiating. While it is somewhat strange to see a player like Zach Randolph earn zero trips to the line, I applaud the officials for having the guts to continually put Leonard there. Too often, playoff officials swallow their whistles if a particular player starts racking up too many trips. It's probably that the refs could have called more fouls against the Spurs in Game 2, but it is encouraging to see them reward Leonard's aggressive takes to the cup. Similarly, the referees could have grown bored with Kevin Love's domination of Lance Stephenson and friends.
Too frequently, good post-position, and the resulting contact earned from it, gets overlooked allowing a defense to continually hack an opponent without the appropiate consequences. Don't get me wrong. I don't enjoy watching a steady march to the free throw stripe. Still, if a guy is consistently overpowering an opponent, it shoud be officiated correctly each time. Some teams drive more often and harder to the hoop. Those teams should earn more trips if they are fouled. Few things annoy me more than the idea that the foul count should always be even for each team. That is not necessarily a sign of good officiating. I'm sure Shaq would agree. One LeBron James might also have something to say about that. Good officiating is about calling the same level of contact for a foul each time. It is not about whistling each squad equally. Coach Fizdale was probably right to work the refs for Game 3, but his actual argument is debatable.