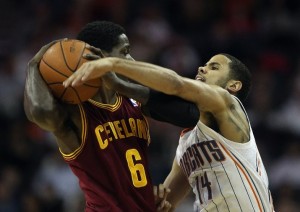 Samardo Samuels is struggling to play through a sore wrist as the season draws to a close. Why is he playing hurt during a horrible season? "Opportunity comes but once. You never know what next year brings. Why not take full advantage of it? A lot of people would like to be in the position I'm in right now. If I can even play a little bit, I'm going to play." Alright, then.
TD of WFNY thinks the NBA needs to get rid of its "one and done" rule.
There have been rumors swirling around Harrison Barnes, Kyrie Irving, and seemingly every player that has any chance to be good in the NBA that they may return to school rather than enter the draft and play a truncated rookie season due to the lockout that seems inevitable. Irving has said he will decide in the next week or so. Barnes might take a bit longer, stating "It'll probably be in at least a week, week and a half or so." I'll keep tabs on this; I'd recommend Cavs fans keep an eye on ESPN.com/Twitter/etc. because if this breaks bad and the top prospects stay at their respective universities, we're looking at a draft where Kemba Walker or Terrence Jones might be a number one pick, and the selection the Cavs received from the Clippers could be considerably less valuable.
On The Twitters
"NBA has to throw college bask a lifeline: 2 yrs and done would create continutity oncourt and encourage a semblance of academic commitment." [Bill Livingston]
"Booby's Twitter account is like a Chinese fortune cookie without the nasty-tasting cookie. He should tweet lucky numbers. #Cavs" [Eric Knappenberger]
"You can't turn back the Clock.. But you CAN wind it up again. #NoSurrender" [Boobie Gibson]