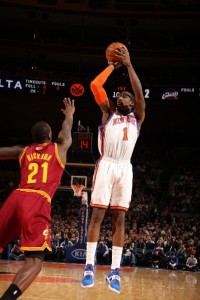 "A lot of it has to do with the fact that this Knick team is not a team that can overpower you. They're not a whole lot bigger than we are, probably about the same athletic-wise. They've got two fantastic scorers. But I think we've been able to hang in there during the games and for whatever reason we've got confidence that we can come out here and play with these guys. I don't know. I just think it's matchups." [Byron Scott via Mary Schmitt Boyer on the Cavs' success against the Knicks this season]
I will have to see it over the course of an entire season to fully believe what I've read about Baron Davis' attitude, but apparently dude has been terrific since his arrival. He has embraced the mentor role, which could be invaluable next season when the Cavs will have two lottery picks on their roster.
Byron Scott is telling the media he does not care where the Cavs land in the lottery. Good one, Byron. This is the part where if I wasn't a Cavaliers fan, I would chuckle and say, "If you think Hickson's been a headache, wait until you try to coach up an overmatched Perry Jones." But I cannot chuckle and say that because I am a Cavs fan, and I want Kyrie Irving. I swear it, Scott: if you so much as make an intelligent fourth quarter substitution, I will drop out of school, move to Cleveland, and pelt your home with rotten vegetables each morning. Or I will complain. I will definitely do one of those things.
Tom Ziller explains (graphically!) how crucial it is for the Cavs to finish with a horrendous record if they're going to land Kyrie Irving or Derrick Williams. You hear that, Byron Scott? Listen to Ziller. He knows what's up. All I want from you for the rest of the season are empty platitudes about hustle and entertaining losses.
No Twitter today, as I need to head to the train station in five minutes. To any of our South Bend readers: I'll be the guy with the long hair and the look that says, "I'm running on two hours of sleep and wish I wasn't here."