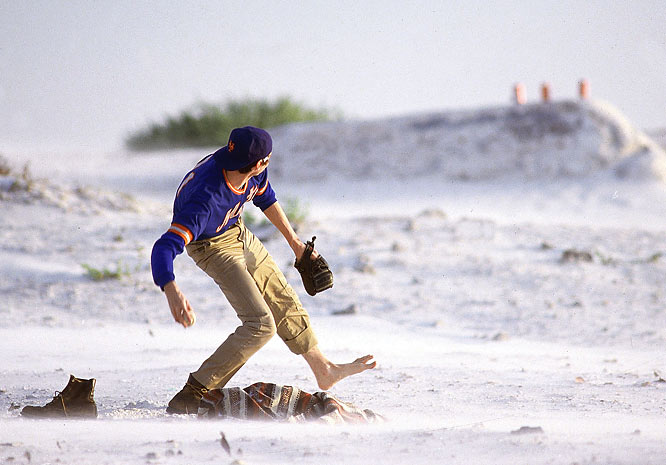 Overview: Ramon Sessions scored 26 points, J.J. Hickson had 21 and 10, Andray Blatche had 39 points and 19 rebounds, JaVale McGee had 25 and 8, Jordan Crawford had a triple-double, and Othyus Jeffers seemed to be the only person playing like he was involved in a normal NBA game. This was a bizarre, bizarre happening.
Yi Jianlian is not even good in the bizarro dimension bullets:
That was a strange game. No team really attempted to defend the paint on Friday, which led to a lot of scoring in the paint. Guards were able to penetrate at will, so there were plenty of layups and kick-outs. The Wizards actually got more offensive rebounds than the Cavs got defensive rebounds, largely because Ryan Hollins rebounds as well as AOL/Time Warner stock.
Jordan Crawford, who has really been passing-averse over the course of his young NBA career, recorded a triple-double. You figure it out.
On the bright side, Baron passed very well, and Ramon provided an instant scoring punch off the bench. On the other hand, Baron shot poorly, Ramon didn't pass, and Jordan Crawford got a triple-double.
Here's what I said about Ryan Hollins on July 27th:
"If everything works out for him, he could be a worse version of JaVale McGee! CATCH THE FEVER!"
AND YOU LAUGHED. YOU LAUGHED AT KROLIK. (Also in that post: I predicted that the Cavs might really suck at defense, which almost makes up for me calling Razor Ramon a "drive-and-kick point guard.")
Speaking of JaVale McGee, he did what JaVale McGee does: he looked good on offense, had some blocks, and had exactly three non-horrible defensive possessions. If he's not getting the block, he's watching the score happen. By the way, I totally mentioned that JaVale will show flashes of a back-to-basket game and will even handle the ball in transition from time to time in the first draft of my Off The Dribble post about him. I swear I did. Then I decided to cut it, because he's mainly known for the blocks and dunks and the piece flowed better without the extra sentences. Naturally, he looked extremely smooth in the post tonight and drew a shooting foul handling the ball from coast to coast. Good job, Krolik.
Andray Blatche: so many questionable jumpers. So many made mid-range jumpers. So many offensive rebounds. He looked like a beast inside when he wasn't flubbing layups. He looked skilled from the outside when he wasn't bricking jumpers. How does a big man shoot 32 times? How does a big man get 16 offensive rebounds? How does a big man also only get three defensive rebounds? I'm never sure whether I should be impressed or disgusted by Andray Blatche. He's like Hickson turned up to 11.
More strong stuff for Hickson — he's really settling into an offensive groove, and I liked that he had a good game as a true power forward. Still, there was the whole "Andray Blatche and JaVale McGee just destroyed our frontline and salted the Earth where it once stood so that nothing could ever grow there again" thing.
The key run came at around the 9-minute mark of the fourth — Boobie and Eyenga took some bad jumpers, Ramon forced a drive, the Cavs let Jordan Crawford get penetration, and the Wizards took control of the game. Strange, strange game. Seven games left to go.