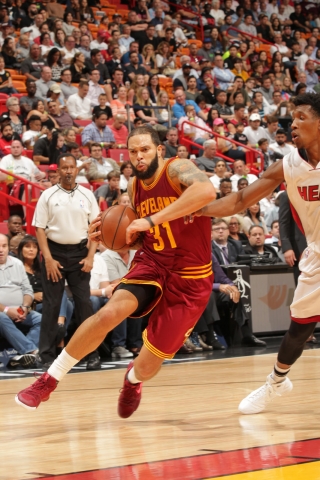 I'll admit, despite the loss, this is the most I've enjoyed a Cavs game in weeks. Despite missing LeBron James and Kyrie Irving, Cleveland crafted a double digit lead and held on to it till the fourth quarter. As if suddenly awakened from their slumber, Miami came storming back to outscore the Cavs 28-17 in the fourth,  and two missed Deron Williams free throws down the stretch loomed large as Cleveland turned it over and Miami ran out of time on final possessions of regulation.
In overtime, Miami raced out to a six point lead, and all seemed lost until threes from Korver, Deron Williams, and Love started raining from heaven. In fact, Kev and Deron bagged two seperate four four point plays! barely two minutes apart, as they were fouled on made threes. Deron's freebie put the Cavs up 121-120 with 34 seconds left.
Unfortunately, J.R. Smith played this game like Jim Carrol in the game before he got kicked off the team for playing hung over midway through The Basketball Diaries. Swish whiffed on a Tyler Johnson drive down the left side and let him go right to the cup where Kevin Love was forced to use his sixth foul to prevent a layup. Johnson canned them both, and after Deron Williams missed a somewhat ill conceived 19-footer, Tyler drained two more. Down three, the Cavs couldn't get a good look at a three, and a Channing Frye heave careened off the backboard to keep Miami's playoff hopes, and Boston's number one seed alive.
Still, there was a lot of joy in this. Deron Williams was a revelation, as he posted a 35 point (on 25 shots), seven rebound, nine assist gem 46 minutes. Pick and roll, pull-ups, post-ups, and floaters, it didn't matter. He was like a 50-year-old man who just found out his insurance was going to cover his Viagra: energized. He and the rest of the Cavs were engaged on defense, boxed out, and played with passion for most of the game. But his downfall was his 10 turnovers and the lack of sharpness at the beginning of the fourth which allowed James Johnson to go on a personal 7-0 run, fed by three straight Cavs TOs (of which Deron had two).
In his defense, Deron was gassed, and there's no way he expected to play 46 minutes . But late in the third, Kay Felder left the game with a "lower leg injury" after a made layup, which is a shame, because Kay was rolling: four points and four dimes in seven minutes. I know what you're thinking, maybe DeAndre Liggins could've helped spell Deron at this point. You can't put crap back into a donkey.
Sadly, the lack Cavs' of focus to start the fourth reared its head yet again when D-Will was pressed back into service, but it's hard to fault him, as he used old manm  to make shot after shot, play after play for the Cavs who were positively gutty in this loss. Williams pick-and-rolled the Miami Heat to death, and the Cavs look like they were running actual offensive plays.
Kyle Korver's shooting was essential as he went 4-8 from three for 18 points and eight boards in 31 minutes. The Cavs ran him off down screens to free him at the left wing and at the top of the key and he delivered again and again. Kevin Love added 25 and and 10, and 8-8 at the line. He was unstoppable in the post when anyone but Whiteside was on him, but Cleveland had a hard time getting the ball to him. If only he'd gone 2-6 instead of 1-6 from three.
Channing Frye added 21 and seven in a well played 33 minutes, and even Iman Shumpert was decent with 11 points on 5-9 shooting and a +4 in the game. For Miami, James Johnson looked like a man possessed to start the fourth, and keyed the run and finished with 16 points. His lunkheaded shot selection kept the Cavs in the game as he fired brick after brick late and finished 1-7 from three. The first Amish NBAer, Tyler Johnson, ate the Cavs alive with his jumper and neck beard and posted 24, five, and four. Oh, and Hassan Whiteside went for 23 and 18 and two blocks and canned two enormous free throws in the fourth. Dude was pretty good.
Larry Sanders got some run in the second, and was bad offensively and gigantic defensively. Ultimately, his two turnovers were his teammates' faults. Don't throw the ball at a giant's knees. The Late Show should've countered Whiteside in the second half.
JR Smith was hot death, and he refused to shoot when open and opted to set guys up for turnovers. He also lost his man repeatedly and look like a casting extra from a Fear and Loathing sequel. That the Cavs came back in OT was due to his exit and Kyle's return. This photo from a night of Sunday partying in South Beach says it all. Sometimes these guys' lack of professionalism is galling.
Despite that, joy and élan belong to Deron Williams and friends who played their butts off, and gave Clevelanders the only thing we truly need from a team: hard work.