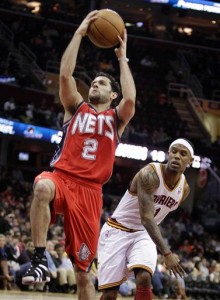 "The Cavaliers have lost a lot of games this season in a lot of ways, but they let one slip away against the New Jersey Nets on Wednesday night in The Q. Literally." [Mary Schmitt Boyer]
TD of WFNY has a guide to potential Cavs lottery picks who are still participating in the NCAA tourney. If you're interested in having a dilettantish opinion on who the Cavaliers should select, I recommend tuning in to both Duke-Arizona and UConn-San Diego St. tonight. Then, when Kemba Walker hits a game-winning shot or Derrick Williams pull down 18 boards, you can declare with a foolish certainty, "Cleveland should definitely take [player's name]!" I do this every year while watching the tournament, and I am wrong about 88% of the time. In five years, I will still be arguing that Jordan Crawford can be a solid starting two-guard in this league based solely on the one time I watched him hit a bunch of clutch 3s against Kansas State.
When the NBA and its players discuss a new collective bargaining agreement this summer, each team will have one player representing them at the meetings. The Cavs' player rep is Anthony Parker, which is strange since Parker is an unrestricted free agent after the season concludes. Regardless, Parker is saying all the right things and keeping an eye on the NFL's labor situation, which from my underinformed perspective seems pretty brutal.
Byron Scott thinks the Nets' acquisition of Deron Williams was a "great trade." I know Scott may not have put a ton of thought into his response and that he was probably just being complimentary of Williams and that he is not the Cavaliers GM, but this response irks me a bit. Because the Nets may have given Utah a potentially-terrific young big man (emphasis on "potentially"), a pretty good point guard, and two lottery picks for a year and a half of Deron Williams. Because the Williams deal did not include a contract extension, and if you have been reading the quotes coming out of New Jersey, he has been incredibly non-committal about whether he plans to stay in New Jersey/Brooklyn. My point is that the Williams trade can't be deemed "great" until he's still wearing a Nets jersey in autumn of 2012, and I pray the Cavs' front office knows enough not to trade for a guy without extending his contract, then simply hope that he sticks around once his deal expires.
On The Twitters
"Ryan Hollins giveth, Ryan Hollins taketh away." [Jason Lloyd]
"What goes "Yes, No, Yes, No, Yes"? Cavs fans watching Ryan Hollins play." [realcavsfans]
"I can't possibly believe Byron Scott drew that play up for Anthony Parker. I just refuse to believe that. #Cavs" [Michael A. Young]
"Its was good while it lasted… Back too the drawing board." [Samardo Samuels]
(Note: I've never brought this up, but the Twitter section just carries a gigantic implied [sic] since it's a universe that encourages typos, spelling mistakes, and horrendous grammar.)