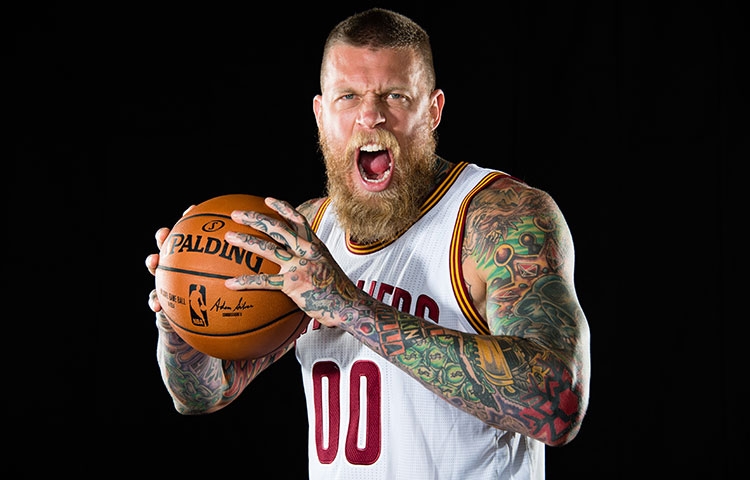 Four points I'm thinking about the Cleveland Cavaliers…
1.) While plenty of veteran names have been bandied about for the Cavs now-available roster spot, most of the attention has been on which available player — be it Norris Cole, or Mario Chalmers, or even Rajon Rondo — could be your next Cavaliers back-up point guard. That is the team's most glaring hole, right now.
If you don't believe me, just ask LeBron James (via cleveland.com's Joe Vardon):
"We still got a couple more things we need to do," James said Friday, when asked if Cleveland's… trade with Atlanta for Korver was a "championship move."

"We gotta get a point guard," James said. "It's my last time saying it. We need a point guard."
James would also like to add another big man. With back-up center Chris "Birdman" Andersen out for the year, the Cavs are down to just three traditional bigs: starters Kevin Love and Tristan Thompson, and reserve Channing Frye. The team also plays James at the four when they go small, but the team has already leaned heavily on James — the league's ultimate on-court Swiss Army Knife — the season and, at some point, will have to address the 37.2 minutes per game he is logging.
2.) But where are the Cavs going to find that added big man depth that James so openly covets? Well… that's where it gets tricky.
The team currently has one open roster spot. If that one's ear marked for a back-up point guard, Cavs GM David Griffin could pull off a trade involving either Andersen's contract or that of another player (or players) currently on the Cavs active roster. The challenge in such a trade for the Cavs would be not taking back too much salary… and, as we all know, big men get paid.
So, while a struggling team like the Phoenix Suns might be open to parting ways with center Tyson Chandler, the Cavs aren't interested in taking on his $13 million salary this year, let alone the $26 million remaining on his deal over the next two years (and, frankly, Chandler probably wouldn't be too interested in going from the Suns' starting center to the Cavs' fourth big man, either).
Griffin could also choose to waive Andersen. Because Anderson's contract is fully guaranteed, that move would run the risk of adding to the luxury tax penalties facing Cavs owner Dan Gilbert at the end of the season. But the pool of free agent bigs isn't exactly overflowing with talent either. While fans have expressed interest in players like Larry Sanders, there are questions about whether Sanders a.) really wants to play basketball b.) would really be able to help the Cavs, after last playing in the league over two years ago and c.) would agree to pay for the veteran minimum, about all the Cavs are likely to spend on their fourth big.
3.) So, why not go shopping in the D-League?
'Tis the season of the 10-day contract and it would be nice to see the Cavs look to the minors for a player who can help, but won't need to do much more than Andersen did: be a big body to match up against traditional centers that could give the lithe Frye or the shorter Love fits. Andersen did that averaging 9.5 minutes per game playing in exactly half of the 24 games he was available.
Last week, the D-League's official website released a list of their top 25 prospects. While the draft rights for their top-ranked big man, Dakari Johnson, are still held by the Oklahoma City Thunder, the player ranked just below Johnson is a free agent and could fit the Cavs bill. In fact, this player and Cavs rookie Kay Felder have something in common. They both played for Oakland University.
Reigning NBA D-League Player of the Month, Keith Benson, 28, is a 6-11, 235 pound center playing for the Sioux Falls Skyforce. Originally drafted in the second round of the 2011 NBA Draft by the Atlanta Hawks, he's gone on to play in the D-League, overseas, and has received call-ups from both the Warriors and the Heat over his career.
Coming out of college, the knock on Benson was that he was too thin to play down low in the pros. While not a hulking enforcer on the scale of Andersen or Kendrick Perkins, Benson has added strength and looks to be in his physical prime. This season, he has averaged 19.4 points, 11.3 rebounds and 3.3 blocks per game for the Skyforce.
Don't get me wrong: there is absolutely nothing sexy about waiving Andersen, then signing Benson, save for the fact that Benson, in short stretches, would be playable… and playable is sexy enough for me.
For the Cavs, taking a look at Benson makes sense in much the same way that taking a look at DeAndre Liggins made sense over the summer: they are both physically mature players who, by this point, know who they are and what they can do.
If the Cavs, instead, want to look to their own Canton affiliate for help, they could call up the Charge's starting center, Eric Moreland. The 25-year old Moreland is 6-10, 250 pounds, and is averaging 11.9 points and 11.2 rebounds per game.
Or, y'know, Cavs fans can just sit back, relax, and wait for Griffin to work his magic.
4.) As of this writing, it's unclear whether or not Kyle Korver will be making his Cavs debut tonight when the Cavs square off against one of his former teams,the Utah Jazz. While Mike Dunleavy Jr. finally agreed to report to the Hawks, his timing hasn't necessarily done the Cavs any favors.
Sources: After talking with Mike Budenholzer about role with Atlanta, Mike Dunleavy has made peace with joining Hawks. He'll report Tuesday.

— Adrian Wojnarowski (@WojVerticalNBA) January 9, 2017
Dunleavy is expected to pass his physical when he reports, but that is not expected to take place until after the Cavs have had their morning shoot around on Tuesday. Since the trade is not complete until Dunleavy's physical, Korver will not be cleared to practice with his new team until that time. So, while Korver will likely be available to play in tonight's game, it will be up to head coach Tyronn Lue whether to throw Korver out there without having had any time to assimilate to his new playbook and new teammates.
In cases of players returning from injuries, Lue has traditionally wanted those players to go through at least one practice before returning to the court. Korver's situation is different, though, as he is healthy and in full game shape. Still, making the transition to a new team is more difficult that just saying, "Go out there and let LeBron find you."
Since the Cavs will play again tomorrow night in Portland, though, the Cavs have to hope that Korver's transition isn't much more difficult than that.