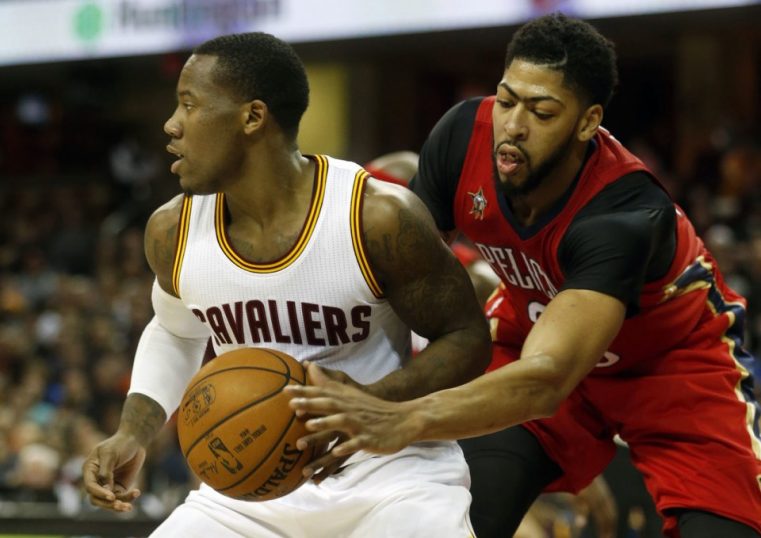 Four points I'm thinking about the Cleveland Cavaliers…
1.) Most of the equations for explaining Kay Felder's effectiveness in the last two games goes something like this: 33 points in Canton + playing time with Kyrie Irving out = Confidence! But there could be an extra element to that equation: the scoring binge being put on this season by the Boston Celtics' Isaiah Thomas.
There have been plenty of stories comparing the two guards since Felder was drafted out of Oakland University in the second round of the 2016 NBA Draft. As the league's only two players listed at 5-9, the comparisons are natural and will continue to come (as they did last Thursday when the Celtics visited The Q), especially as Felder's combination of scoring ability and playmaking instincts (and games like Monday night's) suggest he could overcome his relatively diminutive size and develop into a legit NBA rotation player.
2.) So, imagine you're Felder. You've just gotten to shake some of the rust off of your game to the tune of 33 points, seven rebounds and seven assists in your first D-League game. You return to the parent club and get to watch as the player you are most frequently compared to scores 31 point against your team. Then, Thomas goes out on Friday night and becomes only the seventh player in the storied Boston franchise to score 50 or more points, dropping 52 on the Miami Heat. If you're Felder, how do you feel going into Saturday's game against the Charlotte Hornets knowing that Irving will be limited, if available at all, because of a hamstring injury? You feel good about your chances of making a positive impact on the game, right?
And that's exactly what has happened over the last two games. Felder hasn't gone off for 52 points — and will likely never come close to Thomas's current average of 27.7 points per game — but he's been a spark for the suddenly undermanned Cavs. He's played with confidence and the game may finally be slowing down a bit for the rookie. Even if the Cavs go out and add a veteran back-up guard at some point this season — which they will — it's nice to see the coaches starting to have some confidence in Felder… and that Felder, rightly, is playing with plenty of it right now.
3.) Over the weekend, I saw a stat about the Cavs' record that surprised me.
Now, we all know that the Cavs currently hold a 26-7 record. That's the third best record in the league behind the Golden State Warriors (30-5) and the San Antonio Spurs (27-7).
They are a league-best 18-2 at home. All of this is good stuff.
But the Cavs do hold one blemish on their otherwise sterling 2016-17 record: they own a losing record in their own Central Division. The Cavs are just 3-4 in the division, with one loss each coming against Chicago, Detroit, Indiana, and Milwaukee. That's right, each one of the Cavs' four divisional foes has notched a win against the wine and gold this year, while the rest of the league has combined for just three.
None of this is cause for concern, but it was interesting to see what games the Cavs are more likely to drop than others. So far this season, Lue has frequently chosen to rest some combination of Irving, LeBron James, and Kevin Love on back-to-backs. Because of the proximity of the other Central Division teams to Cleveland, they make for convenient back ends to those pairs of games. So, the Cavs play more games against the Central short-handed — particularly, resting James in those games.
Most recently, the Cavs beat Golden State on Christmas Day, then traveled to Detroit, rested James, and dropped one to the Pistons.
The strategy might be different if another of the East's best resided in the Central Division. Right now, the Cavs aren't feeling any serious heat from teams from the other teams in the Central. The Bucks are the closest to the Cavs in the standings, sitting in sixth place, nine games behind the Cavs.
4.) Tonight, the Cavs look to improve that record against the Central Division as they welcome the Chicago Bulls to The Q. The Bulls… well, they're carrying some baggage of their own: namely, the benching of former All Star point guard Rajon Rondo.
Raise your hand if you thought the marriage between the Bulls and Rondo wouldn't go well.
[scans the room]
Okay, that's most of you. Now, keep your hand up if you thought the Bulls and one of their prime off-season additions wouldn't even make it to 2017.
[scans again]
Really? That many? Man, there's a lot of cynical NBA fans out there…
No, there are just a lot of NBA fans out there who have actually watched Rondo play over the last several years.
They've seen him feud with Dallas Maverick's head coach Rick Carlisle so much that he became unplayable in a playoff series against the Houston Rockets. In Sacramento, these same NBA fans saw Rondo pass up easy scoring opportunities in order to pad his assist numbers. And, now in Chicago, we're all seeing Rondo — a player few thought would be a good fit on this roster — shooting just 37% from the field, registering the fewest assists (7.1) since becoming a starter, all while carrying the lowest PER of his career (11.2).
Rondo, who met with Bulls GM Gar Forman, believes he has achieved enough in his career to be traded if, in fact, his time in the Bulls' rotation is over. The question is: what team would want him? Even a team searching for a veteran back-up point guard (know of any teams like that, Cavs fans?) would have to be scared away by a stretch of poor play that now goes back multiple seasons.
In Rondo's absence, the Bulls will rely on point guards Michael Carter-Williams and Jerian Grant.