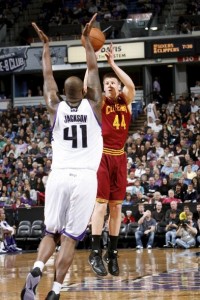 "Ramon Sessions rebounded from a poor first half and scored on a driving layup with 18.1 seconds left to lift the Cavs to a 97-93 victory. That snapped a four-game losing streak and enabled the Cavs to improve to 13-53 in a game between the worst team in the Eastern Conference against the worst team in the Western Conference." [Mary Schmitt Boyer]
"With Cousins and Dalembert, we're not going to out-physical them, but we managed to outsmart them. There was no way I was going to bang with Cousins (on the crucial late-game possession). If he hit me, I was going down. Thankfully they called the foul on him." [The AP]
"Scott's Princeton offense never really took hold [this season] for various reasons. His point guard for most of the season, Mo Williams, was plagued with injuries since training camp. He lost Anderson Varejao midway through the year to an ankle injury, and the center is the "hub" of the offense and one of the most important pieces to the Princeton." [Jason Lloyd]
Baron Davis might be back tonight against Portland.
For those of you watching the NCAA tourney for the sole purpose of getting a good look at future Cavaliers: I have scoured a handful of outlets and cannot find any definitive word on when/whether or not Kyrie Irving will play for Duke. The closest thing I can find is former Dukie Jay Williams proclaiming Kyrie Irving will play in the first round, then softening his stance to "there's a chance." It seems very likely that Irving will play, either in the first or second game of the tournament, but there has been no guarantee from Coach K or Duke's freshman phenom. UPDATE: He's going to play in their first game. Coach K just confirmed it.
And since half of you hate Kelly Dwyer, you will probably enjoy this.
On The Twitters
"#Cavs owner Dan Gilbert slapping up someone at a Bar Mitzvah is worse than anything he has ever done on twitter." [Michael A. Young]
"Andy doesn't have nuttin on Samardo." [realcavsfans]
"Never was a big Ramon Sessions guy. He is proving me correct once again." [Bill Livingston, mid-game last night]