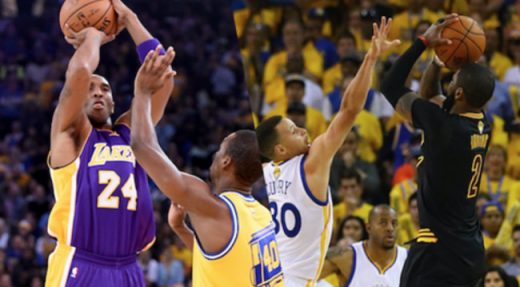 Kobe Bean Bryant came along at just the right time.  The player that, more than any other, "looked" the part of Michael Jordan, in both style (6'6, exquisite footwork, that silky turnaround fadeaway) and substance (5 Championship Rings, multi-time scoring champion).  To Kobe's fans (and I've yet to meet a more rabid fanbase in my travels), he was their MJ, and the chasm they perceived between The Black Mamba and everyone else was as vast as Jordan and his contemporaries.  I stood my ground as an ardent Bryant Denier for more than a decade.  My ammunition?  Advanced stats.  More specifically, the advanced Stat, Player Efficiency Rating.  PER was a huge contribution to the NBA's statistical revolution, as it was the first major antidote to the NBA junkie's addiction to raw box score stats, the kind you keep in high school games and that continue to dominate the Fantasy landscape.  Points, rebounds, assists, etc.  The problem with raw box scores stats is that when using them to compare players or assess value, the overall rate of accumulation and the pace of play does not become part of the context.  PER was an attempt to level the playing field when comparing box score stats.  In layman's terms, it adjusted for pace of play to nerf volume stat-grabbers a bit and it placed an emphasis on shooting efficiency.  The inputs to the PER calculation were still box score measurables and number of possessions, but it was a nice way to compare the total added contributions of a player with one number as opposed to comparing across every category and then trying to explain away efficiency.  PER was at the heart of the LeBron v Kobe debates because it was really the only way for LeBron evangelists to "prove" that he was a superior all-around player to Kobe.  There weren't enough head to head matchups between the two to settle the score.  Kobe fans gravited towards the scoring and the RINGZZZ argument and Cavs fans held the line with PER.  If you've seen "RINGZZZ" and wondered where it came from, the origins can be traced back to the ESPN Daily Dime live chats from the late 2000s early 2010s.  RINGZZZ or RINGZ!!!111  was an over the top mockery of hyperventilating Kobe fans that tried to settle all arguments with hardware.  Quite humorously, the Daily Dime moderators would often create poll questions that had little or nothing to do with Kobe but one of the four possible answers would be "RINGZ" – and it would usually win.
Kobe Bryant stepped into the Boston Garden on June 17, 2008 trying to force a Game 7.  He finished the evening 7 of 22 from the field with just one assist to four turnovers.  The Lake Show was utterly embarrassed, losing by 39 in a closeout game on the biggest stage in the world.  Just a handful of weeks later, Kobe was stinking up the joint in Beijing for Team USA.  While LeBron, Wade, Bosh, and Dwight Howard were feasting on the much less formidable defense of the international scene to the tune of 60%, 67%, 77%, and 74% shooting respectively, Kobe was launching twice as many 3s as anyone else and shooting a very pedestrian (poor by USA Olympic standards) 46% from the field and 32% from behind the 3 point line.  In case you weren't staying awake until 4am to watch the games I'll just fill you in – it was maddening watching Kobe sabotage the offense to try to get up as many shots as possible.  He turned the ball over 15 times despite generating just 17 assists.  His defense, in particular, was quite awful.  He was more interested in jumping passing lanes than playing a cerebral team-oriented defense.  You'll notice Kobe shamelessly going for a steal with Team USA up 11 late in the Gold Medal game.  Rudy Fernandez put Dwight Howard on a poster while Kobe throws his hands up as if to say "how could you let that happen, Dwight?"
Here's the thing about those Olympic games, though.  From the opening tip of the prelims, a particular phrase was repeated during the olympic coverage.  Whether warming up before a game or sitting in the stands as a spectator for another event, any time the camera showed the mug of Kobe Bean, the phrase "best player on the planet" was spoken.  Just like that.  I don't know who started it but it stuck.  It was always "planet" not "world" or "earth" for some reason.  This, despite the very recent drubbing on the highest stage and very suspect play through the olympic games.  It. was. insufferable!  And I spent my every waking moment of grad school pounding out thousands of words on the subject over at Fox Sports' community blogs under the name TomTsunami.
The final moments of the Gold Medal game was something of an epic troll job geared towards me and my ilk.  As Spain closed the gap and started striking fear into the hearts of USA basketball fans everywhere, Kobe hit an out of rhythm 3 and drew a whistle to boot.  He held up one finger and though I'm not an expert at lip-reading I'm quite certain Kobe uttered: "time to shut it down, TomTsunami."
It was like, no matter what the guy did or didn't do, no matter how poorly he played or how often he sabotaged his team for his own person gain or vindication (remember when he refused to shoot against the Suns in the second half?) it was all buried beneath a pile of phrases, highlights, and RINGZZZ.  And the narrative of the 2008 FIBA games was that Kobe bailed out LeBron and the youngsters with his clutch play.
My crusade against Kobe fans blinded me from an appreciation for what it is Kobe could do that no one else in the league could.  The way I saw it, Kobe being valued above LeBron James was incorrect and being compared in the same breath as Michael Jordan was preposterous.  I still believe this to an extent, but the problem with activism and combating fanaticism is that you are always building upon a platform once it has been established in your arguments.  I probably spent a few weeks trying to understand PER and its implications but once I did, that was that.  I now had objective evidence on my side to prove that Kobe isn't really that good.  Aint no body got time to go back years later and check to see how strong the foundation is.  I believe LeBron was a superior all-around player to Kobe during many of the overlapping years where Kobe was called "best on the planet" but no longer because PER said so.  PER was an important addition to the conversation but it is not a silver bullet or a once size fits all stat.
Eight years later and the subject of much statistical scrutiny is Kyrie Andrew Irving, a singularly fascinating basketball player.  In his extraordinarily popular and creative commercial series, Kyrie plays the role of Uncle Drew, an old school baller that laments "kids these days" with their hippity hoppity style and total lack of fundamentals.  He shares a beer with one of the most fundamentally old school players of all time, Bill Russell.  And yet, once he shakes off some arthritis, Uncle Drew breaks ankles, draws the oohs and ahhs from the playground bystanders, and even taunts some of his victims.
Kyrie Irving's actual career has been strikingly similar to how the bystanders witnessed Uncle Drew and strikingly dissimilar to how Uncle Drew virtue signals his fondness for old school ball.  He's been a magician, catching fire quite often in the back half of games after a painfully rough start, earning the nickname MFQ (Mister Fourth Quarter) around here.  He's the kind of guy that drew the attention of the entire basketball world because of some fancy dribbling he put on during a Team USA scrimmage.  Seriously has a clip from a practice ever been viewed more than this one?
He's an All-Star Game MVP.  Check out the accolades heaped on Irving in and around All-Star weekend in this ESPN feature:
"The history of the league is to reward the teams with winning records and the best players on those teams" with All-Star selections, Vogel said. "But there's certain players that stand out beyond that, and Kyrie is definitely one of them. … He's one of the best in the world, and he showed it tonight."

Not bad for a 21-year-old in his third NBA season — even if he was the first overall pick in 2011.

When Irving was given the trophy, he got a little advice from James, who also was playing for the Cavs at age 21 when he won his first All-Star MVP award in 2006. James and several others reminded Irving to hold the trophy high above his head, so fans could see it.
After winning just 24 games in his sophomore season, ESPN declared Kyrie Irving #8 in its preseason NBARank campaign.
But during that season, the new car smell gave way to a suspect stench from backseat.  With the Cavs finally spending some money and actually trying desperately to get into the postseason, Kyrie Irving was unable to lead the Cavs to an 8-seed in the weak Eastern Conference and a few pundits began to notice.  After a massacre at Madison Square Garden on the Cavs only nationally televised game, Brian Windhorst had this to say on a podcast with RealCavsFan's Carter Rodriguez:
"I don't know if I've ever been more disappointed in a performance in the NBA than I was at that effort the Cavs put forth at the Garden a couple weeks ago."
Later in the season, looking back on this game, Windy quipped in an interview with Cavs:TheBlog's Robert Attenweiler:
"The Knicks were horrible at the time. The effort level that the Cavs put forth in that game was as bad as any I've seen in my 12 years covering the NBA. To play like that when you're on national television – even if you hate your teammates, even it you hate your coach – have some pride not to get ripped by Charles Barkly. Have some pride. The effort they put forth in that game was an absolute abomination. I was in the locker room after the game in disgust. I ended up ripping Kyrie that night because I'm like, "Who are you? Are you a superstar? Start acting like it.""
Barkley seemed more disappointed and bored than insulted in his post-game commentary of the game. Said Barkley: "The Cavaliers, man, they have to play better. That was ridiculous tonight. Thirty-eight points in the first quarter? You're better than that, Kyrie."
Most of Windy's predictions in the interview with Robert turned out to be off-base or incorrect, but what he said about the present state of the Cavaliers was a telling moment in time:
I thought I knew Kyrie, but he's just disappointed me this year with his immaturity. I really do think that if he will lock up for five that you have to do that. But if he starts messing around playing power games, you've got to trade him. Dan Gilbert has said as much. At the end of the day, if Kyrie was really a max player, this Cavs team would not be where they are. He would have carried them to much more than this. I'm not saying he has to be LeBron, but he's only spent one day of his career above .500.
Back then, Windy was probably the only national pundit that paid any attention to the Cavs.  To the rest of the pundits, Kyrie Irving was still this highly talented, budding superstar.  It wasn't worth a deeper look when you had endless highlights of how incredible Kyrie could be.  He was very rarely exposed on a national stage.  In an unsurprising move, the Cavaliers offered Irving a max contract as soon as possible following the extremely disappointing 2013-2014 season.  Since that point, the story of Kyrie Irving has become even more fascinating.
In addition to LeBron James, Uncle Drew's former teammate Wes joined the party on Lake Erie in the 2014 offseason.  With expectations at about a 9.5, the Cavs struggled out of the gate.  Early in the season, LeBron confronted Kyrie after a buzzer beating loss to the Utah Jazz.  According to Windhorst and others, LeBron was very unhappy with Kyrie's play.  Kyrie's version, months later when the Cavs were humming, went something like this:
"He came up to me and was like, 'One, you can never have another game with no assists,' " Irving said, describing James' words. " 'You can damn near have just one, two, three, but you can't have zero.' And I was like, 'All right, cool, it won't happen again.' And it hasn't happened since that game."
Kyrie maintained his statistical output to a degree, and the question of fit centered squarely on Kevin Love (we debunked the hot takes here).  With the negative attention on LeBron's passive aggressiveness, Kevin Love's "fit", and David Blatt's suspect coaching, Kyrie largely flew under the radar with the exception of some memorable games like the Nationally Televised affair against the World Champion Spurs, which left Charles Barkley speechless at times and saying "One of the best NBA games I've seen in person EVER" the other times.
Kyrie succumbed to a number of nagging injuries as the playoffs wore on, missing 7 out of the 20 games in the 2015 playoff march.  He was, however, excellent when he played and had a particularly good game against the Warriors in Game 1 of the NBA Finals.
Irving suffered his broken kneecap in overtime of Game 1 and would not return to the court until December.  However, at least amongst many Cavs fans, Irving's absence and that one block on Stephen Curry were all the evidence needed to talk themselves into a Cavs Parade if only Irving was healthy.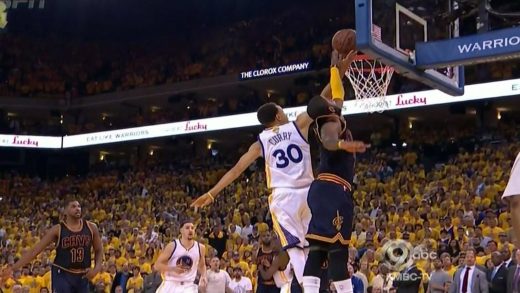 But Irving struggled mightily after returning from injury.  His shooting numbers took a a bit of a dive for a while and after the wheels started to come off for the Cavs, the national exposure lead more and more people to question Kyrie's fit with LeBron.    Of course, we at CtB had been questioning Kyrie's fit since 2013.  From a very exhaustively researched piece at the end of 2014 we found that the only duo the rotation players that showed any sign of punching above their expected weight was Kyrie+C.J. Miles.
But by April 2016, the stakes were about as high as they could be.  It wasn't that Kyrie's ceiling was hidden or that it was impossible to envision him becoming a much better all-around basketball player, it was that time was not on anyone's side and the Warriors looked almost unbeatable.
In the land of the box score… pic.twitter.com/spOvVQXNlM

— Thomas Pestak (@tompestak) April 5, 2016
After Toronto evened up the Eastern Conference Finals at two games apiece, Zach Lowe wrote this about the defensive liabilities of Love and Irving:
But Irving and Love have been the central players in Cleveland's worst breakdowns. Opponents in the playoffs have scored 1.09 points per chance when they involve those two as the primary pick-and-roll defenders in a play that leads directly to a shot attempt, drawn foul or turnover, per SportVU data provided to ESPN.com. That would have ranked last by a mile among 119 two-man combos that defended at least 250 pick-and-rolls in the regular season, per that SportVU data set.

Zoom out to include any trip that features a pick-and-roll targeting Irving and Love at any time, and the number gets worse: a hideous 1.207 points allowed per possession, stingier than only one of those 119 duos — the Jrue Holiday/Ryan Anderson pairing in New Orleans.
The real flaming fatality of a hot take came a little later, when Lowe implied that the Warriors got scared AFTER Love and Irving went down with injury.
These are the sort of numbers that had members of the Golden State Warriors' coaching staff quietly fretting when both Love and Irving missed last year's NBA Finals, forcing the Cavs to play superior defenders in their place.
Lowe expounded upon this – the idea that the Warriors were hopeful for a healthy Irving/Love in the Finals in a podcast with Brian Windhorst.
People like me worried about this like crazy all season.  We were not comforted by "that one block".  I had three full seasons of RAPM data, hours upon hours of game footage, and plenty of good scouting to have some serious doubts about how the Cavs, and Kyrie Irving in particular, were going to handle the Warriors.  For years we've lamented how "Flypaper Kyrie" gets stuck to picks.  However, by the end of Game 6, Kyrie was taking a huge ax to the narrative.  From my piece appropriately titled "All Bets Are Off":
After being a total train wreck defensively for his entire career and certainly in the 2015-2016 regular season, Kyrie Irving, he of fly-paper screens, uninspired transition effort, and league-worst pick and roll synergy stats, that Kyrie Irving…is playing above average (sometimes bordering on good) defense in the NBA Finals.
From our own Ben Werth:
His defensive pressure and connectivity running through screens were consistently better than I have ever seen from him. I was for trading Kyrie for the past few years. His big scoring outbursts didn't really change my opinion. His defensive performance in this game and for parts of this series has me rethinking my position.
After the Cavs emerged victorious, Zach Lowe had this to say about Kyrie:
Irving will only get better. He grinded harder on defense in this series than he ever had.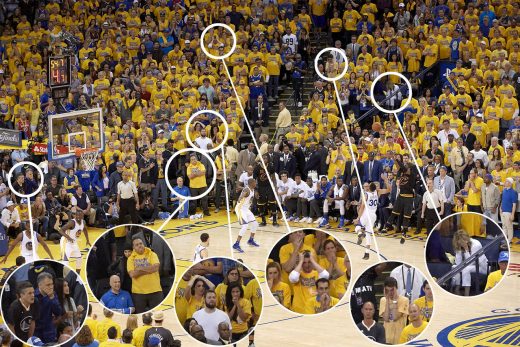 And now our story comes full circle.  Armed with an NBA championship ring, being the certified owner of most important shot in NBA history (using stats!), and donning an Olympic Gold Medal, Kyrie Irving was riding as high as he ever had been going into the marquee Christmas Day matchup against the vengeful Warriors.  And yet, despite the hardware, the accolades, the best record in the Eastern Conference, and career highs in points and True Shooting Percentage, a who's who of NBA pundits and analytics gurus have come out of the woodwork to criticize Kyrie Irving.
First off we have Ben Alamar, who ironically enough was the Cavs head of analytics when they drafted Kyrie Irving.  Alamar posted a piece on ESPN in which he argues that Kyrie is not an elite point guard and has been rather disappointing given the backdrop of his rookie production.  He uses PER, Assist Rate, and Box Plus Minus to make his claim.  The synopsis:
Irving started off at a very high level and remains at a high level, but the reality is that at age of 24, he has simply has not improved very much, if at all. This is the consistent story across all of the metrics considered. […] The takeaway, then, is that while Irving's opportunities have grown, his skills have not — at least not fast enough to keep pace with the Hardens and Westbrooks of the league.
WFNY's Jacob Rosen tried to soften the blow for Cavs fans while defending Alamar's acumen on the issue and giving his own reasonable appraisal of Irving's Value:
As of right now, I think most would agree that Irving is a deserving All-Star who serves as a gigantic weapon for one of the top-two teams in the league. He's more accurately somewhere between a top-15 and top-20 player in the league. When he's been healthy, he's never lost a playoff series. Obviously, it certainly helps to have a still-active LeBron James and a hungry Kevin Love for that statistic to be true, but Irving's skills are clearly not easily replaceable around the league.  Saying Irving's contributions have stagnated (a fair point, but somewhat old news) and that he's not a top-five MVP candidate (so?) doesn't necessarily provide a lot of context on where Irving really does rank among the NBA's best stars. But then again, ranking NBA players is a somewhat meaningless task to a certain point, anyway. Just like when Irving was slotted as No. 8 in #NBARank before the 2013-14 season, what's the whole reason for this when basketball is a team game?
My first issue with Alamar's take is that I don't agree that PER, assist rate, or Box Plus Minus are the best metrics for a player's contribution to winning.  I'm very confused about his use of Box PM because my understanding was it exists as a way to try to estimate Plus Minus using things other than Plus Minus, which is only useful when (sarcastic drumroll) you don't have plus minus data.  Maybe I'm confused, but I thought Box PM was good for trying to compare guys like Mark Price (#184 all time) to their contemporaries.  An estimate of Plus Minus cannot be as accurate as measuring actual plus minus, and since at least 2000 (maybe even 1997) we can measure Plus Minus and calculate Adjusted Plus Minus or Regularize that Adjusted Plus Minus.  This is a very good primer for those looking to further understand Raw PM, APM, and RAPM, upon which there is much confusion.  [http://godismyjudgeok.com/DStats/2011/nba-stats/a-review-of-adjusted-plusminus-and-stabilization/]
So anyway I'm not sure why Alamar is using Box PM here in place of any of those.  But alas, it, as well as PER shows Kyrie stagnating and includes the expected drop during last season where it should be noted Kyrie struggled mightily at times.
Alamar's piece and these stats were the subject of a highly contentious TrueHoop Podcast between ESPN's Tom Haberstroh, Brian Windhorst, Tim MacMahon, and "BigWos".  Habstroh came out swinging with the numbers, Wos insisted that Kyrie just isn't even as good as John Wall (perfect catnip for Cavs fans on twitter), and Windhorst found himself in the ironic position of vehemently defending Kyrie Irving despite never being a big fan of Kyrie's game.  One of the things that Windhorst tried to counter Haberstroh with was that it's not always easy to mount good stats, advanced or otherwise, when you have to mold your game around LeBron James.  He talked about how Chris Bosh became an afterthought in the offense and how the perception of him at that time was that Bosh was nothing more than a role player.  Wos and Haberstroh countered by saying that LeBron is unselfish and it's really easy for guys to play alongside LeBron and that LeBron makes them better.  Windy agreed that guys like Donyell Marshall might see better looks on corner 3s, but for higher usage players, it can be very challenging.  The guys on the pod weren't really impressed and no one brought up Bosh's stats.  So here's what I think Windhorst was trying to say in one handy chart: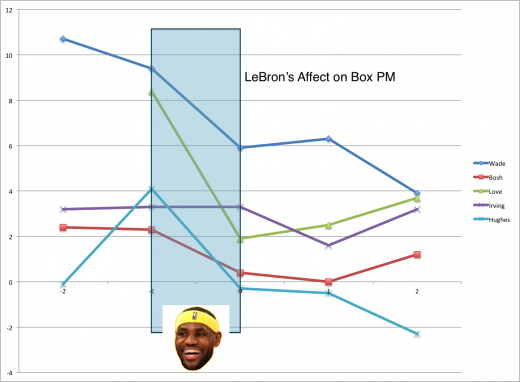 This chart shows a pattern with recent All-Stars joining forces with LeBron and seeing a precipitous decline in their Box PM.  The left side of the shaded rectangle is the year before joining with LeBron, the right side of the rectangle is the first full season with LeBron.  (Note: I left Kevin Love's minus-2 year from LeBron's arrival out of the dataset because he was basically injured for the whole season.)  So we got Dwyane Wade, Chris Bosh, Kevin Love, and yes, I included Larry Hughes.  Curiously, only Irving was able to maintain his Box PM from the previous two years.  Wade, Bosh, Love, and Hughes were all between 26 and 29 years old the year LeBron showed up – in other words, firmly in their prime years.  Irving was 22.  I believe this is what Windy was trying to summon in arguing with Haberstroh, that high usage players quite often experience a precipitous decline in their statistical output when the offense starts revolving around LeBron.
So this leads into my second issue with Alamar's take.  He argues that LeBron James should be giving Kyrie an enhanced ability to improve these metrics.  From his piece:
The first clue here is that Irving's usage rate has remained constant throughout his career at approximately 28 percent — dipping only slightly to 26 percent during his first season with James. James' presence has not changed the volume of Irving's impact on the Cavs offense. It has, however, altered what that impact looks like. Irving is taking more 3-point shots (31 percent of his attempts now, versus 26 percent pre-James), but has not become a better 3-point shooter with James as a teammate. Irving shot a career-low 32 percent from 3 last season, but has become a marginally more efficient scorer in large part due to better shot selection.  James' presence has also coincided with an improvement in Irving's finishing at the rim. In his first three seasons, in which opposing defenses knew Irving was the only legitimate scorer on the team, his field goal percentage inside 3 feet was approximately 58 percent. With James (and J.R. Smith and Kevin Love) helping to spread out the defense, Irving is seeing a more open lane and his field goal percentage has moved up to 61 percent inside 3 feet.
If I'm understanding Alamar, he's at first arguing that Kyrie should be a better 3-point shooter than he has shown after LeBron arrived.  OK, that's fine, but he's currently shooting a career high from downtown and averaging a career high 3-point attempt rate.  In fact, if you fudge the numbers and just exclude the regular season from last year, where he was recovering from the broken knee cap (that's fair right?), here's what Kyrie's career 3-point shooting looks like:

With the 2016 campaign removed (you know, the one where the Cavs accomplished their ultimate goal), using Kyrie's 3-pointers as a point of emphasis for his stagnation seems like a losing battle.  And then Alamar finishes up the thought by pointing out that Kyrie now finishes at the rim at a 61% clip.  I have no idea if he's saying that's not good in general or if he's saying it should be higher or if he's saying "see, he's improving in this area, so why not with the 3 pointers?".  In any case, I'm struggling to see how anything related to scoring or shooting can be used as an indictment of Kyrie Irving.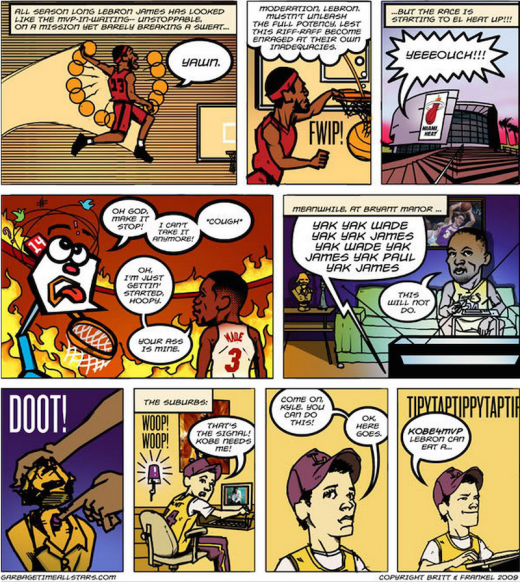 But let's take this story where it really needs to go.  Every good story needs a good villain.  Kobe fans were my personal villain for a decade, and I wonder if Cavs fans have found theirs in Jeremias Engelmann, inventor of ESPN's RPM stat and Godfather of the NBA RAPM movement, which isn't so much a movement as something the analytics subculture understands.  'JE' as he goes on the APBR forums was included in ESPN's Christmas Day Preview 5-on-5 and with each subsequent question he turned the volume on his takes up higher and higher.
5-on-5 predictions: Who would win a Warriors-Cavs series right now? https://t.co/6piJKd99Di

— Jeremias Engelmann (@JerryEngelmann) December 24, 2016
Here are the juicy ones:
–On that note: I wouldn't really call the Cavs a superteam, as they have only two high-impact players, LeBron James and Kevin Love.
–The Warriors, who currently sport the best point differential of all time, shouldn't make any moves. The Cavs — if they don't want to get steamrolled by these Warriors in the Finals — probably should. I'd trade Kyrie Irving for a PG that plays better defense. Irving's ability to create shots in high-pressure situations is great in close games, but the Warriors are too good, and Irving's defense too shaky, for the 2017 Finals games to be close.
–Assuming Golden State has home-court advantage, my simulations expect the Warriors to win the series 79 percent of the time. They have too much offensive firepower — three players are scoring 20-plus points per game — and too many good defenders in Andre Iguodala, Zaza Pachulia and Green to be troubled by this Cavaliers team.
It elicited the reaction you would expect from the Cavalier faithful.  A quick trip over to RPM shows that Kyrie Irving is currently ranked 13th among point guards in the NBA, well behind guys such as Patrick Beverly and Patty Mills.  Yikes.  Now hopefully you listened to the podcast or any of our recent podcasts where I rant about RPM, RAPM, and how using it the wrong way just leads to a lot of consternation and NBA fallacies.  Our own Mike Schreiner had the best counter from a recent podcast: (paraphrasing) "Is JE going to die on this same hill to argue that Klay Thompson is only the 13th* best Shooting Guard in the NBA, behind the likes of Swaggy P and someone named Norman Powell (supposedly plays for the Raptors)?"  Doubtful.
We focused an awful lot on Matthew Dellavedova's RPM last year and after Cavs fans took to twitter to mock me for being such a Delly evangelist, I reached out to Pelton for help: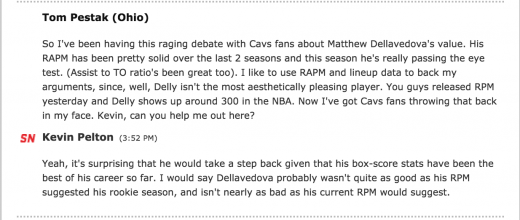 OK, well that's the kind of hedge I would expect from the resolutely anti-hot take artist, Pelton.  I started a rant post because of what ensued a few weeks later when Delly jumped from 287th to 54th in RPM despite owning worse box scores stats and raw plus minus stats in the weeks in between.  Here's what I never published back then:
The reason is because RPM was funneling almost all of the value generated by lineups that featured Delly towards either Kevin Love or LeBron James.  In general, that kind of makes sense, but if RPM was using last regular season or box score stats (ugh) as priors to set a baseline, then it would be thinking (let's pretend an overdetermined matrix can think and has feelings) "My God…these lineups are destroying opponents WITH this scrub Dellavedova?!   Inconceivable.  LeBron and/or K Love must be playing out of their minds."   The reality is that Delly was playing pretty damn well, but he did play a lot with Kevin Love and/or LeBron James.  But from Nov 30 through Dec 23, the Cavs were TWICE as effective when Kevin Love was on the bench (and consequently, not getting Vine'd).  With this suddenly new information, that Kevin Love probably wasn't contributing toward winning like a top 10 player in the league, RPM did a wild swing and determined that, hey, maybe it was Delly pulling up that scrub Kevin Love for the first month of the season.  That entire first month of the season looks different in light of all the times the Cavs killed it without Kevin Love in the subsequent month, while lineups featuring Delly continued steamrolling the league.

(January 2016) It's a month later, and Delly sits at 93rd in RPM.  While he vacated his spot at the way Below-Replacement Level table, one Kyrie Irving has assumed the 294th spot in RPM.  I see you rolling your eyes.  Should you take any stock in this?  Of course not.  Kyrie has hardly played at all and nothing he's done thus far is particularly good at predicting what he will do anyway since he's returning from injury.
Ironically, Brian Windhorst used a similar line of reasoning to poke fun at Haberstroh in the podcast.  (Paraphrasing) "So Tom, does this mean we can expect a 'LeBron must be the MVP because he's dragging along these horrible teammates' piece sometime soon?"  It got a few chuckles and forced Haberstroh to clarify that he wasn't saying Kyrie was terrible, merely stating he wasn't nearly as good as people think.  But the veracity with which he dropped his stats made this olive branch a little hard to accept, and it begs the question: just how valuable is Kyrie Irving, and, if people like Jeremias Engelmann and Ben Alamar think Kyrie is not a superstar player and the Cavs should trade him, and we here at CtB have shown a ton of respect for RAPM, (evening starting up our own website to publish RAPM and a summed RAPM we called SWAGR), then what the heck are we supposed to make of this?
Engelmann published a follow up piece today on ESPN Insider to more throughly flush out his arguments.  The crux: Kyrie Irving may be an elite offensive player, but his defense is so bad that it more than makes up for whatever goodness he's creating on offense.  [http://www.espn.com/nba/insider/story/_/id/18447983/is-kyrie-irving-star-overrated-nba]  There's nothing overly controversial or surprising about JE's arguments.  He uses eFG% and Kyrie's relatively low turnover rate given his amount of ball handling and shot creating to argue he's a great (he uses the word 'Elite') scorer and uses simple box score stats (lacking rebounds, steals, and blocks) to drive the first stake home that Irving isn't a good defender.  Since he's the father of RAPM this is a curious inclusion but rest assured, JE eventually drops the Defensive RPM stats and points out that:
Using adjusted plus-minus to account for the quality of his teammates, Irving ranks 905th among 990 players over the past eight seasons, sandwiched between such defensively anemic guards as Jose Calderon and Nik Stauskas.
I completely believe that.  Where I think Engelmann betrays his RAPM-roots is in his concluding paragraph where he tries to add some zest to his arguments that would probably appeal to a more Baylessian mind:
Remember that LeBron creates a halo effect for almost everyone around him. When the King was in Miami, Erik Spoelstra was perennially talked about as a top coach, and now he rarely makes the list. He's still good, but "elite" status left town with LeBron.

Similarly, Irving has not shown he can win except when LeBron is playing. And we know LeBron can win without Irving, as his seven NBA Finals appearance and three NBA titles amply demonstrate.
This is a very lazy narrative that is featured throughout the Truehoop podcast, and is ever present in the minds of most NBA fans.  Because it holds that "LeBron makes everyone better" (which is not nearly a specific enough claim much less well-researched argument to stand as the cornerstone of an in-depth, isolated, stats-based argument of value) then it must hold that whatever production or efficiency we're seeing out of Kyrie is overinflated by LeBron's presence.  Additionally the "proof" of this is that, when LeBron sits, or before LeBron showed up in Cleveland, Kyrie Irving's teams didn't win a lot of games, therefore Kyrie's simply not that good.
Without devoting a couple thousand words to the fallacies of the "LeBron makes everyone better" arguments, I'll just invite you to first re-examine the chart above.  Using some of the advanced statistical metrics that try to isolate for "value", LeBron's arrival led to a sharp decline for the mentioned players.  Additionally, our entire paradigm for thinking about NBA roster makeup is additive.  That is, LeBron is worth X-number of wins.  But how accurate are these claims?   According to RPM, Kevin Durant was worth 16 wins by himself last season.  Harrison Barnes was worth 2.5.  Yet most pundits, even the ones armed with RPM, predicted high 60s, low 70s for the Warriors win total, despite the Dubs amassing 73 last season.  And they prognosticators didn't even feel the need to clarify the incongruity between their understanding of value and some of the simulations, one of which predicted the Warriors would win 83 games.  Why?  Because they know that deep down there are things like the laws of diminishing returns, immeasurable chemistry functions between players and lineups, and all sorts of randomness to say nothing for black swan events like major injuries.  All of these known unknowns must carry a lot of weight, because I couldn't find a single prediction among the ESPN folk that pegged the Warriors to win more games this season.  In many cases, the rationale was a Jedi-hand wave: they're not going to try as hard for regular season wins.  Oh.  It's that simple?
On the "halo effect" that JE purports to witness I think it's much safer to suggest that LeBron makes the game easier for some players and forces others to conform to his presence.  There's a temptation to think of LeBron in a similar vein to Michael Jordan.  But Jordan, particularly when the Bulls were actually winning championships, was the most elite scorer at the shooting guard position, on a team that had a strong identity based on the triangle offense.  In 92-93, when Jordan led the Bulls to the Final Championship of their first 3-peat, he accumulated over 17 Win Shares and a Wins Over Replacement Player score of about 24.  And the next season, sans His Airness, with the Bulls doling out 2000 minutes apiece at the opposite guard spot to Pete Myers (who?) and Steve Kerr, the Diff (I couldn't resist) ended up being just -2 wins from the previous season.  The Bulls lost the greatest player of all time and it only cost em 2 regular season wins next season!  Contrast this to LeBron, who in '09-'10 accumulated over 18 Win Shares and a Wins Over Replacement Player score of almost 30!  So, LeBron leaves a 61 win team, and they should precipitously plummet to around 30 wins.  The Cavs won just 19 games, so that's not a close approximation.  So what does this mean?  Was LeBron worth closer to 40 wins by himself?  Well, many actually people made that argument, and continue to make that argument, yet somehow, the Heatles won just 58 games in their first go around, quite a bit of the 87 wins a +40 win player should have netted, and this was despite any "halo effect" that adding All-Star Chris Bosh may have had.
Do you see how silly this is?  My theories to reconcile all this are that Michael Jordan was the best darned sprinter on a relay team and without him, his team had a much lower ceiling and won less games in the regular season and playoffs, although his type of contributions were able to be spread out among other players.  If Jordan was the Usain Bolt of a Gold Medal Winning 4×100 team, think of LeBron as Brady+Belicheck only for an NBA team.  He dictates the style, the execution, even the personnel – and these edicts are to maximize what he believes are the best use of his singular talents.   He's not even always correct.  The Cavs scored something like 2.1 points per possession in the 30-something odd times they ran this "Horn's Rub" play last season.  But honestly, LeBron doesn't like playing this role in the offense nor these spots on the floor.  So the Cavs abandoned it as quickly as they experimented with it.
OK I can hear the music, time to get off this stage.  My main issue here is that it's disingenuous to toggle back and forth between statistics meant to isolate performance from the continuum of a ballet like basketball and a Skiptastic (or, I guess, anti-Skiptastic) "LeBron shines a halo on everything in both an abstract and concrete way" so let me use this to bolster my argument.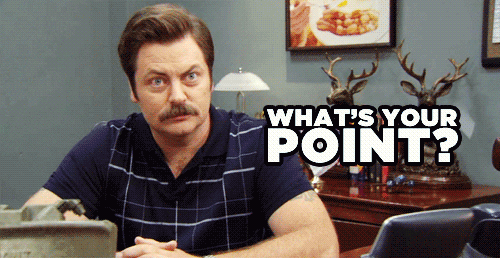 Like JE pointing out Kyrie's lack of rebounds, I'm in danger of burying the lede.  Here's what missing from this entire "Is Joe Flacco Kyrie Irving Elite"? talk: 
Kyrie's playoff stats!
RAPM or RPM improve with samples, and as such, they need to be heavily influenced by prior values to pass any sanity check in November or December.  As it is, the statistical revolution has done a remarkable job measuring the regular season.  Perhaps Kyrie Irving's greatness (his elite scoring, shot making ability, and lack of turnovers despite ferociously dynamic ball handling) becomes more important in the postseason and his abysmal defense becomes less of a liability than RPM proves it is in the regular season.  Let's go with Ben Alamar's Box Plus Minus and PER in an attempt to compare apples to apples.  We'll start with Box Plus Minus.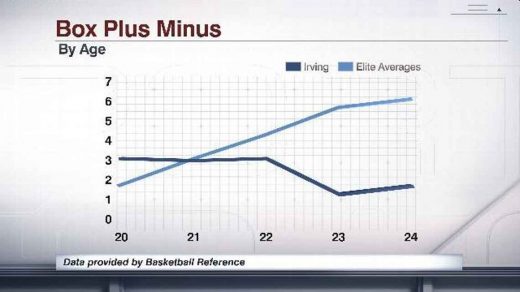 Presumably, the Elite Averages were the average BPM of Paul, Westbrook, Wall, and Harden over the seasons when they were 20, 21, 22, 23, and 24.  Let's look at this chart, using the same data source (basketball-reference.com) only using playoff Box Plus Minus and let's throw in Steph Curry for good measure.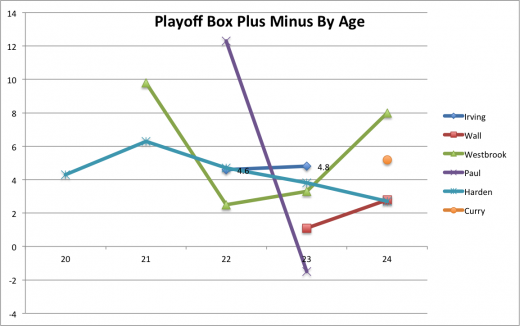 Irving's Playoff BPM values of 4.6 and 4.8 fall squarely within the realm of the Elite PG.  Let's average everyone and exclude Kyrie from that average to show how he stacks up to the Alamar's Average Elite + a Playoff Campaign from MVP Steph Curry.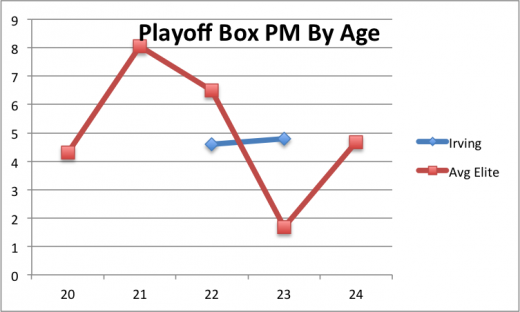 My my, that almost looks like The Little Trend Line That Could.  And how about PER?  First, from Alamar: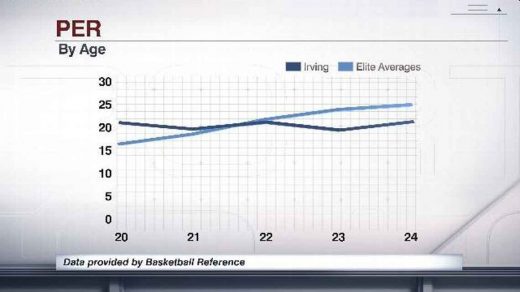 And now the playoff version: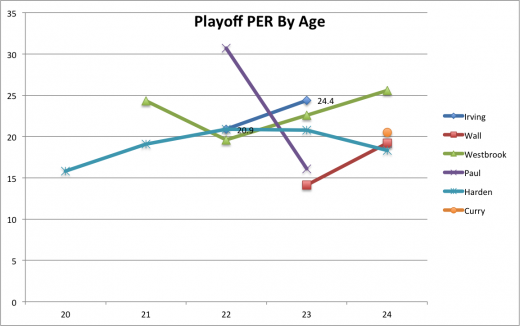 Kyrie looks pretty ensconced among the elite.  Let's make the graphs similar again by averaging everyone else (including Curry) and see how Kyrie fares.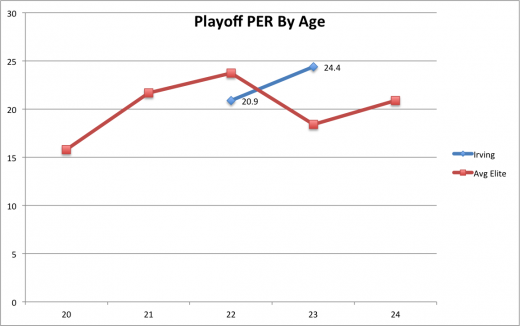 Is Irving Elite yet?  Trolling aside, much like Alamar and Engelmann's stats are objective and true within the scope of the measurement, the following statement is also true:
Kyrie Irving has the best PER and Box PM of any of these players in their year-23 playoff campaign.
I'll note two caveats: Curry didn't have a year-23 playoff campaign and Kyrie's 774 minutes is the most of any of the other 4 comparable, meaning these values should have the least uncertainty as they apply to Irving's campaign due to him having the most samples.
So, was it worth it?  All this?  Should I have just put up a tweet?
Kyrie Irving posted the highest year-23 PLAYOFF PER and Box PM among: Irving, Wall, Westbrook, Harden, Paul, and Curry. @BenAlamarESPN pic.twitter.com/wDOC7dUIYw

— Thomas Pestak (@tompestak) January 11, 2017
I don't want to end this piece in bad faith.  I am a disciple of RAPM and I respect Alamar and Engelmann and I believe that the increased sample size of the regular season is generally going to be the strongest indicator of overall value when we get into our hashtag NBA RANK scuffles.  Like them, I have, for years, thought Kyrie Irving was overrated by Cavs fans and even more so by non Cavs fans who really only saw Kyrie's highlights and not lowlights.  We watched the Robert Sacre game where Kyrie was benched for the entire second half.  Relive the Nadir whenever you want right here: http://www.cavstheblog.com/?p=40945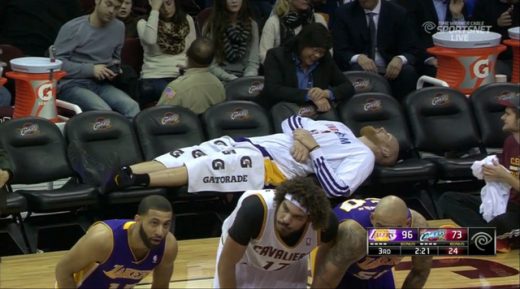 We tweeted stuff like this during the 2014 #SeasonofHuh while the rest of the world saw Irving hoist the All-Star Game MVP trophy over his head.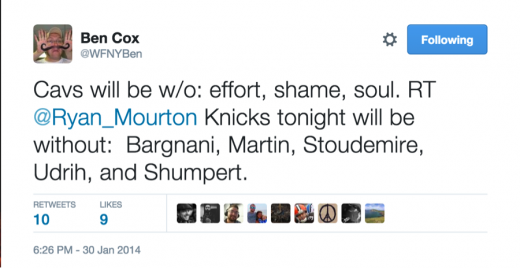 This was Kyrie Irving's team.  So all is fair in Love and Plus Minus as far as I'm concerned.  But everything changed for Irving and the Cavs when LeBron showed up.  Windhorst noted this in the podcast, that Kyrie has had to change his game to fit LeBron and has spent a very impressive amount of time correcting one of his biggest weaknesses – his penchant for getting injured.  Last year's huge regression, which really gives Alamar's trendlines their oompf, can be easily chalked up to recovering from the broken kneecap.  Kyrie has never shot that poorly before or since.
Here's a totally plausible theory, like a high order polynominal, that can fit all this data into a coherent picture.  Irving is a terrible defensive player mostly because he spaces out off the ball and is probably the laziest isolation player in the league at fighting through screens.  In the playoffs, since you play the same team over and over, it's a lot easier to learn the tendencies of the other team.  You don't have to take a different test every night so to speak.  So Kyrie's lack of focus off ball in the regular season fades because teams are running the same handful of sets every time for 2 weeks straight.  And, a head coach probably devotes a lot more time to hiding a player like Irving on defense in the playoffs, whereas trying to come up with a new scheme every night to hide a lazy defender isn't worth the headache when you are guaranteed a top 4 seed in the East as long as LeBron is healthy.  And of course Irving has long arms, quick hands, and has at least the defensive ceiling to be an impactful defender, as he has shown in both of his playoff campaigns.  On the offensive side of the ball, we've oft decried how difficult it can be to play with Kyrie Irving in the half court because he follows no script.  Poor Tristan Thompson never has a flipping clue where Irving is going after a screen or what his motives are.  But the flipside to this phenomenon is that no one can guard the dude!  He's like Kobe in that his footwork is impeccable, he has Chris Paul's ability to create space with his body, he's a 50-40-90 threat like Curry, and he's the best finisher maybe ever at the PG position.  So it matters not that the other team gets to learn the Cavs offensive tendencies.  Kyrie is unguardable and he doesn't conform to any systematic tendencies.  Like Kobe, he can get his shot off over anyone, a skill which is even starting to earn a soft spot among analytics folks.
This theory of Kyrie could be totally bs.  But it really doesn't matter how it's happening.  It is happening.  Kyrie Irving has statistically been an all-star caliber point guard posting all-star caliber advanced stats in playoff games.  His regular season defense was used to literally labeled him unplayable against the Warriors and yet…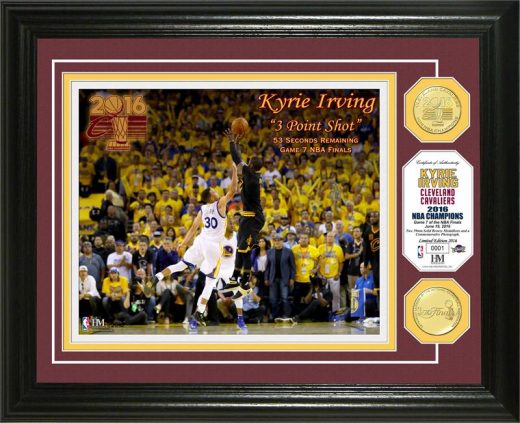 He wasn't just good, he was great, and he was necessary.  All the talk about Kyrie needing LeBron is 100% true.  But without Kyrie, the legacy of LeBron, the fate of a franchise, and the psyche of a region might be distinctly orthogonal to the real, actual, historical, measurable reality that is.
So far, Kyrie's career has so perfectly aligned with The Kobe effect, and I'm sure Kobe, his idol and mentor, couldn't be prouder.  The Kobe effect means that a guy that played like garbage for the entirety of the Beijing Olympics will only be remembered for his late game clutch shots in the Gold Medal Game.  In the same way, NBA folk have largely ignored all of Kyrie's inefficiencies and brazenly lazy defense and focused on his vines and pick up game highlights.  I get why Engelmann and Alamar feel the need to point out that huge disparity between Kyrie's reputation and his contributions toward winning, in much the same way they (and I) find endless joy and frustration in advocating for no-stats all stars like Delly.  But on the subject of Kyrie Irving's value, with the greatest shot in NBA history under his belt to go along with a nightly mixtape, the masses aren't going to entertain us down in the weeds, statistical revolution or not.  They don't care.  And honestly, do the Cavs even care?  Ty Lue is on record telling Kyrie to be Kyrie.  Whatever models regular season RPM give us to predict the future, it was Kyrie being Kyrie, channeling his inner Kobe that downed the greatest regular season team of all time.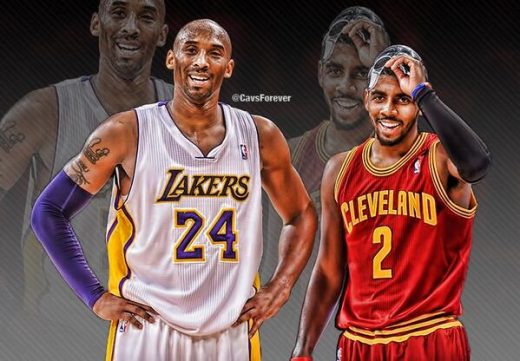 *I wrote most of this piece before New Year's when Kyrie was ranked 13th.  As of 11-Jan-17 he is 14th.  Some other metrics might be slightly inaccurate based on Irving's play since Dec 29.