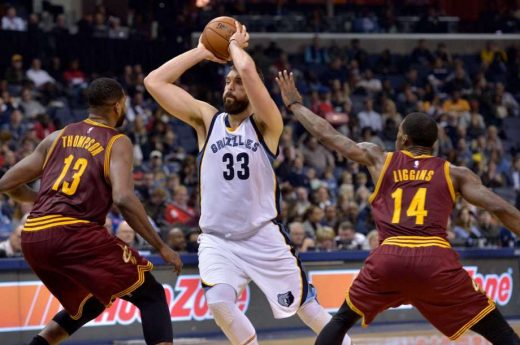 Four points I'm thinking about the Cleveland Cavaliers…
1.) For months now, the news coming from the NBA's labor negotiations was all positive. Even some last minute Carmelo Anthony-sounded alarms did nothing to squash the presumption that things would work themselves out just fine… a crazy thought for those of us who stuck with the NBA through its last two labor stoppages in 1998 and 2011. But work out just fine things did and on Wednesday the owners and the players tentatively agreed on a new seven-year Collective Bargaining Agreement.
Continuing the NBA's current period of universal wealth and well-being is particularly important for the Cavaliers, who are smack dab in the middle of their prime years of contending for a championship. The Champs, with all of their core players locked up for the next few years, can continue on without the threat of next season grinding to a halt and threatening their current run.
Theoretically, I guess you could argue that a strike shortened season would actually help the Cavs. For one thing, it would reduce the amount of wear-and-tear of another 82-game season on LeBron James's legs. But, you know… weird stuff happens in strike shortened seasons. The last two shortened seasons saw the eighth-seeded Knicks make it to the 1999 NBA Finals and the 2011-12 Mavericks shock James and the newly-formed Heatles. Not that everything always proceeds predictably over an 82-game season, but if you're a Cavaliers fan the last thing you want is for things to get weird.
If things go according to plan, the Cavs will be making a third-straight Finals appearance in June 2017. If things were to get weird, though…
We now have seven more years before that kind of weird becomes an issue again.
2.) There aren't any league-altering changes in the new CBA, but there are some interesting wrinkles to keep an eye on once the new deal is ratified and goes into effect.
The two items that of most interest to Cavs fans are probably the proposed shortening of the preseason and a team's new ability to carry three two-way contracts to more easily shuttle players between the NBA club and its D-League affiliate.
Shortening the preseason by three or four games will not only relieve fans of having to watch three or four more preseason games (a victory in itself) but it will allow the regular season to begin earlier. One thing an earlier start would do is allow the league's schedule makers to virtually eliminate back-to-back games and completely do away with four-games-in-five-nights scenarios.
NBA Commissioner Adam Silver has made it a priority to cut back on the most grueling parts of the regular season schedule. As more teams try to find rest for their top players, having fewer back-to-back games could keep the regular season at 82 games (something that ensures the owners won't lose money, as they would if the league played a shorter regular season) while subjecting the players to fewer situations where the fatigue of playing back-to-back nights could lead to injury.
The season may soon be kicking off in mid-October, but if that means there are fewer regular season games like last night's in Memphis, then it's the right decision for the league.
3.) The three two-way contracts will allow the D-League to act more like a true minor league, while also allowing the NBA's parent clubs to see more frequent benefit by using the D-league to develop the players at the end of the bench.
The amounts of these two-way contracts will alternate depending on who the player suits up for on a particular night. In the D-League, these contracts will range between $50,000-$75,000, while their NBA version will likely be for the league minimum. This will benefit the players, who will be able to make more money while playing in the D-League, but also see that amount kicked up to a pro-rated NBA contract if and when they get called up. It also makes sense for the NBA teams — especially contending teams who, like the Cavs, tend to have very few opportunities for developmental players. Contending teams could offer one of their two-way contracts to more attractive free agents who might otherwise decide to play overseas and those players, in turn, would have a chance for their performance to earn them an NBA-level salary, while making a bit more than peanuts in the meantime.
Right now, the most a player can earn in the D-League is $26,000.
4.) As NBA fans, we can all understand the frustration the Memphis fans felt upon hearing that the Cavs would rest James, Kyrie Irving and Kevin Love for their only stop in Tennessee this season. Of course, Cavaliers fans understand why head coach Tyronn Lue decided on resting his top guys, but there's no argument for why a fan in Memphis who paid good money for a chance to see the reigning NBA champs play shouldn't have a bad taste in his/her mouth after Lue was forced to play a starting lineup that couldn't even muster up a point guard!
Lue started a backcourt of Iman Shumpert and J.R. Smith, while the only true point guard available on the roster, rookie Kay Felder, got most of his run in the fourth quarter when the game was out of reach.
To his credit, Lue tried to explain why fans should still appreciate the product the Cavs coach rolled onto the floor Wednesday night. From cleveland.com's Joe Vardon:
"Of course you want to see LeBron James, Kyrie Irving, and Kevin Love play," Lue said before the game. "But we have 11 other professionals in the locker room (who) will also give you everything they got. So hopefully they will give you a good game. Those guys in there are NBA champions also."
Yes, take nothing away from those guys. They are NBA champions. But, c'mon, Ty… you gotta do better than that.