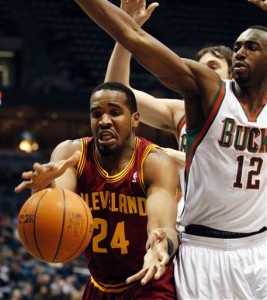 "The Cavs have now lost 27 of their last 28 road games. They looked rudderless on Wednesday: No leadership, no flow, no chance to win the game." [Bob Finnan]
"Coaches and players took turns talking about how, once again, the Cavs refused to play together for an entire 48-minute game. It led to their third straight loss, as well as their 12-52 record." [Mary Schmitt Boyer]
"On the 2010-11 season, Cleveland native Earl Boykins is averaging 8.3 points per game on 45 percent shooting for the Milwaukee Bucks.  When Boykins faces the Cavaliers, the 5-foot-5-inch guard steps up his game, averaging 13.5 points on 70.6 (yes, 70.6) percent shooting." [Scott Sargent]
Mary Schmitt Boyer talks Samardo Samuels, J.J. Hickson's dislocated finger, and Anderson Varejao's future with the Cavaliers organization.
Future Cavalier(?) Perry Jones has been suspended by the NCAA for the remainder of the season for receiving improper benefits. A sidenote: I like Twitter and all, but isn't there something weird and wrong about a sportswriter writing "4" instead of "for" and substituting "imp. bennies" for "improper benefits"? No disrespect meant to Jason King–it's tough to cram a news story into 140 characters–but somehow I have trouble associating journalistic integrity with something that reads like a high-schooler's text message. (I'll now return to my English Major hatefort under a highway overpass and continue annotating Pevear and Volokhonsky's most recent Dostoevsky translation.)
This isn't necessarily Cavs-related, but Neil Paine over at Basketball Reference aggregated all of the Truehoop articles about the Sloan Conference. If you're unfamiliar with the Sloan Sports Analytics Conference, it's essentially a sizable group of athletes, GMs, sportswriters, statisticians, etc. who get together at MIT each year and discuss, um, sports analytics, which is a vague term. More importantly, the people who speak at the Sloan Conference seek to answer tough questions or challenge conventional wisdom using whatever data is available. In parochial terms, it's a stat geek convention; they have consistently turned out some really fascinating stuff over the past few years.
On The Twitters
"Every time I count Kemba Walker out he plays a fantastic game that pulls me back in." [realcavsfans]
"Kemba Walker is legend. And maybe a Cavalier in late June. Wow what a shot." [Zac Jackson]
"Since being traded, Mo Williams is averaging 19 per game. #Cavs" [Scott Sargent]