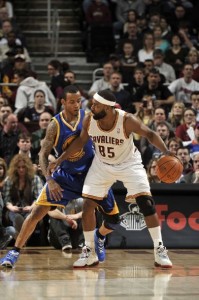 Remember yesterday when I talked about the Cavs' frontcourt depth? I forgot to knock on wood and now Semih Erden and Luke Harangody are going to miss a few games with nagging injuries (they also did not play against the Warriors last night). Harangody is out with a hip pointer he suffered against the Spurs and Erden is still recovering from a right abductor strain.
J.J. Hickson suffered what appeared to be a nasty finger injury, but it turns out he's going to be okay. He merely dislocated the finger, and he'll play in Milwaukee on Thursday.
Baron Davis will probably miss a game or two, as his grandmother has passed away. He did not travel with the team to Milwaukee; he is currently in L.A. with his family.
WFNY's Scott Sargent has a few thoughts and quotes on Ramon Sessions' decline since the arrival of a certain bearded Angeleno.
As one of you commenters (I mean that affectionately) mentioned yesterday, ESPN's John Hollinger wrote in his PER Diem column yesterday that Christian Eyenga exhibits tremendous potential on the defensive side of the ball.
I'm always a bit wary of these post-trade deadline "we were really close to making this trade" stories, but Yahoo! is reporting that the Warriors were very close to acquiring Antawn Jamison and Anthony Parker. The Cavs would have gotten an expiring deal and a player who Warriors owner Joe Lacob "doesn't care about as much." It makes me profoundly sad that Louis Amundson will probably never wear a Cavalier uniform.
On The Twitters
"Baron's grandmother Madea Nicholson, 89, raised him in LA, has been called most important figure in his life." [Mary Schmitt Boyer]
"Daniel Gibson tells me his quad is "about 80 percent." #Cavs" [Scott Sargent]