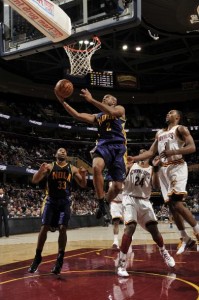 "Once [Chris Paul] got hurt, we seemed to take a big ol' exhale like now the game was going to be easy. They've got a lot of veteran guys on that team, so we should've known they weren't going to all of a sudden lay down.'" [Byron Scott via Jason Lloyd]
As John and a slew of other outlets have mentioned, Samardo Samuels has been playing well as of late. Byron Scott even went so far as to blatantly lie and call Samuels "more talent[ed] and… more athletic than Kevin Love." (I'm aware we can debate the merits of this statement, but let's just agree Samuels will probably never be as good at doing basketball things as Love.) This is minimal evidence, but in three games in March, he is averaging 16.3 PPG on 52.8% shooting in 32 MPG. He's also getting to the line a little over seven times and pulling down eight boards per game. While those numbers will undoubtedly plummet, perhaps these numbers hint at what Samuels could become. Maybe he could be pre-knee injury Leon Powe: a slightly undersized power forward who shoots a high percentage, rebounds, and helps push the other team's front line into foul trouble. That's half extrapolation, half wishful daydream, but allow me my fantasy of Samuels being the ninth man on a Cavs championship squad.
For the first time since Anderson Varejao went out for the season with an ankle injury, the post-trade deadline Cavaliers have some depth in the frontcourt. They have two true (if not, y'know, good) centers in Hollins and Semih Erden; Byron Scott is switching Hickson and Samuels around at both the four and the five; and Luke Harangody is another body who can shoot with some efficiency from 15 feet. At the very least, we can be confident we won't see DeMarcus Cousins backing down a helpless Skyenga at any point this season.
Not a ton of Cavs news today, so we're going to briefly throw it over to the Schadenfreude Desk. The Heat appear in disarray. As Bill Simmons noted on his Twitter account, the Bulls didn't even play particularly well yesterday, but they still managed to steal the game late in Miami. This loss makes the Heat 1-8 in games decided by three points or less. I know that in wake of his playoff shortcomings, Bron has been mislabeled a choker, but any Cavs fan who is honest with themselves has to concede: the guy was habitually terrific in the fourth quarter during his Cavalier career. This year: he's shooting 43.9%, averaging 4.8 TO per 48 mins, and just 3.9 assists per 48 in clutch situations, according to 82games. To put those stats into perspective, those same numbers were 48.8%, 4.1, and 8.3, respectively, in 2009-10. (His free throw attempts per 48 are roughly the same in both years.) I blame Eddie House for LeBron's clutch decline. I have no rationale for that assertion; I just really have it in for Eddie House.
Existential question: is it okay that I enthusiastically fist-pumped when D-Rose went up, around, and under LeBron and Wade as long as, three seconds after it was over, I was struck in the heart by a sensation of ambivalence?
On The Twitters
"Later today we'll learn that yes, LeBron was crying, but they weren't his tears. Someone sent them to him. #NBFFA" [Eric Knappenberger]
"The Cavs lost but I feel somewhat upbeat today. I wonder if it has to do with the Heat falling apart before our eyes? Probably does =0)" [realcavsfans]
"Idyllic RT @_BW @WFNYScott heres your new screen saver: http://t.co/DhJOse" [Scott Sargent]
"Unpopular question: Can Sullinger elevate well enough to be a big factor in the NBA? Has the big butt, lacks the explosiveness of Barkley." [Bill Livingston]