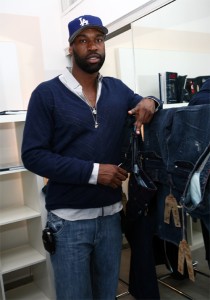 Byron Scott thinks Baron Davis is a top five point guard when he's healthy. Or at least that's what he has told the media. One hopes this is Scott trying to put a positive spin on the Cavs' acquisition of a player whose contract they are swallowing for a lottery pick because a.) Baron Davis will probably never again be fully healthy and b.) Chris Paul, Deron Williams, Derrick Rose, Rajon Rondo, Russell Westbrook, Steve Nash, Tony Parker, and Chauncey Billups all play in the National Basketball Association. We're in the midst of one of the biggest point guard booms the league has ever seen; I'm unsure if even 2007 Baron Davis cracks the top 5 of current point guards (and 2007 Baron Davis was terrific!), let alone this overweight, uninterested 2011 model.
"L.A.'s home, and it always will be for [Baron] Davis. But he also knows changes and new beginnings sometimes are necessary to achieve your goals, and often the greatest satisfaction in life comes from proving everyone wrong." [Jodie Valade]
"[My injured knee]'s not going to heal in three or four days, but I'm able to get out here and practice and do some things. Being able to watch a couple games so far gives me more comfortability with the team." [Baron Davis vis Jason Lloyd]
"Let's get this out of the way first: Baron Davis insists he wants to play for the Cavaliers." [Sam Amico]
Also of note: Boobie Gibson's is most likely out for tonight's game against the Knicks.
On The Twitters
"#Cavs RT @kyrieirving some good news….I'm now retiring my walking boot officially…back to regular sneakers lol…feels good!! #thatisall" [Scott Sargent]
"RT @PDCavsinsider 'Luke Harangody (hip pointer) might play, tool' Did the PD just call Luke a tool or their followers tools? lol" [realcavsfans]