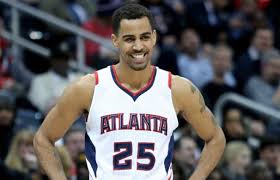 They say the NBA has become a year-round sport, and that's never more obvious than it is right now. The NBA Finals just ended last week, but the NBA Draft is Thursday, and free agency and summer league play begin on July 1. While it's unlikely the Cavaliers make a pick in the draft—and almost impossible that the pick is a significant one—they will almost definitely make some moves in free agency. With only have the tax-player mid-level exception of $5.3 million and veterans minimum deals to spend, it would seem the Cavaliers would be unlikely to add a quality free agent, but looks can be deceiving.
Going into free agency, the Cavaliers have a couple of things going for them. Obviously, they're title contenders who have the best player in the world, an appealing situation to any veteran that prioritizes a ring over a big contract at this point in their careers, but another thing they have going is the quality of this year's free agent class. Besides containing stars like Kevin Durant, Stephen Curry, Blake Griffin, Chris Paul, Kyle Lowry, and Gordon Hayward, it is also one of the deeper classes in recent memory. Because of this, some quality free agents will likely be available at an affordable price. It happens every year, teams rush to spend their money and use it up on big names and some high-level role players while other quality players slip through the cracks and have to settle for a much smaller contract than they were expecting. When this happens, players are looking for two things, a defined role that will allow them to showcase their abilities for a future contract, and a chance to play for a contender. On a Cavaliers team that could potentially overhaul a sizable amount of its bench, both possibilities are available.
Since it isn't likely the Cavaliers could replace a starter through free agency, and trade talk is for another piece, let's take a look at the Cavs' current bench, and the possible options to replace them. For sanity's sake, we're going to exclude players with any sort of option for next season, as well as those who likely wouldn't help the Cavaliers anyways and may be on their way out of the league (examples: Trey Burke or Jose Calderon).
Backup point guard
Incumbents: Deron Williams and Kay Felder
Williams joined the Cavaliers with a little over a month left in the season, and despite some quality games in the playoffs, never seemed to be more than a rental. A horrific Finals performance calls into question whether or not he has enough left in terms of shooting and defense to compete with the Golden State Warriors, whom the Cavs are obviously chasing. He also struggled at times with the move to the bench, which is to be expected after being a starter for so long. He will likely seek more than the mid-level exception in free agency, and it would be a surprise to see him in the Wine & Gold next season.
Felder showed flashes of promise last season, and is still under contract, but his future with the team remains uncertain. He still has to improve his outside shot and finishing at the rim, and his lack of size will likely making him a negative on defense throughout his career. It's unlikely the Cavaliers would have him as their only backup point guard, and Dan Gilbert's belief in him might be what keeps him from being part of a larger trade.
Bargain Backups: Beno Udrih, Raymond Felton, Aaron Brooks, Shelvin Mack, Sergio Rodriguez, Ramon Sessions, Michael Carter-Williams, Brandon Jennings, Ty Lawson, Darren Collison
Ideally the Cavaliers will find a defensive compliment to Kyrie Irving who can run the offense, take care of the ball, and space the floor from deep. Kind of like that Dellavedova guy used to do. Collison is probably out of the Cavaliers' price range, but his off court issues and below average defense make him someone who could fall through the cracks with so many other point guards ahead of him. If that happened, his shooting and high level of play for a backup would make him a great addition to the team. Lawson and Jennings are ball dominant scorers who don't shoot or defend well enough to fit the Cavaliers. Rodriguez and Brooks shoot well enough, and Rodriguez is a terrific passer, but both are terrible defenders. Carter-Williams can defend and pass, but is turnover-prone, and simply cannot score efficiently enough to make teams guard him. Sessions is similar to Lawson and Jennings, but even struggled with scoring last season. He'll likely bounce back some this coming season, but his days as a primary backup may be over.
That leaves Udrih, Felton, and Mack. Each has their pros and cons. Udrih quietly played quite well for the Pistons last season, but appeared in just 39 games while averaging 14.4 minutes due the presence of Reggie Jackson and Ish Smith. Considering the Pistons' struggles last season, one would think Udrih should've played more often, but he may no longer be physically capable of a full time role. A two-time NBA Champion with the San Antonio Spurs, Udrih would likely be a great fit in the locker room. Felton turns 33 next week, and is certainly not the player he was in his younger days. He's a poor outside shooter, and his conditioning is always an issue, but he makes quick decisions with the ball, and does a decent job of using his strength on the defense end. He also has the respect of LeBron James. Mack had an up-and-down season likely due to his inconsistent role on a Utah Jazz team with arguably the most point guard depth of any team in the league. The Cavaliers and Jazz had talks about a deal for Mack before the Trade Deadline, but weren't able to get anything done. His RPM dropped quite a bit, but that's not a shocker after the Jazz added an excellent point guard in George Hill. Mack is decent-to-good in many areas, but excellent at none. Still, he's 27 years old and was able to stay on the floor against the Golden State Warriors in the playoffs. He would be an intriguing addition for the Cavaliers.
Wings
Incumbents: Iman Shumpert, Kyle Korver, Richard Jefferson, Derrick Williams, James Jones
Jefferson is once again debating retirement. If he decides to come back, the Cavaliers will welcome him with open arms. He's undoubtedly in decline, but still provides good value at $2.6 million next season. Shumpert is under contract for next season with a player option for 2018-2019, but it would be no surprise to see the Cavaliers try to move on from him. His solid man-to-man defense doesn't make up for his poor team defense, or his below average offense. Shumpert needs to focus on hitting corner threes and cutting to the basket, but he rarely stays within his role. Korver is a free agent, but the Cavaliers have his Bird Rights, and seem unlikely to let him walk away for nothing after giving,  up a protected first round pick for him. If he's not back with the Cavaliers, they will likely try to get his new team to agree to a sign-and-trade ala' Matthew Dellavedova. One can debate whether Williams is a wing or a big man. In fact, that debate has followed Williams his entire career. He seems to have enjoyed his time with the Cavaliers, and played fairly well during the opportunities he got. Still, he needs a lot of improvement on the defensive end, and likely won't re-sign unless he is promised a greater role than he has now, possibly replacing Jefferson as the primary combo forward off the bench. That is certainly possible, but by no means a guarantee. Jones would like to play one more season, and the organization loves him, but there is some debate as to whether or not he is still worth a spot on the roster.
Bargain Backups: Tony Allen, Tyreke Evans, Thabo Sefolosha, Vince Carter, Nick Young, Ben McLemore, Justin Holiday, Jason Terry, Jodie Meeks, Anthony Morrow, Rodney Stuckey, Rudy Gay, Jeff Green, Michael Beasley, Omri Casspi, Dante Cunningham, Reggie Bullock, Alan Anderson
Allen, Evans, and Gay will almost definitely be beyond the Cavaliers' price range, but age and injuries could put them in this group. It's almost impossible to picture Allen leaving Memphis, and Gay suffered the worst injury a basketball player can have in a torn Achilles, so teams will likely proceed with caution. Still, he will likely find a short term deal for decent money. Evans would be an interesting fit as another ball handler who can play multiple positions, but the Warriors would attack him on defense. Meeks, Carter, Terry, and Anderson also fall into the old/injured group, but could be useful if everything broke right.
It's hard to see the Cavaliers taking a chance on Young, who revitalized his career last season with the Lakers, but still hasn't shown the maturity valued by a contender. Casspi has been solid for every team he's played for outside of the Cavs, but may not want to come back to a place where he struggled tremendously. Holiday, Bullock, and McLemore are young enough that teams will likely give them a decent deal based on long-term potential. Even Bullock's suspension for substance abuse likely wouldn't prevent the Pistons from matching anything the Cavs could offer. Still, Holday has proven himself as an adequate 3-and-D player, and McLemore and Bullock could thrive playing for a winning organization with defined roles. All three offer some level of intrigue.
That leaves Green, Beasley, Cunningham, and Sefolosha. The first three are more combo forwards than true wings, but are certainly perimeter players. Green has been handsomely paid throughout his career, likely due to his athleticism and status as a former high draft pick. Will this be the summer when teams actually wise up? Green for the veteran's minimum wouldn't be a terrible move, but even then it's hard to overlook that his teams have been consistently worse with him on the floor. Beasley is a proven scorer who played a real role on a Bucks team that made the playoffs this season. His shot selection has improved a bit with age, although his defense still leaves much to be desired. The Warriors attacked him repeatedly on that end during the 2016 playoffs, and one has to wonder if he can play against them without killing his team. Cunningham has proven to be a solid defender at both forward positions. On offense, he combines good athleticism with an emerging three-point shot and has been one of the few bright spots for the Pelicans over the last few seasons. His only concern would be a potentially rocky relationship with Kevin Love. Sefolosha is no spring chicken at 33 years old, but remains an adequate shooter from deep and one of the better wing defenders in the league. His release is slow, but he remains around league average in terms of both overall three-point percentage, as well as accuracy from the corners. He isn't much of a creator, but keeps the ball moving on offense, and runs the floor well. Sefolosha would immediately become the Cavaliers' best perimeter defender, and possibly first wing off the bench. The only reason there's even a chance he's in the Cavs' price range is due to injuries and some questionable rotation decisions by Mike Budenholzer. He would likely be a wonderful addition to the team.
Bigs
Incumbents: Channing Frye, Walter "Edy" Tavares
Both Frye and Tavares are under contract for next season. Frye has been a great fit both on the court and in the locker room since the Cavaliers acquired in at the February 2016 Trade Deadline. He's not the most conventional big man in terms of style of play, but his three-point shooting is a huge weapon, and he can get by defensively against most teams. While the Cavs would likely be more than happy to have Frye back for another season, the fact that Tyronn Lue doesn't believe Frye can hang in defensively against teams like the Warriors and Celtics is cause for concern. It wouldn't be a shock to see Frye moved in a deal for a player the Cavaliers think would help them more against the Warriors.
Tavares has played just one game in the nearly three months he has spend with the Cavaliers, but what a debut it was as he recorded a whopping six blocks to go along with six points and 10 rebounds against the Toronto Raptors. Tavares has great size at 7'3″, and his instincts on defense helped him claim the NBA Development League Defensive Player of the Year award to go along with being named All-NBA D-League First Team, NBA D-League All-Defensive Team, and a 2017 NBA D-League All-Star. The Cavs took a chance on the best big man in the D-League, a smart move for a team with few avenues to young talent. Despite that, Tavares is still a bit of a long-shot to contribute much to the team next season. There's a huge jump from the D-League to the NBA, and Tavares needs to add strength and improve his offensive game if he's ever going to be a regular part of a rotation and not just some shot blocking specialist.
Bargain Backups: Zach Randolph, Donatas Motiejunas, Anthony Tolliver, Jared Sullinger, Thomas Robinson, Brandon Bass, Terrence Jones, Kris Humphries, Nick Collison, Udonis Haslem, Nene, Andrew Bogut, Ekpe Udoh, Roy Hibbert, Tiago Splitter, Mike Muscala, Jeff Withey, Joffrey Lauvergne, Ersan Ilyasova
Randolph can still likely command a bit more than the mid-level, and it's difficult to envision him leaving Memphis, but he's certainly at the point of his career where chasing a ring could be appealing. He'd certainly bring an interesting new dimension to the Cavaliers' bench and offense. Splitter, Haslem, Collison, Bogut, and Nene have all battled age, injuries, or both. Still, it wouldn't be a huge surprise to see the Cavs try to bring Bogut back, and Nene showed that he can still help a contender in the right role. Hibbert's lack of mobility likely makes him a poor fit, and it's difficult envisioning Humphries playing alongside Tristan Thompson considering Thompson is dating his former sister-in-law and Humphries has tried very hard to distance himself from that situation.
In terms of the younger guys, Lauvergne hasn't really done enough to prove he can help as contender. Robinson was solid for the Lakers last season as a backup energy big off the bench, but will likely take the best deal he can find, and isn't the best fit for the Cavs on the offensive end. While they would be good fits, Muscala and Withey haven't made much money in their careers, and will likely take the biggest deal they can find. Motiejunas would undoubtedly do the same, but it's looking more and more like his 2014-15 seasons was a bit of a fluke, and that he simply isn't very good. Jones bounced back with the Pelicans last season, but was later waived only to be picked up and waived again by the Bucks. Being waived twice in a season is a pretty huge red flag. Sullinger simply hasn't shown the necessary dedication towards staying in top physical condition.
That leaves Ilyasova, Bass, Udoh, and Tolliver. Ilyasova would be an intriguing fit, particularly if Frye is moved. He's not the shooter Frye is, but can still space the floor and is far better on the boards. He may wind up out of the Cavaliers' price range, but teams haven't seemed to value him too much over the last two seasons. Udoh has spent the last few seasons in Europe, and has played well. He'd be a nice fit as a rim protector that runs the floor and crashes the boards, but do the Cavaliers' have enough money to convince him to come back to the NBA to join them? Bass played less than expected with the Clippers last season, but remains a fairly mobile defender with a very good mid-range game. Tolliver is an extreme stretch four who takes roughly two-thirds of his shots from deep. Like Bass, Tolliver is a fairly mobile and capable defender, but like Bass, he's a bit undersized to play center if he were to replace Frye. If the Cavaliers keep all three of Frye, Kevin Love, and Tristan Thompson, any of these men would be excellent as a fourth big man, but may not want such a limited role.
Despite losing to the Warriors in the NBA Finals, there's little doubt the Cleveland Cavaliers are a great team, the kind that would likely win the title in most of the past ten seasons. They have the greatest player of his generation, two other multi-time All-Stars, several excellent role players, and a definite style of play (at least on the offensive end of the floor). Still, there's little doubt that their bench could be a bit deeper and more effective. Luckily for them, this summer's free agent class may be just the group that will allow them to bolster it with the type of players that could have a real impact against any (super)team in the league.