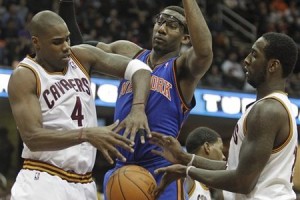 Not a lot of stuff coming across the wire today, guys.
Antawn Jamison will be out for 5-7 weeks due to his broken finger, which was successfully operated upon yesterday. Byron Scott has not commented yet on who is going to replace Jamison in the starting lineup, but we'll find out tomorrow night when the Cavs host the Spurs.
Jason Lloyd has some info about tactics the Cavs have employed in order to stay positive in the midst of an abysmal season.
This seems like idle chatter, but there has been a bit of buzz about new Cavalier Luke Harangody's relentless motor. Of course, words like "relentless" and "hard-working" tend to function as code for "guy with a very limited skill set who tries hard." At the very least, the Cavs just acquired a guy who will bust his butt in practice.
On The Twitters
"#Cavs center Semih Erden is several games away from playing. He's out against San Antonio. He's not in game shape." [Bob Finnan]
"JJ Hickson says he likes what he sees from Baron Davis in #Cavs practice so far. "Lob city," is what he called Baron's offense. He likes it." [Mary Schmitt Boyer]
"BScott will gradually transition JJ back to 4." [Jason Lloyd]