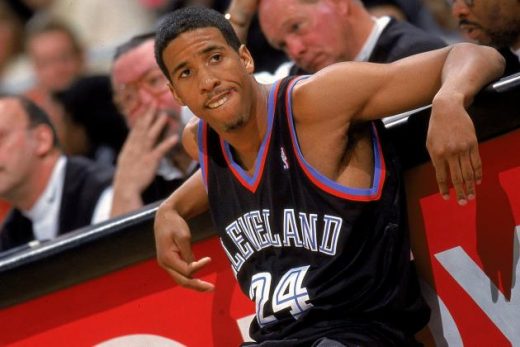 Four points I'm thinking about the Cleveland Cavaliers…
1.) The Cleveland Cavaliers are 4-0 for the first time in 16 years.
Can you believe that?
That means that no LeBron James-led team has ever started off a season by winning their first four games. Not last year's 57-win team. Not the 66 win team from 2008-09.
Last year's team, playing without Kyrie Irving as he worked his way back from injury, dropped their first game to the Chicago Bulls before rattling off eight straight wins. In 2008, the team, known for starting slow under head coach Mike Brown, started 1-2 before winning eight straight.
And what of that 2000-01 team that started 4-0? Well, that team, led by Andre Miller (when the Professor was just a grad student) and coach by Randy Wittman, finished the season 30-52.
So, 4-0 isn't an infallible barometer for season-long success and the early days of the NBA season can bring the same kind of mirages that warp any prognostications based on preseason or Summer League.
What's encouraging about this start, though, is that the Cavs are winning in sustainable ways. They're playing their game now, not chasing after the style of some other successful team. They finally have continuity, an offensive philosophy that gets the most out of their best players, and you have those three players — James, Kyrie Irving and Kevin Love — playing comfortable, confident in both their roles and in their teammates. You could argue that the Cavs' early-season schedule has been weighted toward The Q — which it has — but they did have to travel up to Toronto and take care of business on the road against the Raptors, one of the other elite teams of the Eastern Conference.
So, right now, the Cavs are grooving… and they have room to get even better.
2.) Coming into Tuesday's game against Houston, Mike Dunleavy Jr. had connected on just 2-8 shots from three point range. Dunleavy wasn't struggling per se but, through three games, he was having difficulty from an area on the court where many Cavs fans expected the 6-9 former Dukie to feast.
Dunleavy looked more like the veteran marksman the Cavs thought they were getting against the Rockets on Tuesday. He chipped in 11 points on 3-4 shooting (2-3 from deep) in just 17 minutes on the court and finished the game with a +10, second on the team only to James's +15.
It's tough to really pick on a player for a three game shooting slump — especially when the sample size is only eight total shots. Dunleavy has had to adapt to new teammates and a new coaching staff, all while trying to carve out a role on a championship team returning most of its rotation players. Some minor hiccups along the way aren't such a huge surprise.
Watching the Cavs win against the Magic, though, it looked like Dunleavy would benefit from playing with a slightly different lineup. In that game, he spent a lot of his time on the court playing with Irving while James sat. Irving has been sensational so far this season, but when he's out there — especially when he's playing alongside the reserves — he's going to "attack," which, by now, we all know is code for "look to score, and score, and score." The ball is less likely to find its way to open shooters because it's already in the hands of one of the team's best.
Then James re-entered the game and Dunleavy found this:
3.) Now, one play — as pretty as it was — probably doesn't radically change head coach Tyronn Lue's rotations, but it still wasn't a surprise to see Lue open the second quarter of the Rockets game with a lineup of James, Dunleavy, Channing Frye, Iman Shumpert and Richard Jefferson. That lineup — all 4.1 minutes of it — ended the game with a +10, topping the team's starting lineup that has posted a +8 over the first four games of the season.
Dunleavy nailed a three early in the quarter and finished his seven minute stretch in the second with five points and three rebounds. Now that Frye has returned to the team following the death of his mother, look for Lue to play James and four shooters (or three shooters and Shumpert) to start the second quarter, a strategy that worked beautifully for them toward the end of last season and into the playoffs.
4.) Tonight, the Cavs get their first look at the team picked by some as a dark horse candidate to topple the Cavs for tops in the East this season: the Boston Celtics. As of this writing, the Celtics stand at 2-1 as they prepare to host the surprising (to me, anyway) 3-0 Chicago Bulls. They'll then pack up and head to The Q with both teams likely looking to make a statement.
For the Celtics, Avery Bradley has started the season on a real tear. The shooting guard, widely known for his defense, has been filling up the stat sheet, even going off for eight three-pointers in Saturday night's win over the Charlotte Hornets. Through the first three games of the season, Bradley, who has averaged 11.6 points per game over his six year career, is averaging 21.3 points, 8.7 rebounds and nearly five assists per game.
With Isaiah Thomas and newly-acquired center Al Horford attracting so much attention, Bradley has benefitted by getting good looks from deep. The Cavs will have to see if J.R. Smith and Iman Shumpert can cause as much of a headache for Bradley as the 6-2 guard usually causes his opponents.